With thousands of pages to manage, SEO for enterprise SaaS often seems time-consuming and complicated. But it's not the case.
Think of enterprise SaaS SEO like building a house: It takes time and effort to lay down the foundation and establish the structure, but the efforts are always worth it in the end. Similarly, an effective SEO foundation builds a reliable source of traffic, leads and revenue in the long run.
In this quick guide, I'll cover the essential enterprise SaaS SEO elements to succeed in the SERPs.
---
---
Get My Free Enterprise SaaS Marketing Plan
What Is Enterprise SaaS SEO?
Enterprise SaaS SEO is a marketing strategy that focuses on optimizing and scaling large Software-as-a-Service websites (with thousands or millions of pages) to increase profit margins through organic traffic.
HubSpot, Zapier and Monday are examples of enterprise SaaS brands, and attract millions of users via SEO.
Unlike consumer-focused SaaS companies, enterprise SaaS companies typically have longer sales cycles and larger deal sizes, and their target customers are usually businesses with complex needs and high levels of scrutiny. As a result, enterprise SaaS SEO requires a different approach compared to traditional SaaS SEO.
To achieve success with enterprise SaaS SEO, it's important to have a deep understanding of the target audience and their pain points, as well as a comprehensive understanding of the competitive landscape: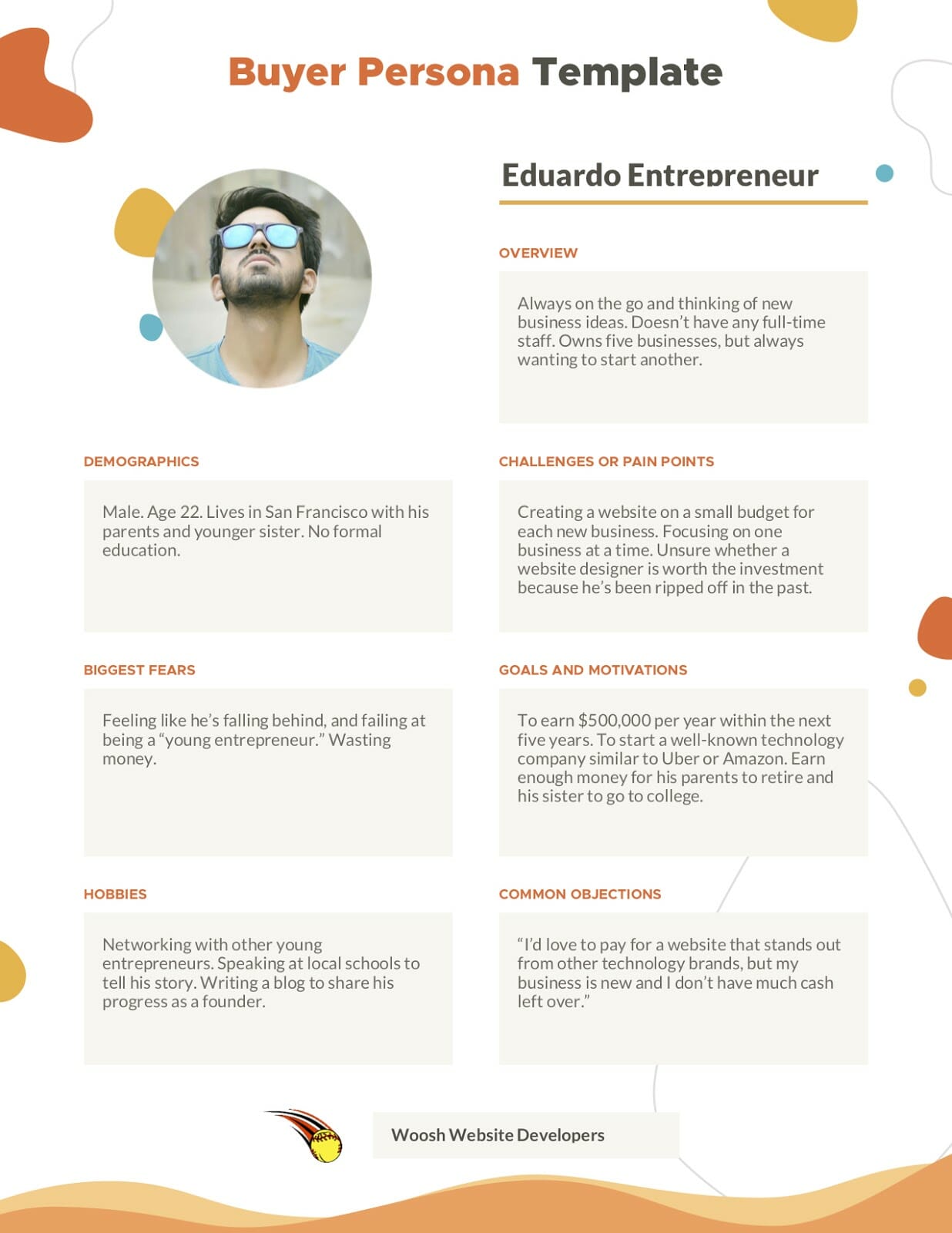 SEO for SaaS enterprises also involves a variety of tactics, including keyword research, on-page optimization, content marketing, link building, and technical SEO. The goal is to increase the visibility of the company's website in search engine results pages (SERPs) for relevant keywords, and to drive high-quality traffic to the website.
Dive Deeper: What Is Enterprise SEO? (Definition, Examples & Tools!)
Keyword Research for Enterprise SaaS
Keyword research for enterprise SaaS differs from traditional keyword research in that it requires a more nuanced and industry-specific approach.
Here are some of the key differences:
Focus on Long-Tail Keywords: Unlike traditional keyword research that tends to focus on short, high-volume keywords, enterprise SaaS SEO often requires a focus on longer-tail, niche-specific keywords that are more relevant to the target audience's pain points and needs. These keywords may have lower search volumes but tend to have higher intent and conversion rates.
Consideration of Buyer Journey: Enterprise SaaS companies typically sell to larger organizations, which means the buyer journey is often longer and more complex. Keyword research for enterprise SaaS needs to consider the different stages of the buyer journey and identify relevant keywords for each stage. For example, keywords that are more informational may be targeted at the top of the funnel, while keywords with higher intent may be targeted at the bottom of the funnel.
Understanding of Industry-Specific Terminology: Enterprise SaaS companies often serve specific industries and niches, which means that keyword research needs to consider the terminology and language used within those industries. This requires a deep understanding of the target audience's pain points, needs and preferences, as well as the specific language and jargon used within their industry.
Start your keyword research with the terms that your ideal customer would be searching for. Think from their point of view and ask yourself these questions:
What comes to your mind when you think of the benefits of your product?
Which keywords will help my audience solve their pain point?
Which keywords are most relevant to my SaaS product?
Based on your answers, continue with the following type of keyword research:
Competitor Analysis
Find keywords your competitors are ranking for using keyword research tools like Ahrefs or Semrush. Enter the competitor's domain name to see all the pages they rank for: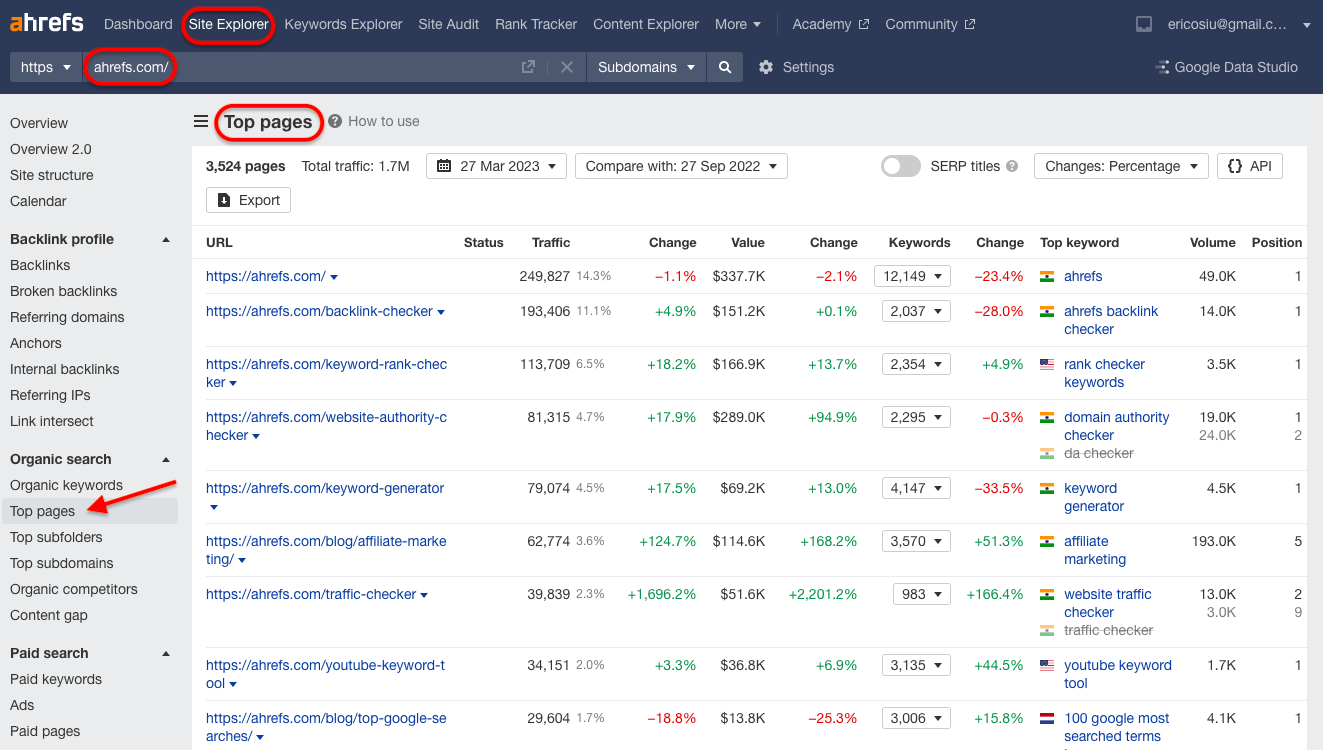 This will help you in two ways:
Identify relevant keywords with potential ranking opportunities.
Study their approach to content creation around those keywords, then use it to create your approach to rank higher.
Long-tail Keywords for SaaS Solution
Long-tail keywords are specific, and even though they have low keyword volume, the search intent is much clearer. Additionally, the intent is more commercial and transactional, which show high conversion potential:
Informational: When the user is looking to learn about something or solve a problem.
Commercial: The user has a purchase intent which may not be immediate.
Transactional: The user intends to make an immediate purchase.
For example, as an email marketing SaaS enterprise that sells to agencies and startups, some potential long-tail keywords can be:
"Email template builder for agencies"
"Email marketing automation for e-commerce agencies"
"Affordable email marketing platform for early-stage startup"
Find relevant long-tail keywords to your software and create a content strategy around them: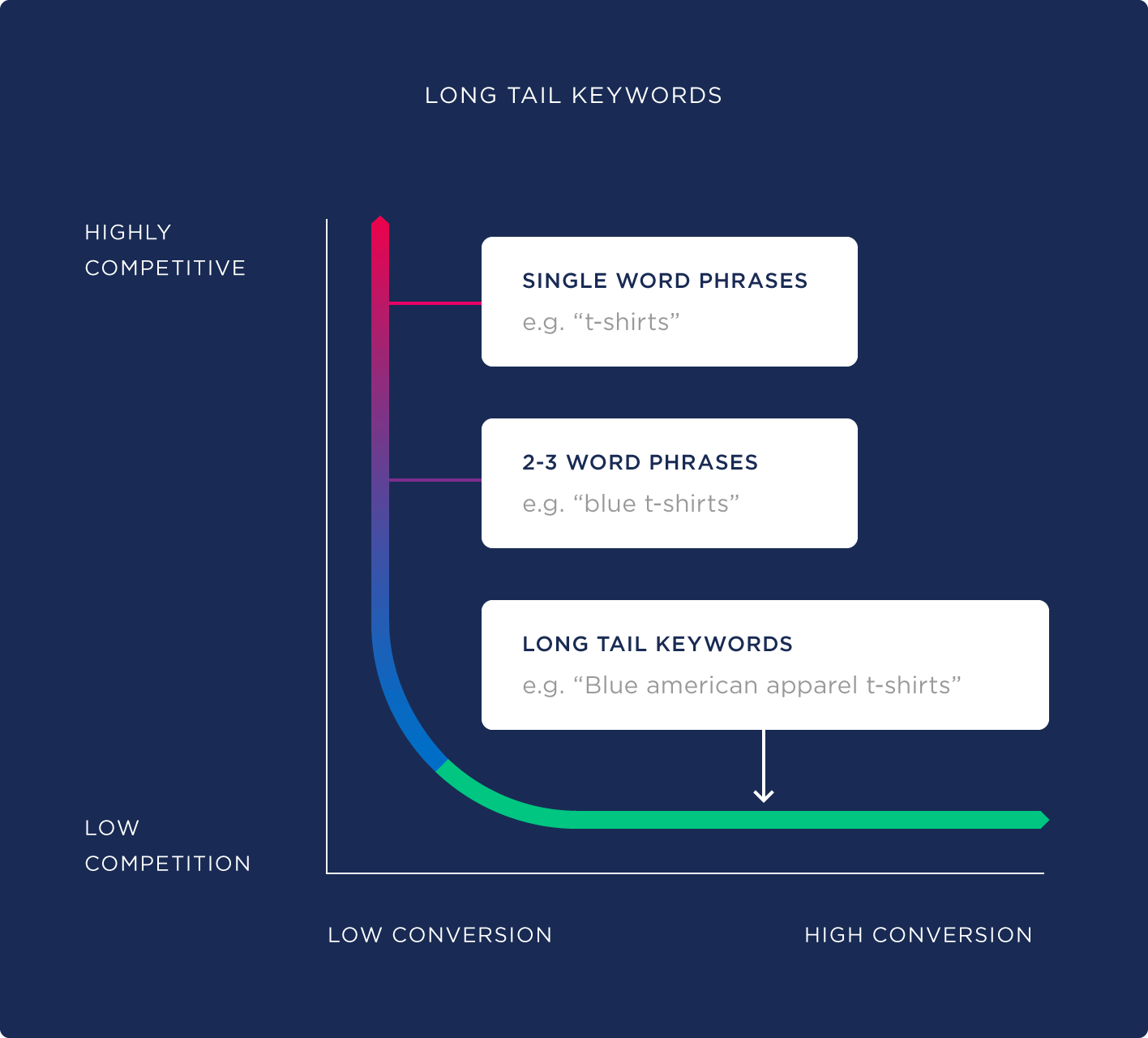 Dive Deeper: Why You Should Use Long-Tail Keywords in Your SEO Campaign
Keyword Difficulty and Volume Analysis
Analyze the keyword difficulty and volume to set the priority level: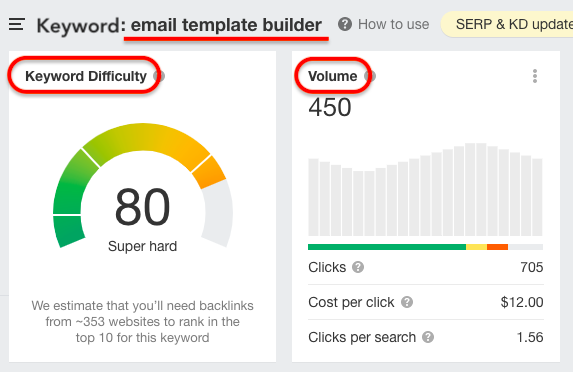 A good rule of thumb is prioritizing keywords with high volume and low difficulty, as these have the highest potential to compete and rank.
But don't ignore keywords with low or no volume at all. Often these are long-tail keywords, and the keyword research tool doesn't reflect any volume. Use Google Trends to get a more accurate volume analysis in such cases.
Dive Deeper: SEO Keyword Research Made Easy in 2023
Get My Free Enterprise SaaS Marketing Plan
On-Page Optimization for Enterprise SaaS
Optimize your pages by following these on-page optimization best practices.
Title Tags and Meta Descriptions
Ensure that the site's HTML code specifies the title and meta description tag. This will help Google use that data and display it in the SERPs.
To get higher clicks, keep your title tags and meta descriptions compelling, value-driven and within the character limit: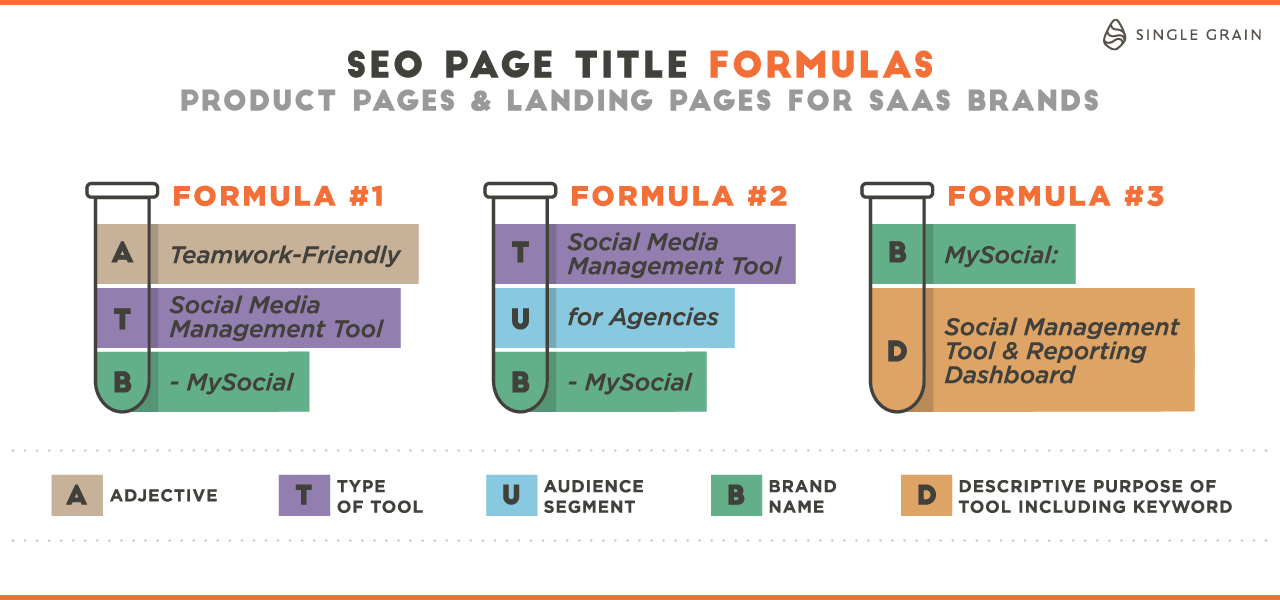 Although it's important that the title tag and meta description accurately reflect the content of the page and include relevant keywords, the length is important, too:
The recommended character limit for title tags is around 50-60 characters.
The recommended character limit for meta descriptions is around 155-160 characters.
Use this SERP preview tool to preview the URL, meta title and description in SERPs on mobile and desktop: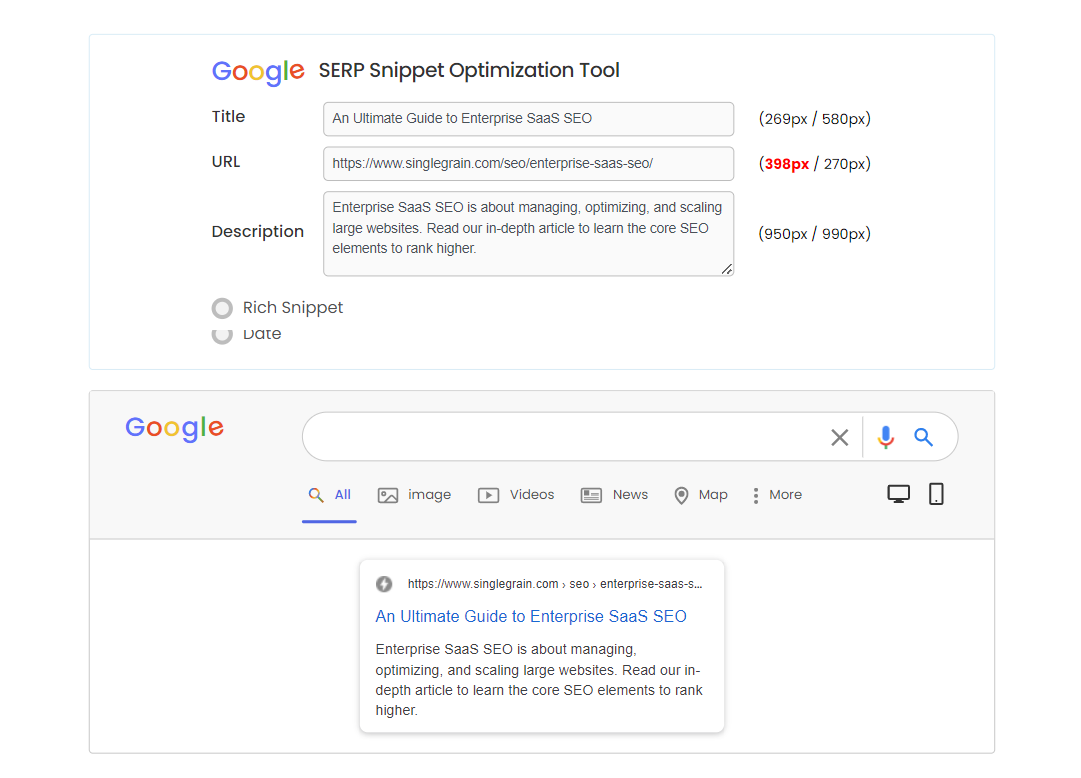 Dive Deeper: How to Write a Strong SEO Title Tag (with Formulas & Templates!)
Header Tags
Optimize your content headings and subheadings. Ensure that you use your primary keyword in H1 and use relevant keywords in other heading tags. These tags (H2, H3, and H4) also help you create a content hierarchy on different pages.
URL Structure
Keep URLs short and descriptive and add the focus keyword in the URL. Also, make it easy for the reader to understand the page's content:
Good URL structure: https://www.example.com/blog/how-to-create-a-healthy-lifestyle/
Bad URL structure: https://www.example.com/article?id=123456/
Internal Linking
Internal linking helps crawlers identify your site's pages. It also increases dwell time, keeping users longer on your site, which sends a positive signal to Google.
Use this operation in Google to find internal linking opportunities:
Site:[Your domain name] in text: "keyword you want to link in other pages"
For instance, if Single Grain published a new article on content refreshing, the operation will look like this:
site:www.singlegrain.com in text: "content refresh"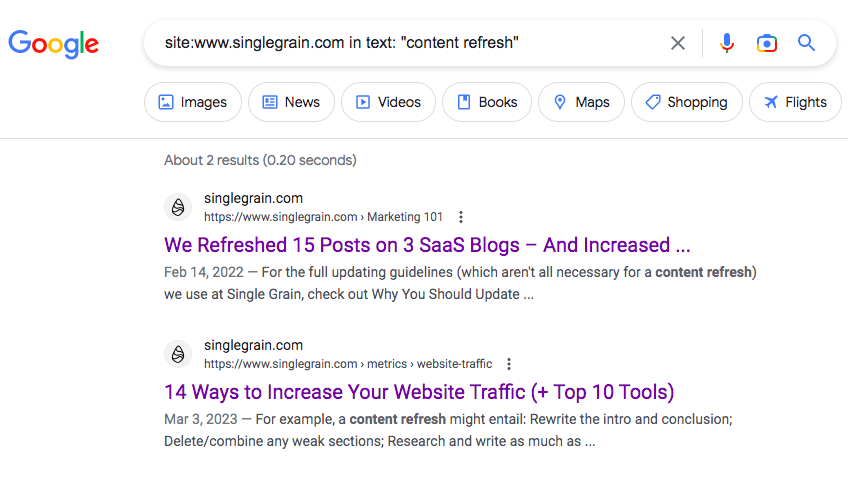 Now you have a list of pages to link your newly published blog. This article about internal linking will help you speed up your page's indexing. 👇
Dive Deeper: How to Implement Internal Linking for SEO (Step-by-Step)
Featured Snippet Optimization
Google recently changed the font size and type of featured snippet, making it more prominent and eye-catching: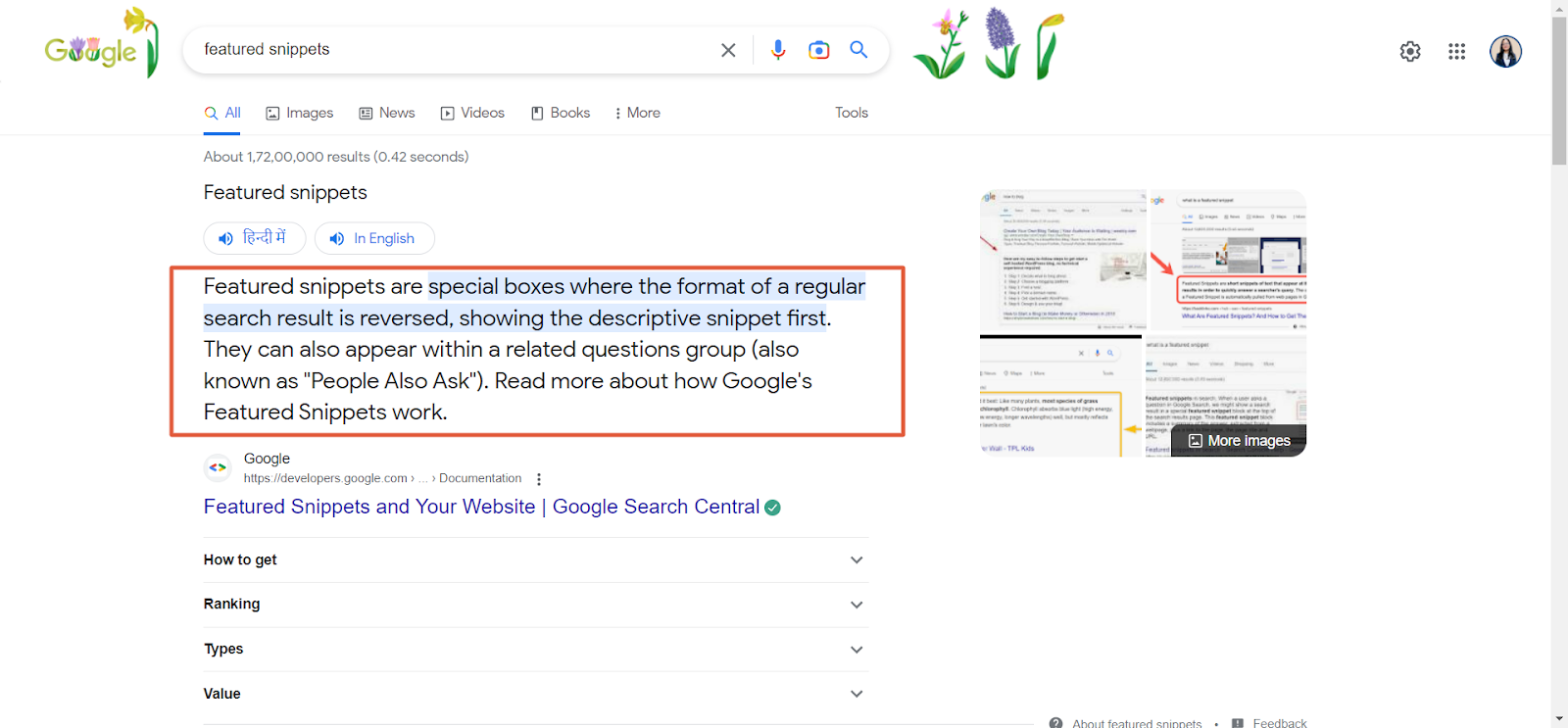 The results of Google's featured snippets font change? Lower CTR for the rest of the SERPs pages.
So, to win in SEO, you'll need to find keywords with featured snippet opportunities and optimize them. Here are a few tips:
Repeat the first few words of the question in your answer
Structure your content in the form of lists (if applicable)
Keep the answer within 40-50 words
Avoid fluff and keep it concise
Dive Deeper: Featured Snippets: How to Optimize for Position Zero
Content Optimization
Use semantic keywords to increase your chances of appearing in search results. Semantic keywords are phrases that are related to your primary keyword and help the search engines better understand the context of your content.
For example, if you're creating a page about influencer marketing growth, semantic keywords would be:
social media channels/platforms
micro-influencer
macro influencers
An easy way to find semantic keywords is to Google your primary keyword and then scroll to the bottom of the page where you'll find a list of related searches: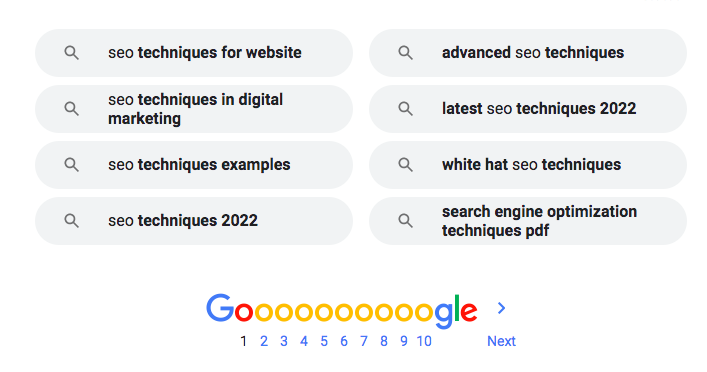 Also, use the right heading tags, and add relevant images and multimedia to boost reader engagement.
Dive Deeper: 7+ Content Optimization Strategies to Increase Your Rankings
Multilingual and Hreflang Implementation
If your SaaS enterprise targets a global audience, implementing multilingual and hreflang is crucial.
Hreflang tags tell Google the original language of the website and the intended audience for it. This adds to a better experience for your audience residing globally.
Dive Deeper: International SEO: How to Optimize Your Website to Capture a Global Audience
Technical SEO for Enterprise SaaS
Look into your site's technical SEO to find bugs and errors that may be impacting your site's rankings.
Site Architecture Analysis
With a large website, an organized structure leads to a better visitor experience and boosts organic traffic and rankings.
To analyze your site's structure, check for the following:
Are all the subfolders set up under the main folder?
Is the navigation bar (menu, breadcrumbs, sitemap) user-friendly?
Do you use a clean URL structure?
Site Speed Analysis
Your site's speed affects user experience as users often bounce if it takes more than 5 seconds to load. This sends negative signals to Google about your site's performance.
To keep track of it, use Google's PageSpeed Insights tool: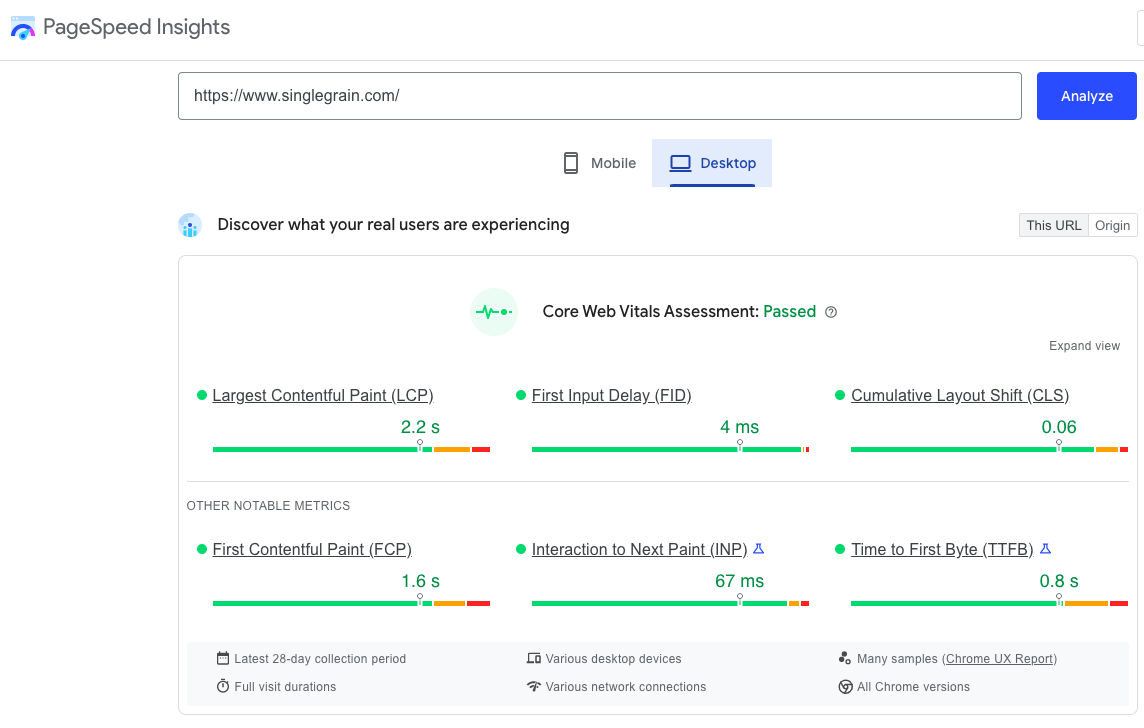 This tool shows your bugs and errors and suggests ways to fix them. Some tactics to speed up your site's load time:
Compress images using TinyPNG, iLoveIMG, or DupliChecker.
Minify unnecessary code on your website
Reduce page redirects
Enable browser caching
Need help with your technical SEO? Hire an agency from this list:
Best Technical SEO Agency: Our Top 5 Picks for 2023
Mobile-Friendliness Analysis
Google now uses mobile-first indexing, meaning it might delay the indexing process if your pages aren't optimized for mobile. As more than half of web traffic comes from mobile devices, a bad mobile UX can cost you organic traffic.
URL Structure Analysis
Also, pay attention to the role of the backslash (/) in URLs. A backslash at the end of a URL suggests that a page is a folder, and one without it shows that it's a file name. So make sure you use the backslash to let Google know the location of your site's pages: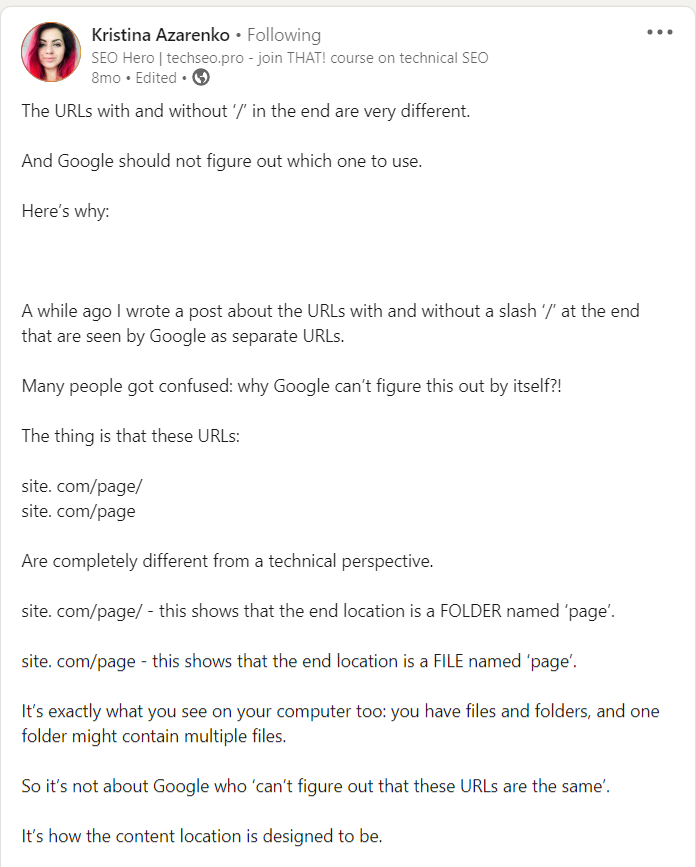 XML Sitemap and Robots.txt File Analysis
A wrong or misleading XML sitemap can make it difficult for Google to understand your site's structure and content. Use Google Search Console or Bing Webmaster Tool to identify any error in your XML sitemap.
At the same time, analyze the robots.txt file and see if all the URLs in that file are non-indexable. To run this analysis, use this Google operation: yoursite.com/robots.txt. Check the URL next to Disallow:/ and determine if it's something you want to index.
Dive Deeper: How to Fix 15 Common On-Site Technical SEO Issues
Structured Data and Schema Markup
Include structured data, or schema markup, on your website's page. It's a code that describes the content of your pages that Google displays in the SERPs, like this schema markup for events:

For instance, a SaaS enterprise job board can set up the job posting schema. It highlights information such as job title, location and company name. Google picks up this information to display rich results, which improves rankings and CTRs.
Before deploying a schema on your site, run it through Google's Rich result test.
Get My Free Enterprise SaaS Marketing Plan
Off-Page Optimization for Enterprise SaaS
Google picks up information about your site from different sources, such as social media and external linking domains. So consider investing in the following off-page SEO:
Link-Building Strategies
Links are still the strongest signal to rank higher. Follow these backlink-building strategies to gather quality backlinks:
Write guest posts on reputable websites with a similar target audience.
Create link-worthy content such as original research, recommended tools, or industry trends reports.
Create a content pillar and cover each relevant keyword in depth. Various other websites often link to such pages due to in-depth explanations.
Dive Deeper: 8 Ways to Use External Links to Improve Your SEO
Social Media Optimization
Content doesn't work in silos and, due to this, you need a scalable distribution plan to promote it on social platforms. This will help redirect traffic to your website and expose your brand to a huge audience.
Let's break down an example social media distribution for your weekly newsletter:
Create a key takeaway thread for Twitter.
Convert this thread into a LinkedIn carousel post.
Create a short video for TikTok or Instagram.
Dive Deeper: Social Media Marketing for Business Owners: How to Get Started in 2023
Brand Reputation Management
Track and address any issue that might impact your online reputation, such as negative press or reviews (texts or videos). A damaged reputation costs you SEO rankings, profit and credibility.
To maintain your brand reputation, deploy these tactics:
Use Google Search Console to find keywords (other than branded) that your audience uses to find you. If there are some negative keywords, address them.
Run a site audit and fix all the technical errors.
Dive Deeper: 3 Steps to Create a More Effective Reputation Management Strategy
Local SEO
Optimize your website for local SEO to increase brand visibility across a global audience. With local rankings, you can capture an audience searching for relevant keywords in a specific area. Get your business listed in local directories and optimize for local terms.
For instance, ClickX is a tool that can help with this. Provide your business information and they will promote it to more than 50 directories. Since so many local searches result in a purchase, the more directories your site is listed on, the higher it will rank.
Measuring Success for Enterprise SaaS SEO
With a clear measurement plan, you'll be able to find areas in your marketing strategy that are generating huge traffic and others that are draining your rankings.
Defining Key Performance Indicators (KPIs)
Set up KPIs so you know how to analyze the performance of your SEO efforts. These performance indicators will help you see where you are winning with your strategy, as well as reveal any room for improvement. Some important KPIs that an enterprise SaaS should track are:
Organic traffic (check this metric over a specific time period)
Changes in search engine rankings (you can also compare branded vs. non-branded rankings)
Improvements in link profile growth
Dive Deeper: Top Marketing KPIs that Every B2B Company Needs to Track
Tracking and Analyzing Website Traffic
Use Google Analytics and Google Search Console to get insights into your web traffic. You'll get a traffic breakdown by channels, sources, devices and browsers. Analyze this data to find the areas to double down on and areas for improvement.
Also, you can use paid enterprise SEO tools, such as Conductor, seoClarity and Botify, to analyze web traffic and local rankings and make recommendations to increase organic rankings.
Analyzing Conversion Rates
Conversion rate is the number of visitors who complete a specific action on your website. Be clear about your SEO conversion rate to measure it with precision.
For example, do you want more demo bookings, signups or form submissions? Once you have your conversion goals, use Google Analytics or any paid enterprise tool to track it.
Measuring Return on Investment (ROI)
As marketers increase budgets for SEO, ROI will become even more important. To measure the return on investment, assess the increase in web visitors and the number of conversions from them. Additionally, track changes in keyword rankings and brand mentions and tie them back to SEO success.
Dive Deeper: Google Analytics for Content Marketing: How to Track and Improve Your ROI
Final Word on Enterprise SaaS SEO
As a SaaS enterprise, you work in a highly competitive market with a large global customer base. It is thus crucial to maintain brand visibility and drive consistent traffic with a unified SEO strategy.
Through on-page and technical optimization, you can meet your searcher's query and provide them with an amazing experience. Additionally, you will boost credibility and drive traffic through a strong backlink profile.
Schedule your FREE consultation with Single Grain's enterprise SaaS experts to discuss your needs.👇
Get My Free Enterprise SaaS Marketing Plan