[Free Consultation] Are you spending money on advertising but not getting the results you want? Are you looking for more sales and leads but have no idea where or how to start? Get help from our world-class marketing experts in a free consultation call.
Click Here To Schedule Your Free Consultation Now
In this comprehensive Moosend review, I'll be looking at a platform that's often thought of as one of the best email marketing software for small businesses using email to grow.
If you read our guide to this year's top 10 email services, you may recall that we praise Moosend for its affordable pricing and exceptional ease of use, both in setting it up and its deliverability. But are those two things alone enough to make this the right choice for your first email marketing campaign – or is there a better option out there?
In this post, I'll weigh the pros and cons of this popular email platform, show you how it works, and outline everything you need to know to answer that question for yourself.
What Is Moosend – and What Are Its Key Features?
60% of marketers say that email marketing is their biggest source of ROI.
But unless you plan on manually sending thousands of emails to your individual subscribers, you probably want to use an email marketing tool which will do it for you automatically.
Moosend is one such email platform. They are a cloud-based email marketing and automation software for managing all your email campaigns in order to help you improve your lead-generation efforts and get more conversions.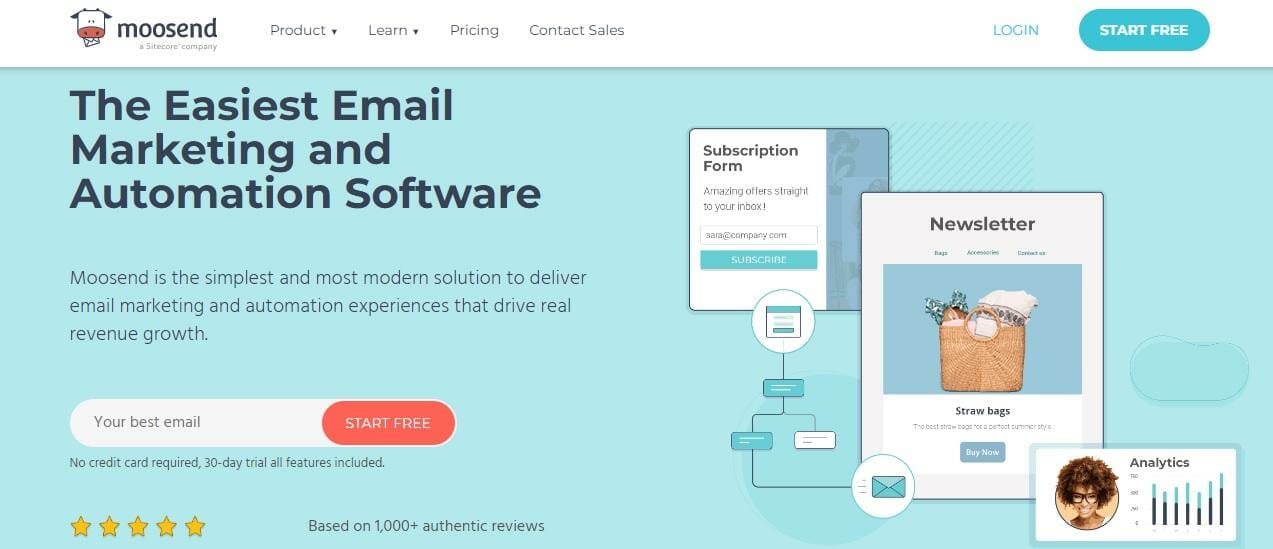 Effortless Email Campaigns
At the heart of Moosend's platform is a highly intuitive campaign management system whose impressive array of features is matched only by its remarkable user-friendliness. Its user interface is simple and its email editor is a snap to use.
After configuring essential elements such as the to/from email addresses and your subject, you can pick from an abundance of premium-quality email templates, with options for a wide range of industries from web apps to weddings: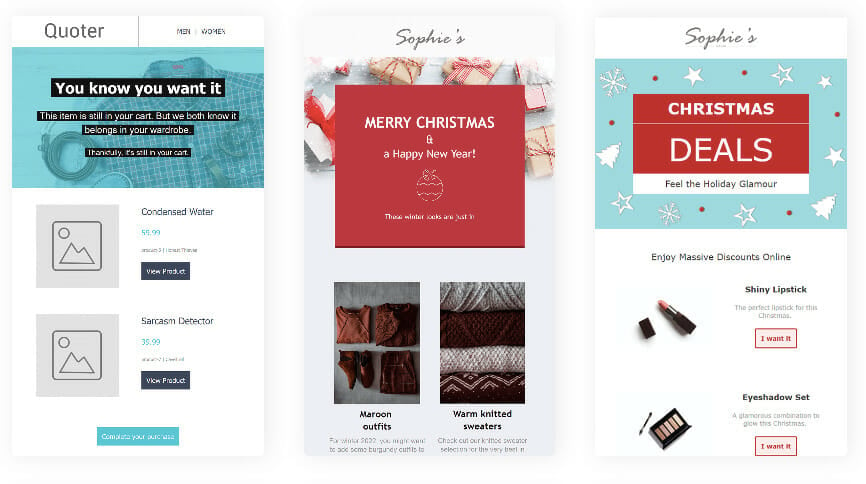 Each template also comes pre-designed for a specific purpose such as abandoned cart recovery, sending a discount code, or sending a welcome email to a new sign-up.
All this means that no matter what your business and no matter what occasion you need to send an email for, you're going to find a professional template to help get your message across.
The best part is that these templates are a breeze to customize thanks to a beginner-friendly drag-and-drop editor.
Dive Deeper: 7 Steps to Get More SaaS Customers with Cold Email
Pre-Designed Automated Workflows
Automation may have started as just another email marketing trend a few years back, but now it's such an integral part of growing a business that any email service that doesn't offer automated workflows is probably not worth your time.
Fortunately, Moosend not only offers automated workflows but offers more pre-designed automation 'recipes' and more simple-to-customize options than the majority of its competitors: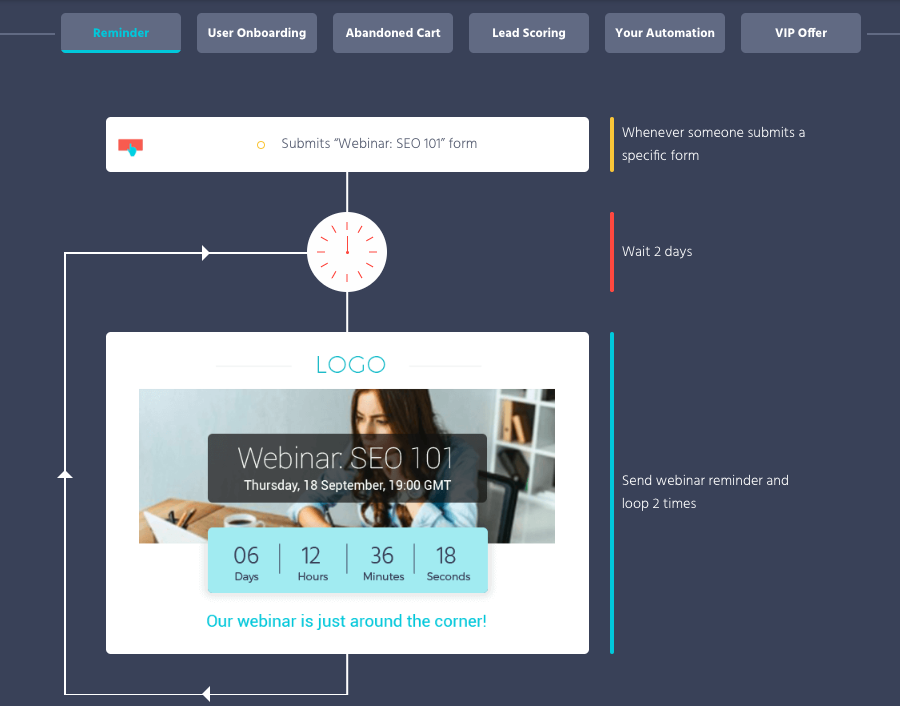 Though you can always choose to build a brand new workflow from scratch, you can save an awful lot of time by taking one of the dozens of email automation templates and tweaking it to your liking.
For example, if you're looking to use personalization to increase the impact of your email marketing, you could send personalized offers based on customers' previous purchases, or use a different template to send out a special discount on their birthday.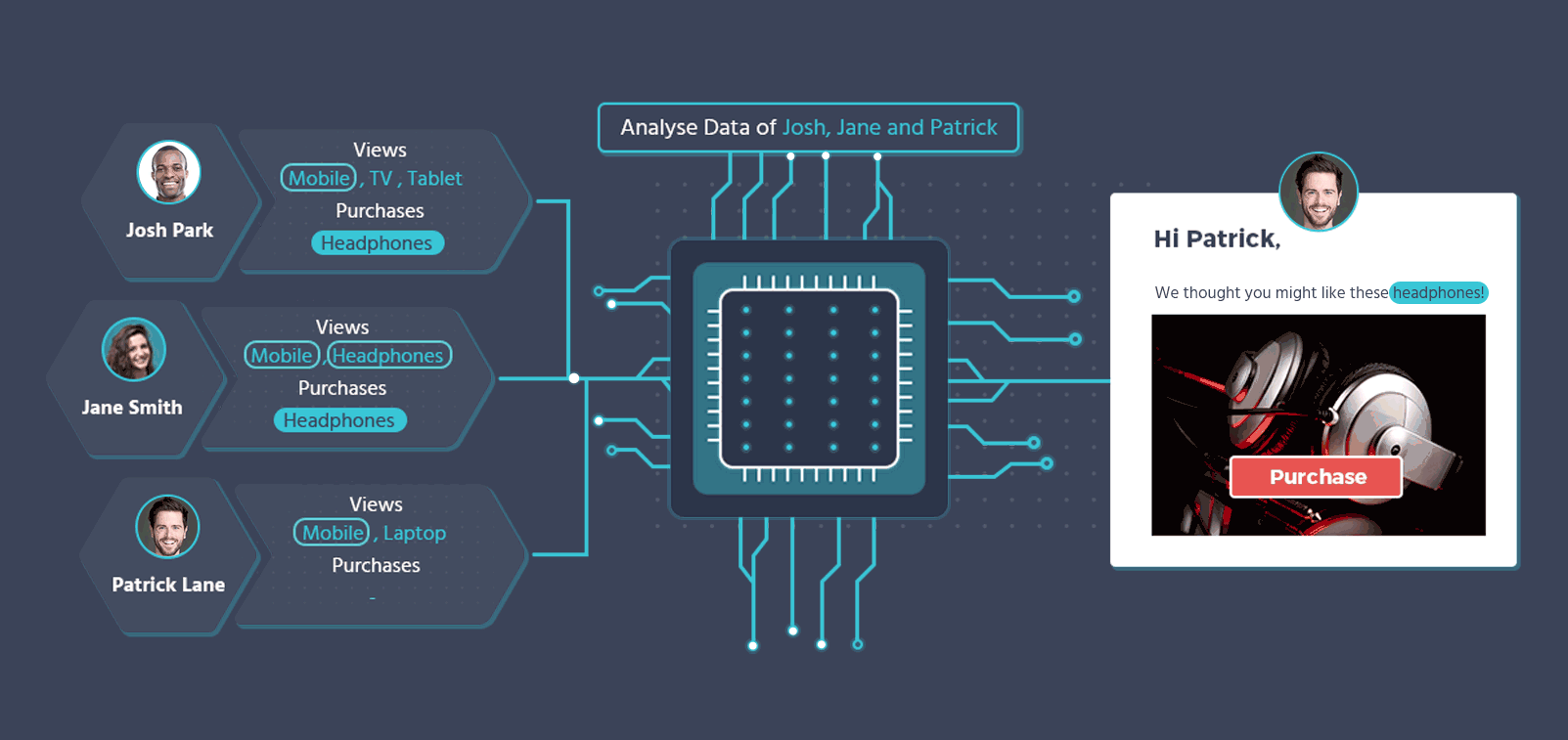 Elsewhere, you'll find recipes to send welcome email series, onboarding sequences, and abandoned cart recovery emails.
My personal favorite is the automated campaign which sends personalized product recommendations based on the weather in each customer's local area.
For example, if you run a home and garden store and the weather forecasts sunshine, it would send out recommendations for lawn chairs or gardening equipment. Should it rain, those customers would instead get recommendations for furniture covers or rain barrels.
Speaking of things I love, the interface for choosing and customizing these workflows is one of the simplest I've seen, making it a breeze for even absolute novices to harness the full power of email marketing automation.
Audience Segmentation
The ability to group your email subscribers into individual segments is another essential email marketing feature that Moosend makes incredibly easy.
Along with the option to create custom segments based on your preferences, you can also choose nine different pre-set audience segments based on user behavior or other factors, including:
A recent interaction with your campaign or web page
Total spend
Order total
Number of purchases
Unopened emails
Lack of engagement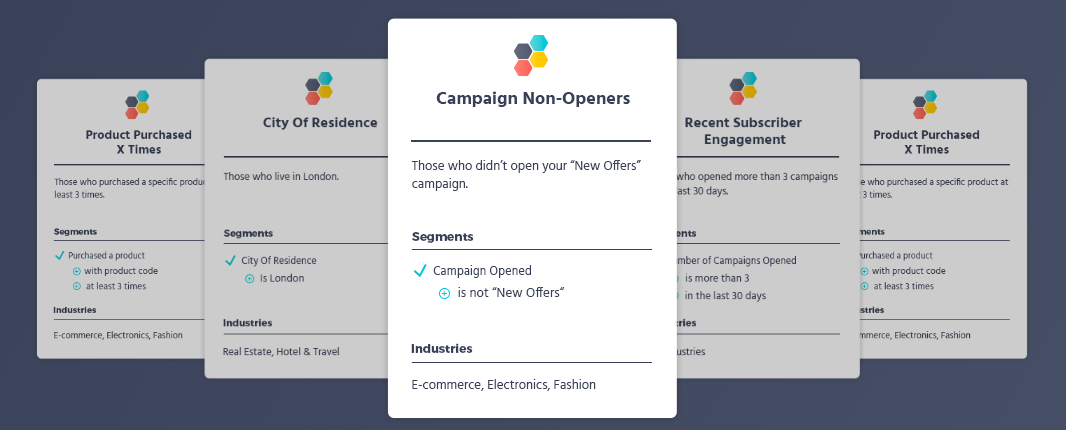 If you're using email marketing for multiple purposes or you only want to send certain special offers to your most loyal repeat customers, this useful feature ensures that you'll have no trouble doing so.
Other Key Moosend Features
Moosend's wide list of features also includes:
Dive Deeper: 7 Segmentation Mistakes That Are Costing Your Business Money
Moosend Pricing Plans
Moosend's affordable pricing is one of the main reasons why it's such an attractive option for email marketing beginners. And when you check out their plans for yourself, it's easy to see why: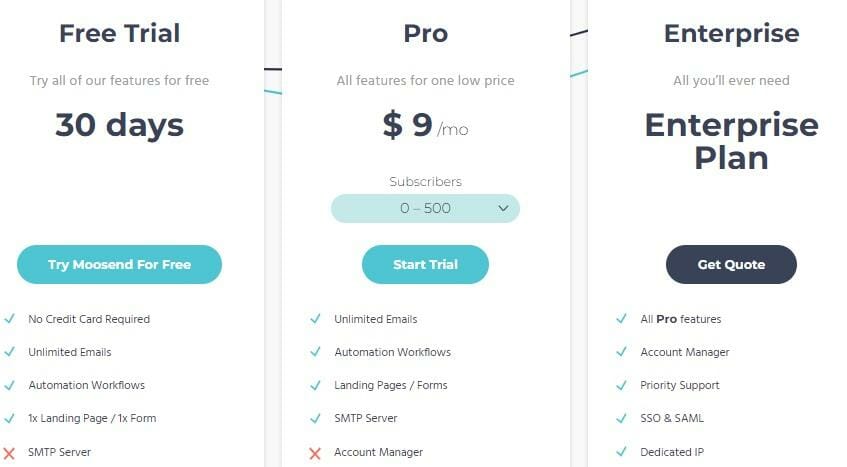 They don't have a free plan, as such, but the platform does offer an excellent, unrestricted 30-day free trial which allows you to test run all of its features (except for SMTP server integration) so that you can see if it's a good fit for helping you achieve your business goals.
If you do decide to stick with Moosend, you'll need to upgrade to a paid plan, like their low-cost Pro plan which contains all the following features:
Unlimited email campaigns
Transactional emails
Sign-up forms and subscription forms
Landing page builder
SMTP server
How much you pay for these features will depend on the number of subscribers you have, with plans starting at just $9 per month for up to 500 subscribers, all the way to $5,840 per month for 800,001+ subscribers.
Popular plans that are most likely to appeal to small and growing businesses include:
501 – 1,000 subscribers: $16/month
1,001 – 2,000 subscribers: $24/month
2,001 – 3,000 subscribers: $32/month
3,001 – 5,000 subscribers: $48/month
They also have an Enterprise plan, for which you'll have to call and get a quote.
For me, it isn't just the pricing structure itself that makes Moosend's plans so appealing. It's also the flexibility it affords you as a business owner.
If you're completely brand new to email marketing, you can start with a handful of subscribers on the $9 per month plan, and only pay more once the platform has started paying dividends and your email list surpasses the 500 subscriber mark.
That way, you only ever pay for what you need.
Moosend User Experience: How to Create One-Off and Automated Email Campaigns
Here, I'll walk you through setting up an email campaign so you can get a better idea of how this email platform works.
1) Start Your Free Trial
Go to moosend.com and type your email address into the box provided to start your free 30-day trial: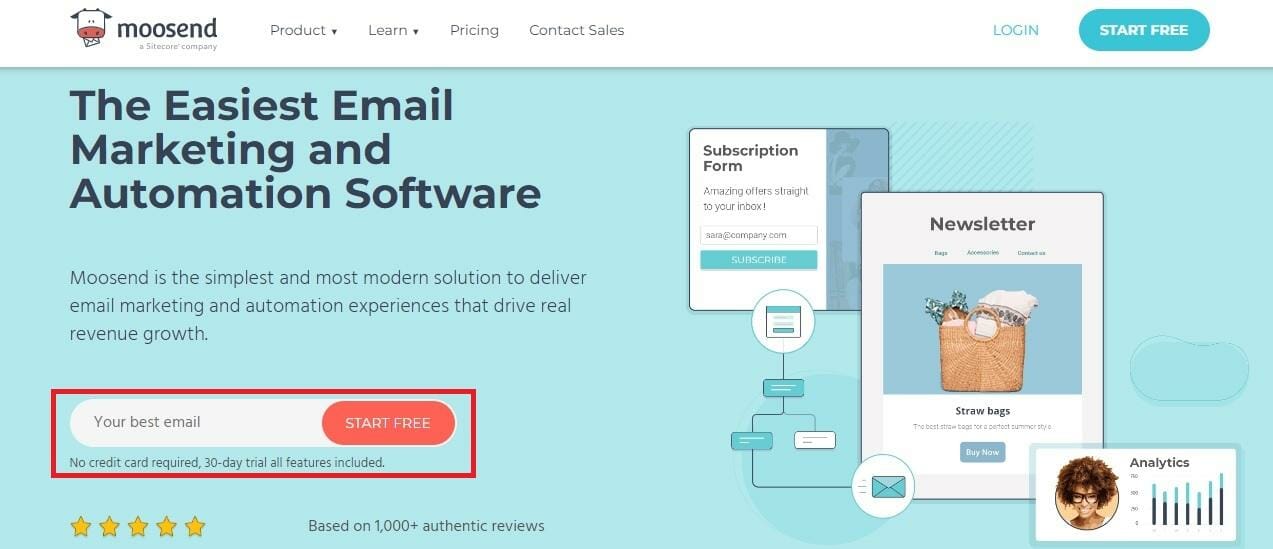 You won't need to enter any credit card details unless you decide to keep using Moosend at the end of the trial.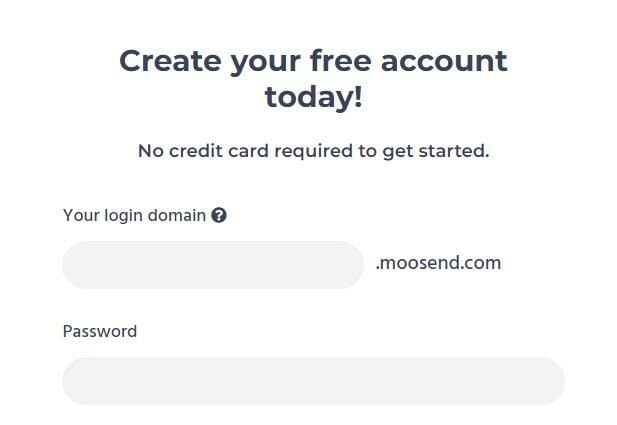 On the next screen, enter your login details and click 'register.'
2) Complete Your Moosend Profile
You'll enter your name first followed by a physical address which is required to comply with data privacy and anti-spam laws.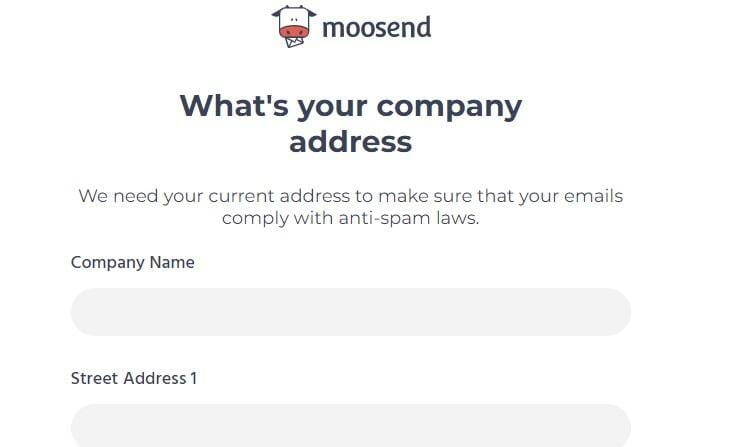 From here, the platform wants to learn more about your business and email marketing use so that it can tailor its features to match your needs.
Finally, you'll be asked about your business activities and your industry.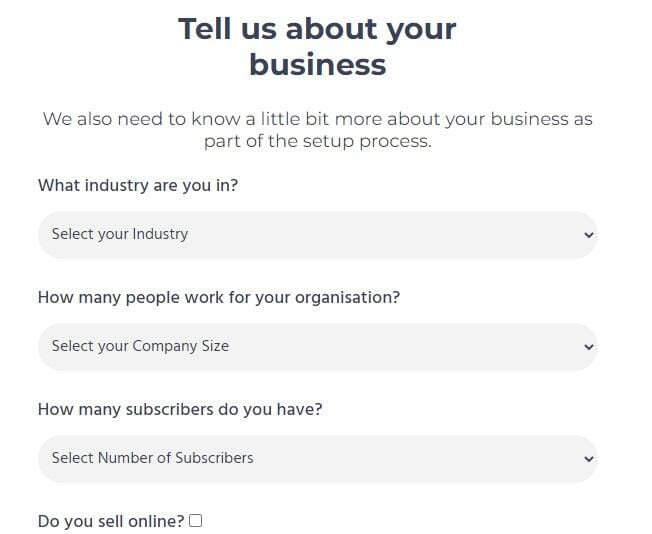 With all that done, you can finish activating your account by clicking on the verification link sent to your email.
3) Connect to Your Website
Clicking the verification link that was sent to your email automatically logs you into the Moosend dashboard: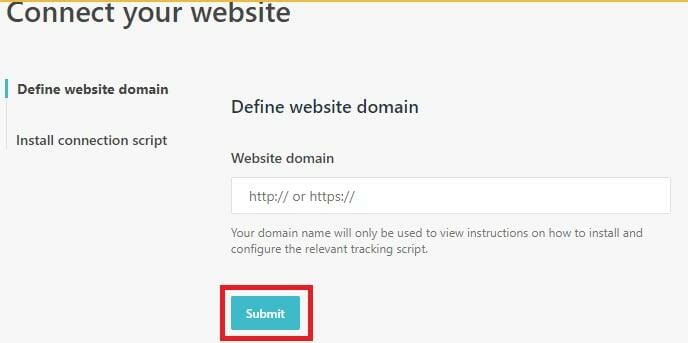 Here, you'll be invited to sync the platform with your website so that you can make the most of its features.
To begin, simply click 'Connect your website' and enter your domain name.
Click 'Submit' to generate the ID code you'll need to integrate Moosend with your site, and then select 'Install connection script':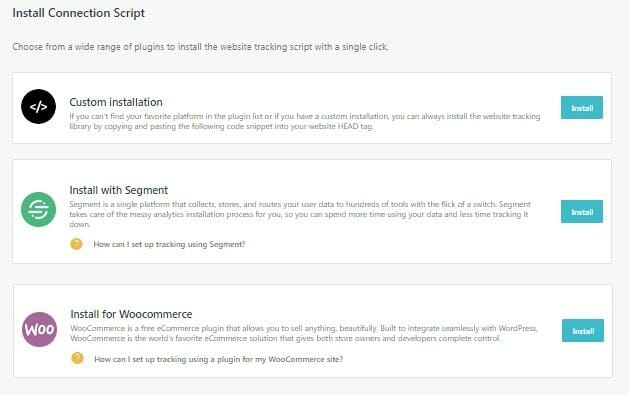 This page brings up eight different options to connect to your site. You can choose to manually copy and paste the code into your website, or you can access built-in tools to connect with well-known website builders, top e-commerce platforms, and shopping cart solutions, including:
Prestashop
ZenCart
CSCcart
OpenCart
It's important to note that Moosend is compatible with WordPress and WooCommerce, but on the day I wrote this review, the plugin was "closed" and inaccessible.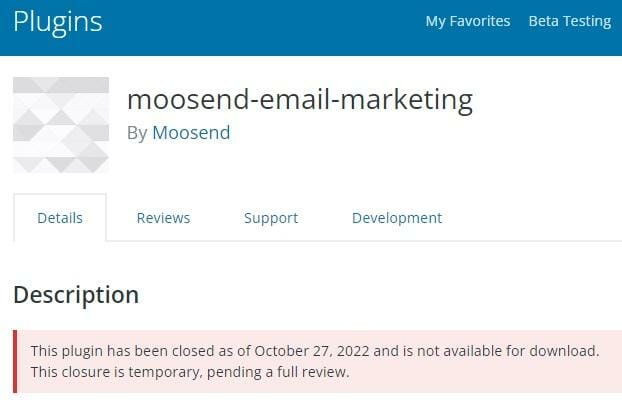 As such, WordPress users will have to choose the Custom installation option and paste the provided code into the HEAD tag of their website:

4) Create Your First Email List
To create your first email marketing campaign, you're going to need people to send it to which means your next task is to create your first email list.
From the main menu, select Audience > Email Lists > New > Email List using the button in the top right-hand corner.

Give your email list a name and click 'Create':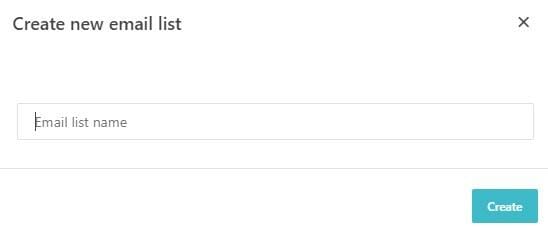 And then click 'Add a Member.' This will allow you to manually enter new subscribers to your mailing list.

Alternatively, you can click 'Perform bulk actions' to import multiple contacts in one of the following three ways:
Uploading a .csv, .txt, or .xlsx file
Manually copying and pasting an email list,
Importing contacts via Google Contacts or Salesforce
5) Create Your First Campaign
To create a regular broadcast such as an email newsletter, marketing message or announcement, select Campaigns > Regular, and then click 'Create':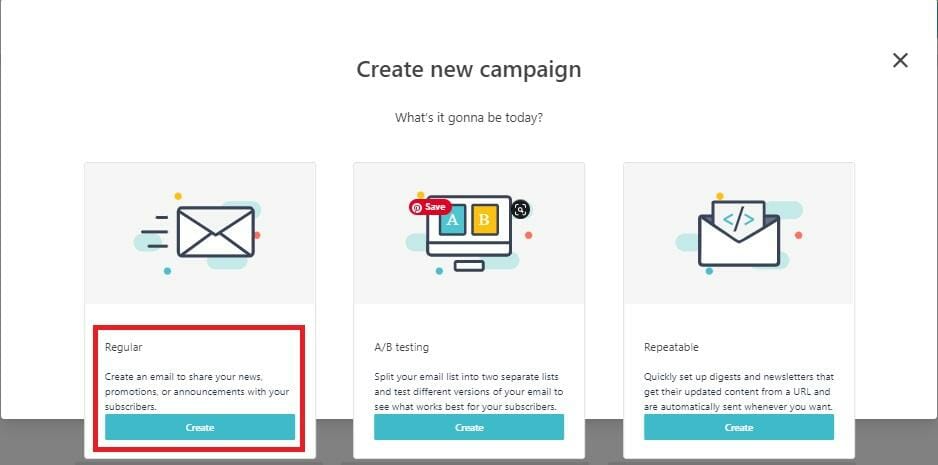 This will take you to the dashboard where you can configure all the essential details, including:
Campaign name
Subject name
Preview text
To and from names and email addresses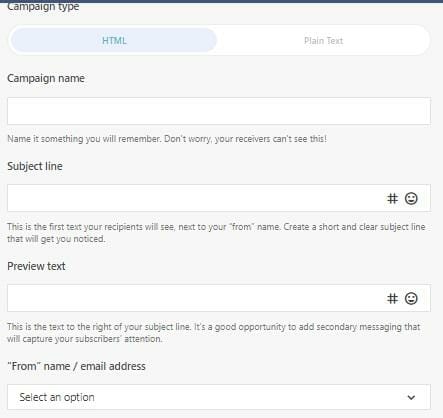 You can also choose to track your campaign and how much revenue it generates: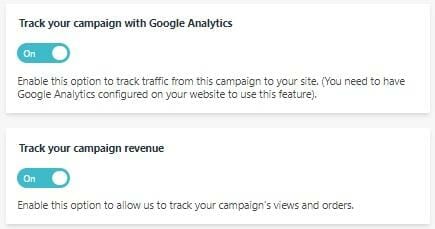 Next, select 'Design' and pick from one of the many high-quality templates: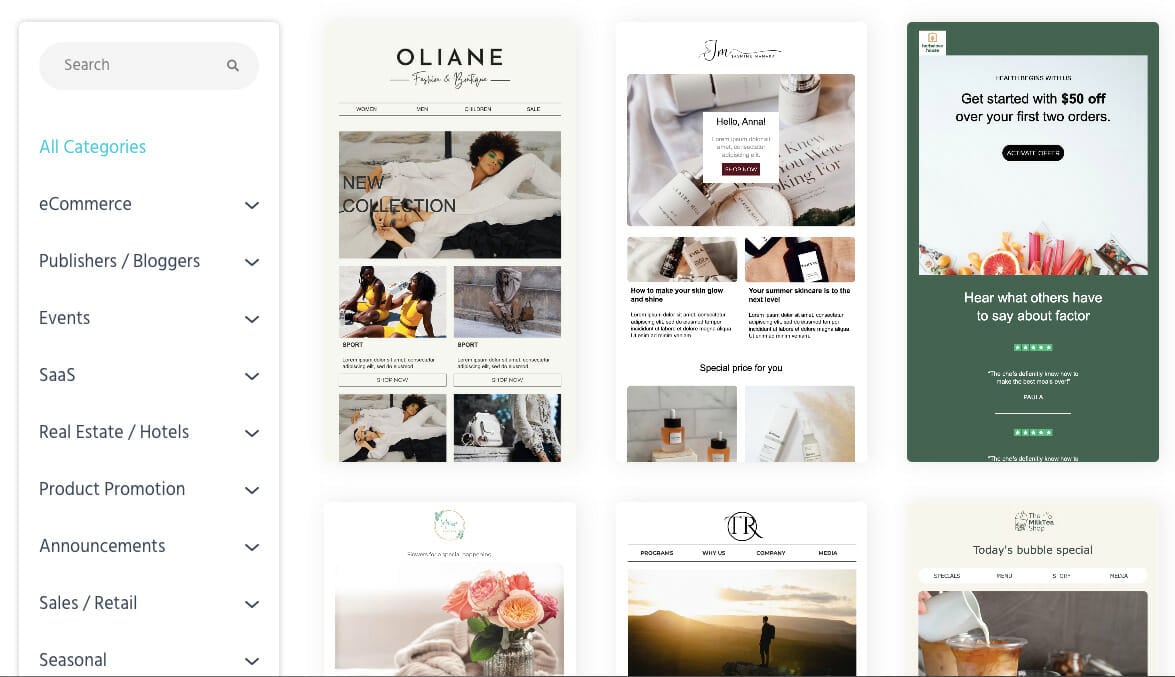 Here you can preview any template and select it at the click of a button: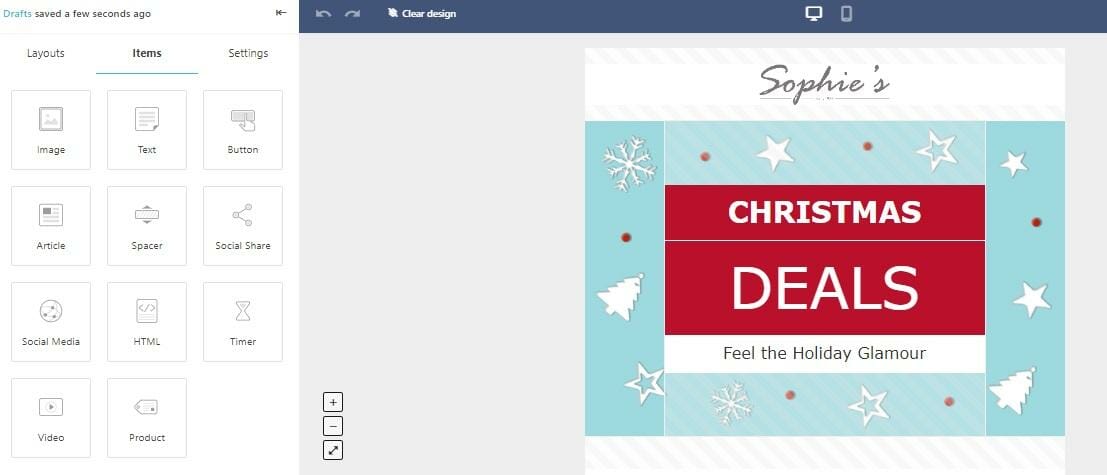 Doing so opens it up in a handy drag-and-drop editor which allows you to customize every element, as well as add new ones:

When you're done, you can choose to either send the email right away or schedule it for a later date and time, as well as whether or not you want to resend the email to recipients who don't open the message.
Now all that's left is to preview your campaign and send it out.
6) Create Your First Automated Campaign
If you prefer to create an automated campaign, you can do that by selecting 'Automation':

Here, you have the option to either create an automated workflow from scratch or use one of those excellent pre-made "recipes" I mentioned earlier: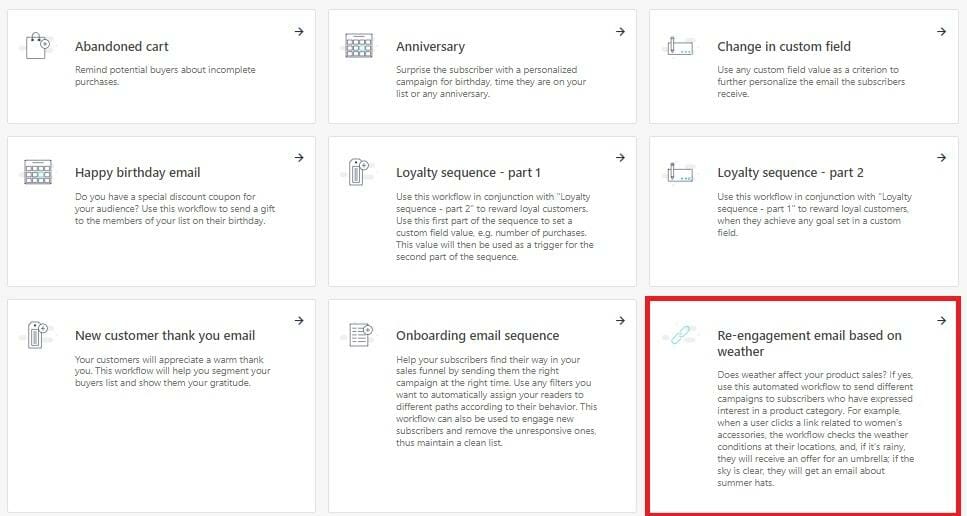 Since I'm a big fan of making things as simple as possible, I'm going to pick a recipe. Namely, I'll pick the recipe which automatically sends out product recommendations based on the local weather conditions: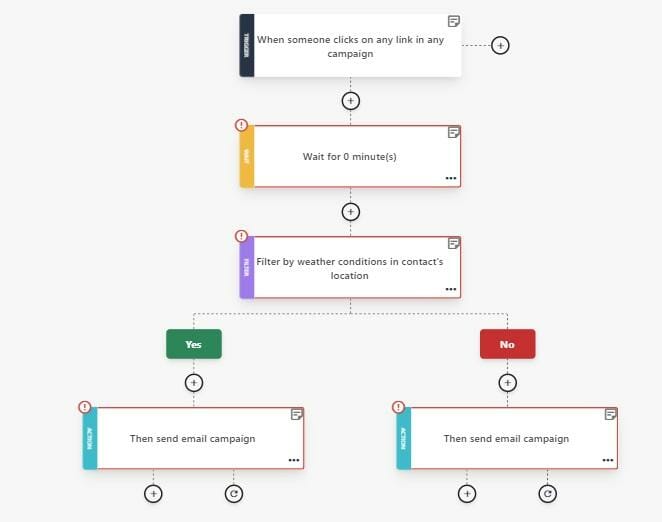 Whichever recipe you pick, you'll first be given an overview of how the automated steps in your workflow link together.
You can then customize each step of the process: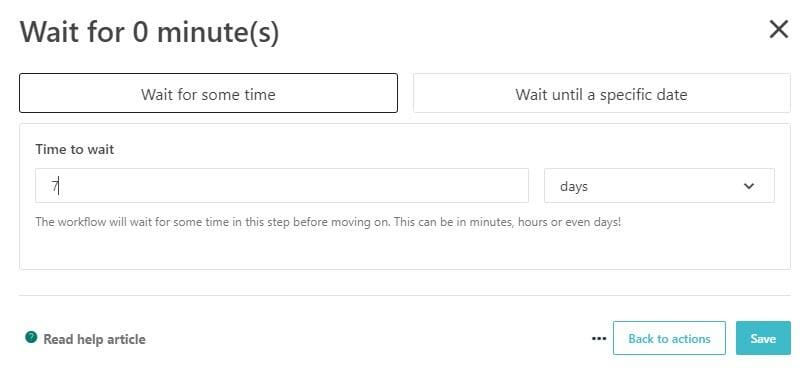 For example, you can choose when to trigger the automation:

And which weather condition should trigger the email being sent: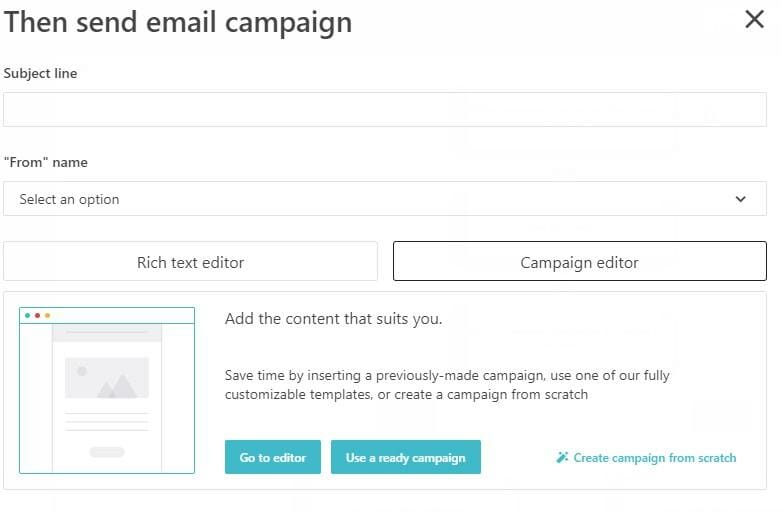 You'll also have the option to create a new email campaign message or import the design and content from the one you already created under 'Campaigns':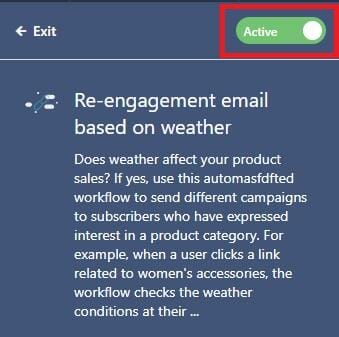 Once you've configured everything to your liking, all that's left to do is to activate the workflow, then sit back, relax, and watch as Moosend's email marketing automation gets to work on generating more web traffic and sales for your business.
It honestly couldn't be any simpler.
Dive Deeper:
* How to Lower Ecommerce PPC Advertising Costs with Email Marketing
* 10+ Follow-Up Email Examples You Should Share With Your Team
* How to Analyze Your Email Campaign Performance and Optimize It
What Customer Support Does Moosend Offer?
Though Moosend's exceptional ease of use is one of the main reasons why it's one of the best email marketing tools for beginners, help is still at hand should an unexpected problem arise.
Although the lack of telephone support may be off-putting to some, all users (even those on the 30-day trial) can access both email and live chat support at any time.
Email support comes with the standard 24-hour waiting time disclaimer, though we've seen plenty of support requests being replied to and resolved the same day.
Moosend Pros and Cons
Pros:
Moosend is a highly-intuitive platform that requires no experience or expertise to create attractive, effective email campaigns
The platform offers an impressive range of highly-customizable automation recipes
The scalable plans are highly affordable and come with a free 30-day trial.
Cons:
No telephone support is available
Lacks custom fields to personalize emails
Still unsure? Check out our other email marketing tool review:
AWeber Review: Is It Worth It in 2022?
Is Moosend the Best Email Marketing Tool for Beginners? Our Final Answer
If you're looking to get started with email marketing but you're put off by high costs or confusing features, you'll certainly find a great deal to like about Moosend.
Try the service free for 30 days and you'll find that sending beautifully-designed email campaigns and using powerful automation tools to boost sales and analyzing the results of your efforts is as simple as you could possibly hope for.
So yes, in our opinion, Moosend is certainly a powerful email marketing service for beginners, though if you don't yet have any subscribers to add to it, you may want to first check out our guide to the most creative ways to collect emails without being spammy.
---
FAQs About Moosend Email Marketing Platform
How many emails can I send with Moosend?
Moosend offers unlimited emails. You can add as many recipients as you like to an email list, send an email to that entire list, and create as many campaigns as you need to.
Does Moosend offer a free version?
No free version of Moosend's email marketing service is available, though you can access a trial and try it free for 30 days.
What are the best Moosend alternatives?
Mailerlite, GetResponse, ActiveCampaign, Mailchimp and Constant Contact are some other excellent email marketing providers that rival Moosend for simplicity, affordability and automation.