[Free Consultation] Are you spending money on advertising but not getting the results you want? Are you looking for more sales and leads but have no idea where or how to start? Get help from our world-class marketing experts in a free consultation call.
Click Here To Schedule Your Free Consultation Now
In this Semrush review, I'll be taking an in-depth look at the platform to assess whether it may be the answer to all your SEO needs.
You already know that things like competitor analysis, keyword research and search rank tracking are vitally important if you're going to achieve maximum online visibility for your brand.
The problem lies in the fact that keeping on top of all that can often be time-consuming, complicated and expensive, especially if you're using a separate tool for each of your SEO tasks.
Is Semrush worth the cost? Or would you be better off looking elsewhere to boost your search rankings?
That's the question we'll be answering in the following review.
Get My Free SEO/Content Marketing Plan
What Is Semrush and Who Is It For?
Semrush is a SaaS (Software as a Service) platform that provides a complete package of SEO tools that are accessible via one user-friendly dashboard. It was voted the best marketing and digital advertising product last year by the leading technology review platform G2.
The all-in-one platform is designed with agencies, freelance SEO professionals and in-house marketing teams in mind. Yet while its top-of-the-line pricing, enormous keyword database and extensive reporting features may make it well-suited for SEO pros, that doesn't mean that beginners won't find a lot to like about it.
In my experience, I've found that Semrush is easy enough to use that anyone with even a rudimentary understanding of Search Engine Optimization basics can use it to:
Improve positions in search engine results pages
Drive traffic
Optimize content to generate leads and sales
Use social media to its full potential
Semrush Key Features
1) Easy-to-Manage Dashboard
One criticism I often hear about Semrush is that the platform offers so many tools that finding the one(s) you need can be tricky. In my experience, that simply isn't the case.
After creating a project (I'll show you how to do that later), you'll be presented with a project dashboard packed with features without feeling cluttered or overwhelming:

Everything is clearly laid out, which makes it easy to navigate to the service you want and put it right to work on boosting your page rankings.
2) Site Audits
The impressive Site Audit feature is one of the first tools I recommend diving into when you begin using Semrush.
It scans your entire site to provide you with comprehensive insights into your site's general health and any issues that need fixing. You can drill down further to take a closer look at any element of your audit and get actionable tips on improving your site.
For example, the audit shows that our test site has a whopping 6o errors:

Clicking on the Errors tab shows you exactly what those errors are. It also tells you what's causing the problem and how to fix it: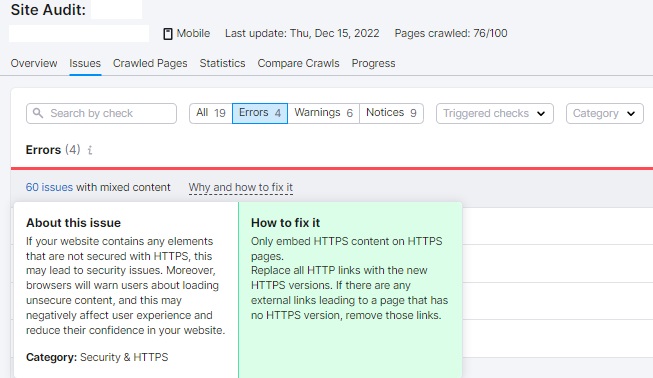 Like everything in Semrush, this is a breeze to use, making it a great tool for tackling those technical SEO problems that may be bringing your site down in search rankings.
Dive Deeper:
* How to Perform an SEO Audit for Your Website
* The Step-by-Step Guide to Conducting a Content Audit
* How (and Why) to Conduct an Effective Blog Post Audit
3) Keyword Research Tools
Of all the things you can do with Semrush, the platform is most famous for its excellent keyword research tools. The Keyword Magic Tool is the best place to start.
Enter a topic idea and the tool will generate a list of potential keywords to target with a complete breakdown of important details, such as:
[Search] Intent: why users are searching for that term
[Search] Volume: how many times a keyword was searched for in the last 12 months
[Search] Trend: whether the level of searches has increased or decreased over the past year
Keyword Difficulty (KD): how easy it is to rank for a keyword
Cost Per Click (CPC): how much advertisers generally pay when users click on an ad targeting a keyword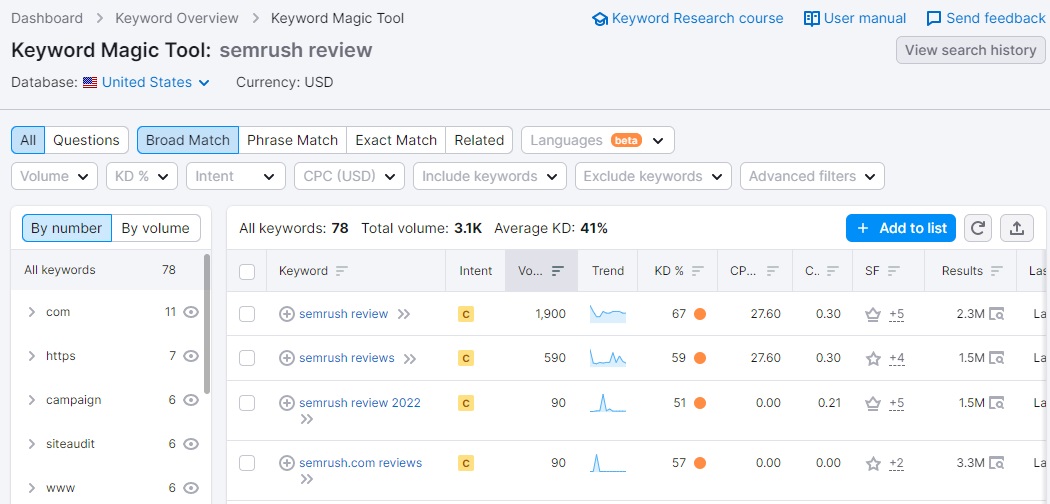 You can take a deeper look at these insights in the Keyword Overview Tool and save your findings in the handy Keyword Manager.
Elsewhere, the Position Tracking Tool will tell you how your content is performing in search results for keywords you're already targeting. (I'll provide a step-by-step guide on using each tool later in this review.)
Semrush's keyword data is highly accurate, and it's also very easy to understand. Each of these tools is fairly intuitive, making professional-level keyword research accessible to SEO newbies.
Dive Deeper: SEO Keyword Research Made Easy in 2023
4) Competitor Analysis
Semrush doesn't just help with your website's SEO performance, it also allows you to see how competitors in your niche are doing.
As the name implies, the Domain Overview allows you to enter the address of any website and take a glance at important details such as:
Authority Score and Domain Rank
Organic Search Traffic
Paid Search Traffic
Backlinks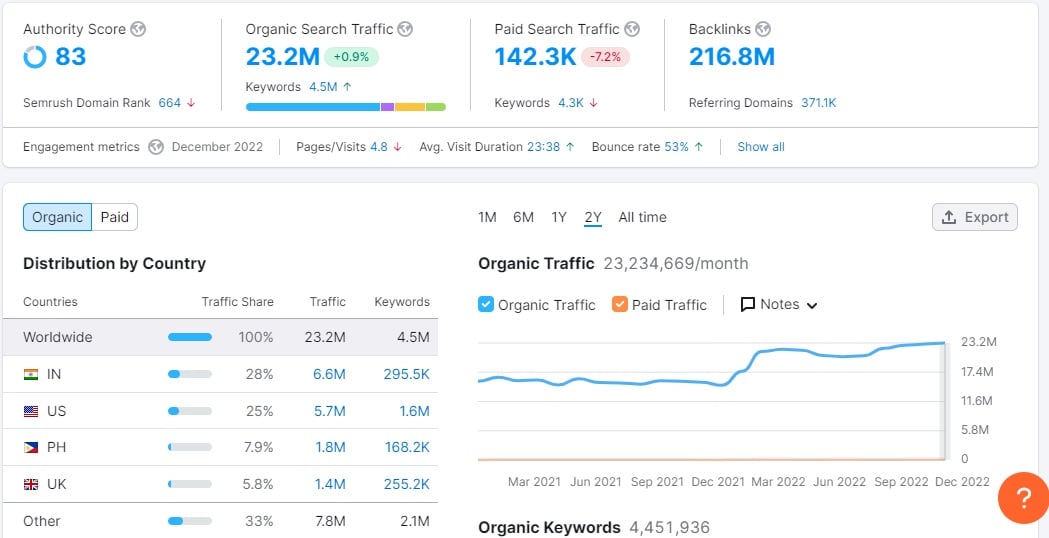 Beyond that, the Keyword Gap feature allows you to compare your keyword performance to your competitors and gain insights into how you can beat them in the search results. At the same time, the Backlink Gap tool identifies new opportunities for generating backlinks.
Dive Deeper:
* How – and Why – to Build a Backlink Portfolio
* How to Perform Marketing Competitor Analysis (+ 6 Best Tools Comparison)
5) Content Marketing Tools
Semrush offers a several content marketing tools, including topic research and SEO content templates that you can use to produce your content.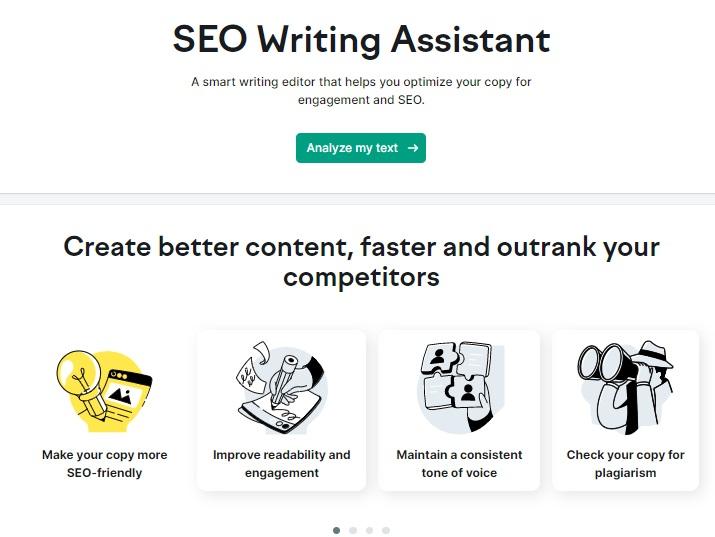 You can even open these templates in the built-in SEO writing assistant, which evaluates your writing in terms of readability, originality, tone and SEO keywords.
Simply enter at least two keywords in the box provided to use it. The tool will then generate a list of recommended keywords that you should include in your article. From there, you can either paste your existing content into the text editor and optimize it using the recommended keywords or write and optimize as you go: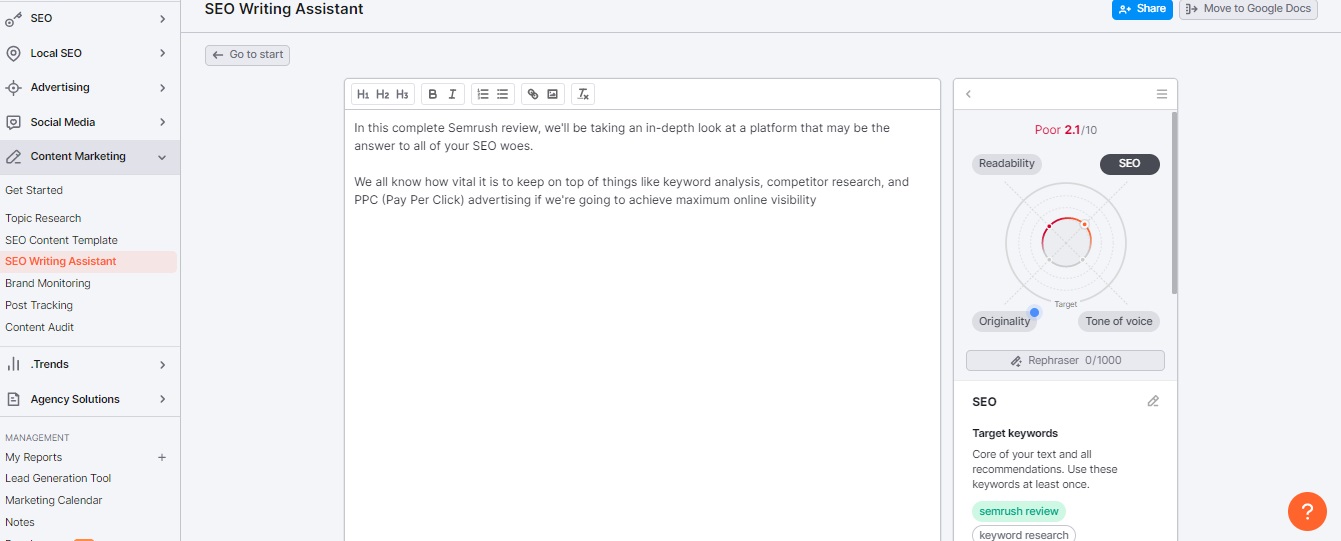 I used the SEO writer and other content marketing tools to create this review and overall have mixed feelings about it.
On the one hand, most of the tools are nowhere near as user-friendly as other Semrush features. It took me much longer than anticipated to understand how they all work. And even once I got to grips with it, the whole experience was still far from as easy like it is with other content optimization tools I've used in the past.
On the other hand, I did like that the AI writer integrates with Google Docs, giving me all the benefits of an SEO assistant with the clean, easy-to-navigate interface of my favorite docs editor.
Dive Deeper:
* What Is a Content Optimization Tool and Why Do You Need It?
* 7+ Content Optimization Strategies to Increase Your Rankings
Other Semrush Features
Along with all of the above features, Semrush also offers:
Organic traffic insights
Link-building tools, including audits of your existing backlink profile and tools to generate new backlinks
Local SEO tools
PPC advertising tools
Social media management
Get My Free SEO/Content Marketing Plan
How to Use Semrush for Keyword Research: A Step-by-Step Guide
1) Sign Up with Semrush
Point your browser to the Semrush website. On the homepage, enter the URL of the main website you'll be using with this service and click Start Now: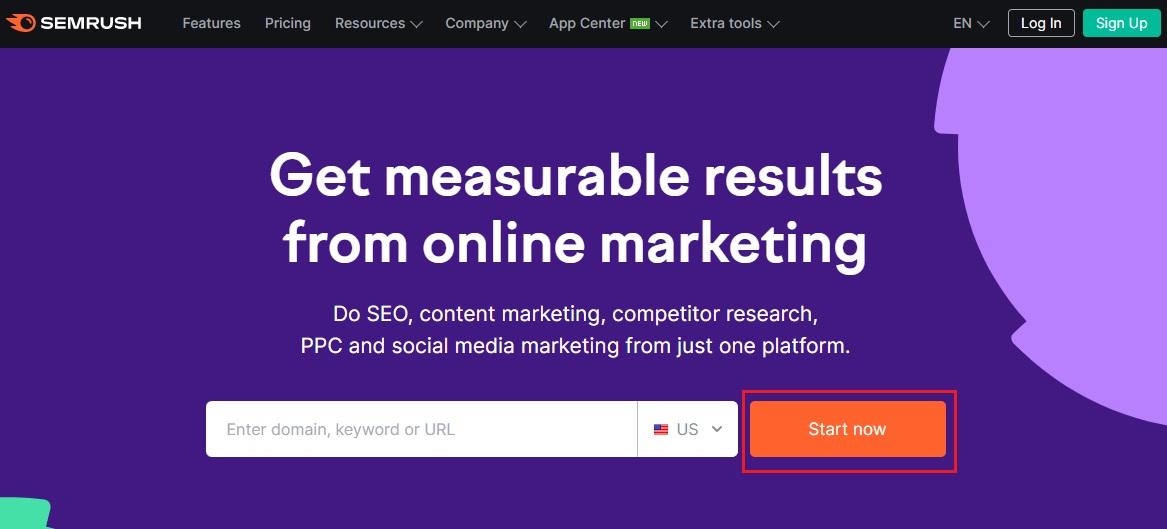 On the next screen, enter an email and password and click Create account: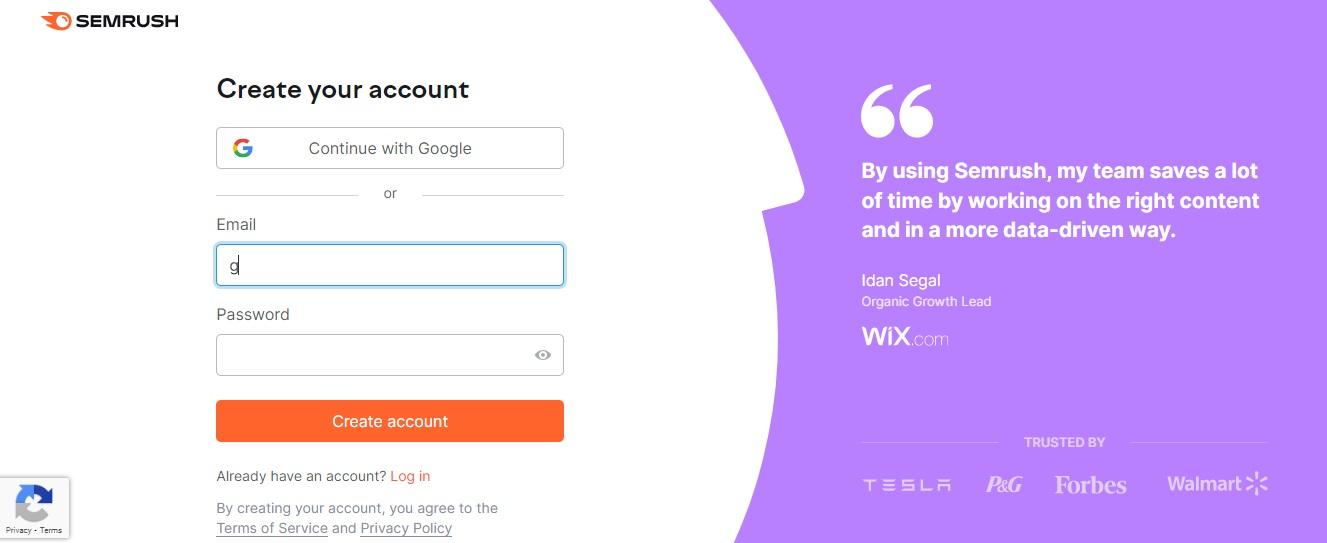 You'll then need to check your email for a confirmation code that you need to enter into the website before filling in essential details such as your name and phone number.
After completing a quick onboarding survey about your SEO activities, you can choose to access the 7-day free trial or go right ahead and pay for your subscription: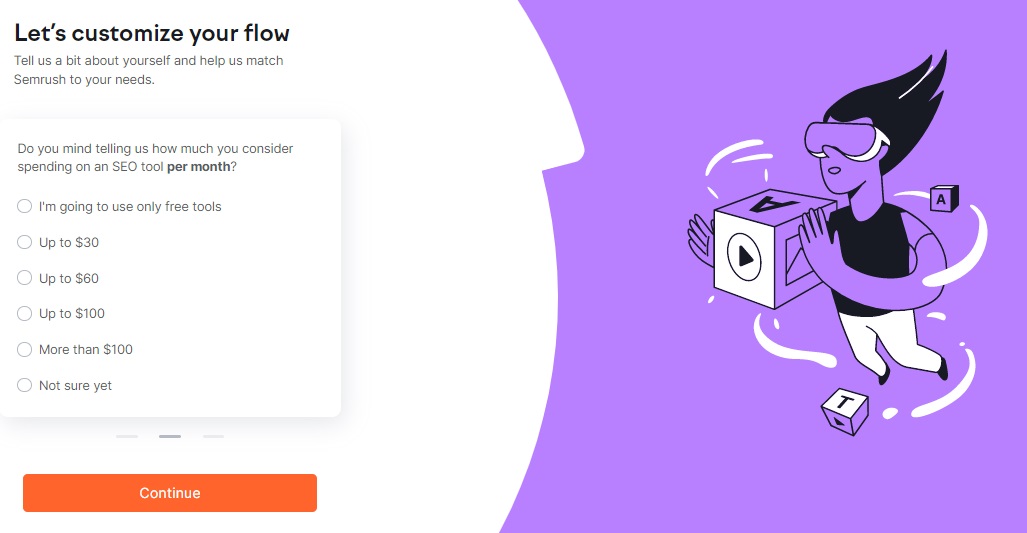 Once you've entered your credit card details, you'll be able to invite other users onboard. If you're not using Semrush for collaboration projects, you can skip this step.
2) Create Your First Project
When you first enter Semrush, you'll be presented with your project dashboard.
Here, you'll be able to access Semrush's SEO tools from the left-hand menu. On the right side of the page, you can set up your first project: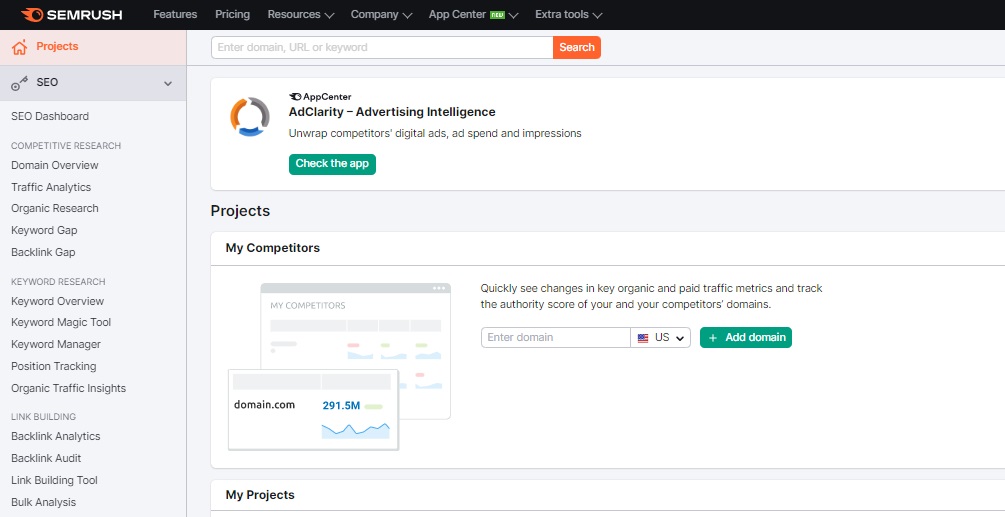 To do that, scroll down to the My Projects tab and click + Create project: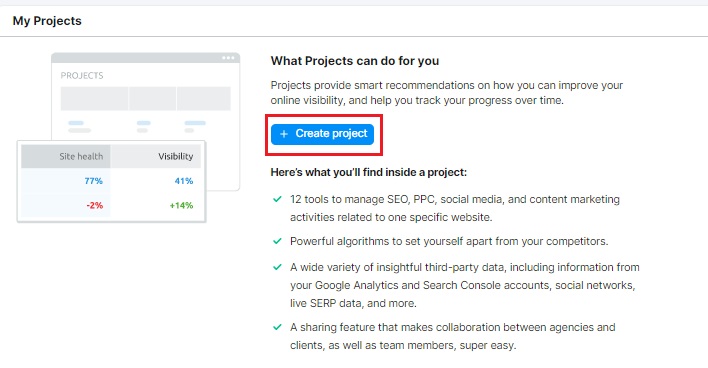 Enter your domain name in the pop-up, give your project a name, then click Create project: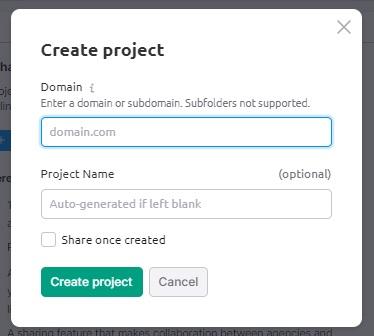 3) Generate Keyword Ideas with the Keyword Magic Tool
If you only have a general topic idea in mind but aren't yet sure which keyword to target, you can use the Keyword Magic Tool to come up with some ideas.
Select this tool from the dashboard menu on the left-hand side and type in the idea you have in mind. Semrush will then generate an extensive list of keywords you could potentially target:

This will provide you with basic information about search intent, keyword difficulty and other important factors you'll need to consider when deciding whether that keyword is worth pursuing.
Dive Deeper: How to Rank on Page 1 of Google for Thousands of Keywords
3) Use the Keyword Overview Tool to Analyze Your Preferred Keyword
Once you've chosen which keyword to target from the Keyword Magic Tool, you can use the Keyword Overview Tool to generate an in-depth analysis of its value and get an idea of how difficult it will be to rank high for that keyword.
Once you've created your project, navigate to Keyword Overview from your project dashboard and type in your chosen keyword:

This will provide you with a detailed look at everything you could possibly want to know about that keyword, including:
National and international search volume
Keyword difficulty
Search intent
PPC metrics such as Cost Per Click (CPC)
What SERP features rank for that keyword
Which URLs rank in the top 10 Google results for that keyword

You can also take a look at keyword variations, related keywords and questions that people ask about your keyword. All this can help you when it comes to planning your content:

5) Use the Keyword Manager to Save Keywords
If you're going to be accessing data about particular keywords regularly, you can navigate to the Keyword Manager Tool to save them in a list.
To do this, give your new list a name and click Create list: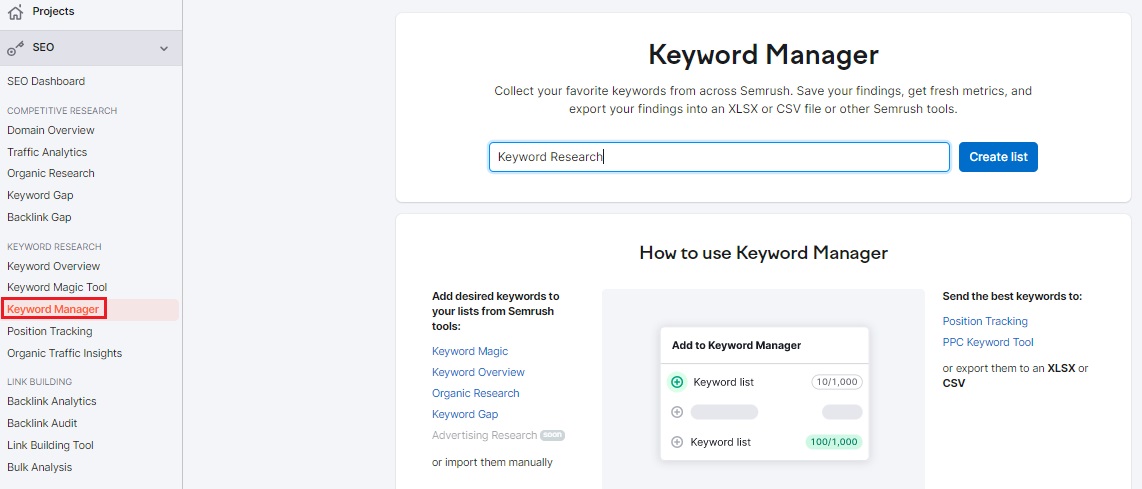 Now, when researching a keyword in either the Keyword Overview or Keyword Magic tools, a new button will appear labeled + Add to keyword list:

You can select the keywords you want to save and then click the button mentioned above.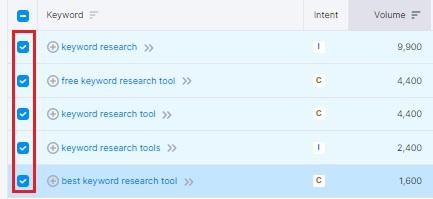 Choose the list you want to add those new keywords to, and then navigate back to the Keyword Manager: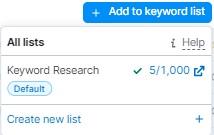 Select your preferred list, which will bring up an overview of each keyword:

From here, you can click on any keyword to open up a detailed analysis in the overview tool:

You can also manually add new keywords to your list: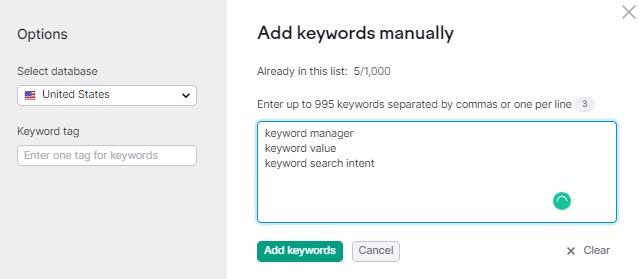 Alternatively, you can use the Send to other tools feature to automatically add your chosen keywords to the Position Tracking and PPC Keyword tools I looked at earlier in this review: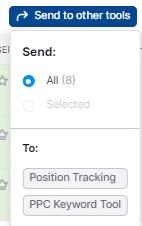 6) Use the Position Tracking Tool to Monitor Keyword Performance
Now that you've chosen which keywords to target, you'll set about creating content for them.
To help you with that, I've produced this guide on how to consistently create high-quality content. Check that out, and when you're ready, come back here for the final piece of the puzzle: tracking your keywords. Keyword position tracking will monitor where you rank in search engine results for any particular keyword.
Select the Position Tracker Tool from your Semrush dashboard and enter your domain name:

Next, you can choose from the following options:
Whether to target your entire website (root domain), subdomain, URL or subfolder
Whether to track keywords on Google or Baidu
Whether to track desktop, mobile or tablet searches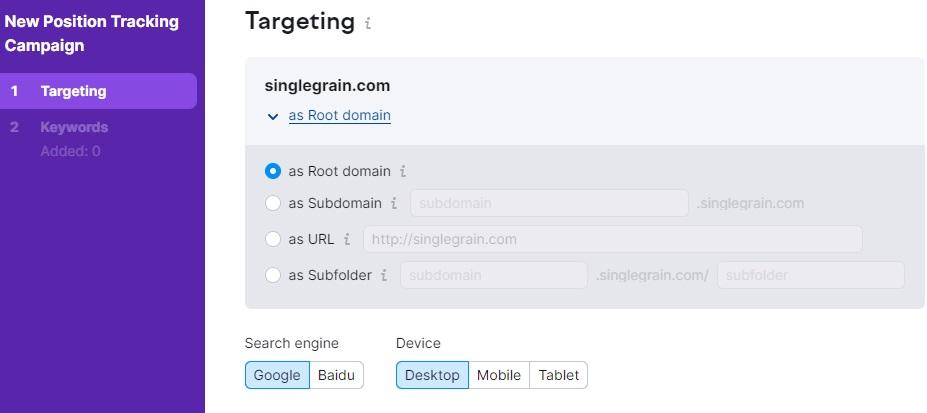 You can also target a specific location or business name.
When you've selected your preferred options, move onto the Keywords tab and enter the keyword you want to track:

Then scroll down and click Start Tracking:

This will then generate a report on how well you're performing for that keyword compared to your competitors.
And that's all there is to it. Follow these few simple steps, and you'll be on your way to using keywords effectively!
Get My Free SEO/Content Marketing Plan
Semrush Pricing: How Much Does It Cost?
Semrush offers three plans aimed at SEO and marketing professionals.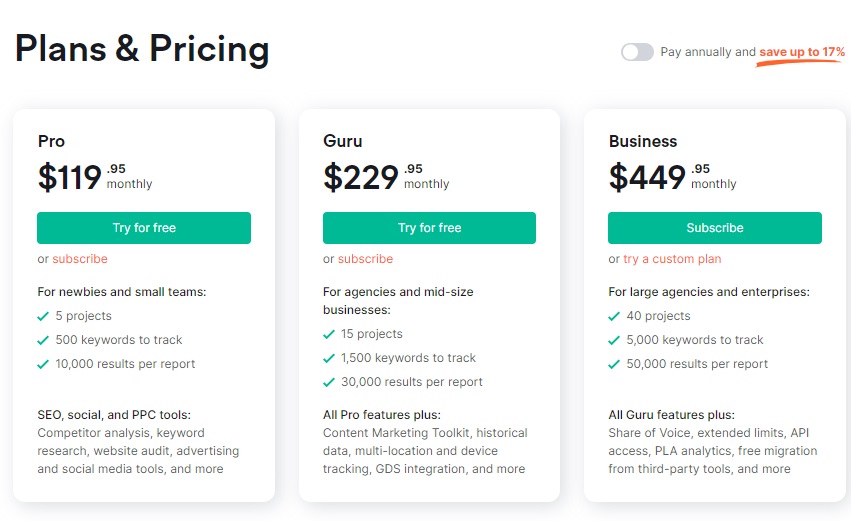 Pricing is mainly determined by the number of projects you need to manage and the number of keywords you want to track, meaning the following three options are well-suited for established businesses of all sizes:
Pro: $119.95/month (or $99.95/month if paid annually)
5 projects
500 keywords
3,000 daily reports
10,000 results in each report
100,000 monthly page crawls
10 social media profiles
Guru: $229.95/month (or $191.62/month if paid annually)
15 projects
1,500 keywords
5,000 daily reports
30,000 results in each report
300,000 monthly page crawls
30 social media profiles
Plus: Access to the Content Marketing Platform and Looker Studio integration.
Business: $449.95/month (or $374.95/month if paid annually)
Includes everything in the Guru plan plus:
40 projects
5,000 keywords
10,000 daily reports
50,000 results in each report
1,000,000 monthly page crawls
50 social media profiles.
Access to Share of Voice metrics
API access
There's no getting around the fact that Semrush's pricing is on the high side, especially when compared to the costs of other SEO suites like Ahrefs and Serpstat. However, in my opinion, this tool still provides good value for the money when you consider the sheer number of tools you have at your disposal.
Semrush Add-Ons
The bad news is that the platform can easily become even more expensive. If you want to bring additional users on board to work with you, that's going to cost you.
How much you pay per user is determined by which plan you're on:
Pro – $45/month, per user
Guru – $80/month, per user
Business – $100/month, per user
The following add-ons are also available:
Semrush Trends – $200/month, per user. Advanced traffic analytics for both your own sites and those of your competitors.
Agency Growth Kit – $150/month, per user. A complete lead-generation and Customer Relationship Management (CRM) platform.
ImpactHero – $200/month, per user. AI-generated content analysis.
Can You Get Semrush for Free?
If you're just starting your marketing journey and don't yet have the budget to spend hundreds of dollars per month on a professional SEO suite, there is some good news: Semrush does offer a free plan.
While this provides access to almost all the SEO tools that Semrush offers, your use is extremely limited. For example, you can only use the free plan to track one competitor and a handful of keywords. There are also restrictions on site audits, rank tracking and other key features.
That said, this may not be a bad thing if you're a solopreneur or small business owner with a single website that you're just getting off the ground.
I should also point out that you can access a 7-day free trial of Semrush's pro plans. You will need to enter your credit card details to access the trial, but if you forget to cancel the plan on time, you can still get a full refund up to seven days after you've been charged.
Does Semrush Offer Good Customer Support?
While I like the fact that Semrush is easy to use, we all run into problems from time to time. It's nice to know that Semrush's customer support is overall pretty good.
Semrush support can be accessed via live chat, email and telephone: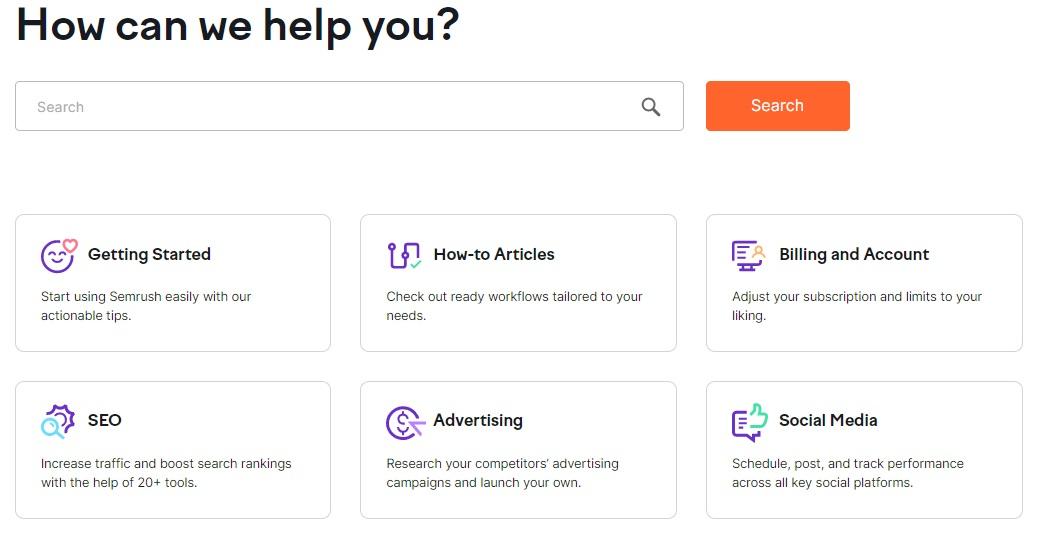 Phone support is only available between 10 a.m. – 6 p.m. Monday to Friday. This may be problematic if you're working on your business outside of normal office hours, but the live chat and email service are available 24/7.
All three services are staffed by friendly, patient and knowledgeable support staff who solve problems efficiently in a simple, jargon-free way.
If you prefer to troubleshoot problems on your own, there's an extensive knowledge base available that is easy to navigate and packed with easy-to-follow guidance.
Dive Deeper: 12 Best Semrush Alternatives for Ranking Your Content
Final Thoughts: Is Semrush Worth the Money?
Now that you've this Semrush review, I hope you got all the information you need to decide for yourself whether Semrush is worth paying for. But if you still just want a straight answer, here it is: Yes.
Semrush may be more expensive than other all-in-one SEO tools, but when you consider how much you'd spend if you signed up for separate tools for keyword research, competitor analysis, content marketing and social media, it actually works out to be a great value-for-your-money package.
What's more, you can see for yourself just how effective and easy-to-use the platform is by signing up for the 7-day free trial before deciding whether to put it to work on maximizing your online visibility.
Get My Free SEO/Content Marketing Plan
---
Semrush FAQs
Semrush is a popular digital marketing tool that provides a suite of services designed to help businesses and online marketers improve their online visibility.
The platform offers a range of features and tools, including keyword research, site audit, backlink analysis and competitive analysis. Users can track their rankings, research keywords, monitor their competitors and identify opportunities to improve their SEO and PPC campaigns.
It can also be used to inform content strategy by analyzing the content of top-ranking pages, and to monitor social media activity, including the performance of competitor campaigns.
Can you trust Semrush?
Absolutely. Semrush is one of the world's largest SEO and digital marketing platforms, with almost half a million active users. The company's keyword data is as accurate as you'll find, and I've found no reports of them ever being hacked.
Can I use Semrush for free?
Yes. The platform has a heavily restricted free plan and also offers a 7-day free trial of its premium service.
Is there anything better than Semrush?
Ahrefs and Serpstat are among the best Semrush alternatives, though I think that Semrush is still better.