[Free Consultation] Are you spending money on advertising but not getting the results you want? Are you looking for more sales and leads but have no idea where or how to start? Get help from our world-class marketing experts in a free consultation call.
Click Here To Schedule Your Free Consultation Now
BuzzSumo is a content research tool that helps writers, marketers and SEO professionals create engaging content that drives traffic, social engagement and backlinks.
The online platform has been praised for its user-friendliness, functionality and enormous index of over 8 billion pages and 300 million online influencers. Users include like Disney, Meta, and Expedia.
But is the buzz around BuzzSumo justified?
To answer that question, I put the tool through its paces in this BuzzSumo review.
Here's my honest take on this popular content marketing tool's features, pricing, ease of use, and pros and cons.
Get My Free Content Marketing Plan
What Is BuzzSumo?
Launched in 2014, BuzzSumo is a cloud-based content research tool that helps marketers and creators discover what topics are trending now, which influencers are worth building relationships with for better social media marketing, and what content strategies their competitors use.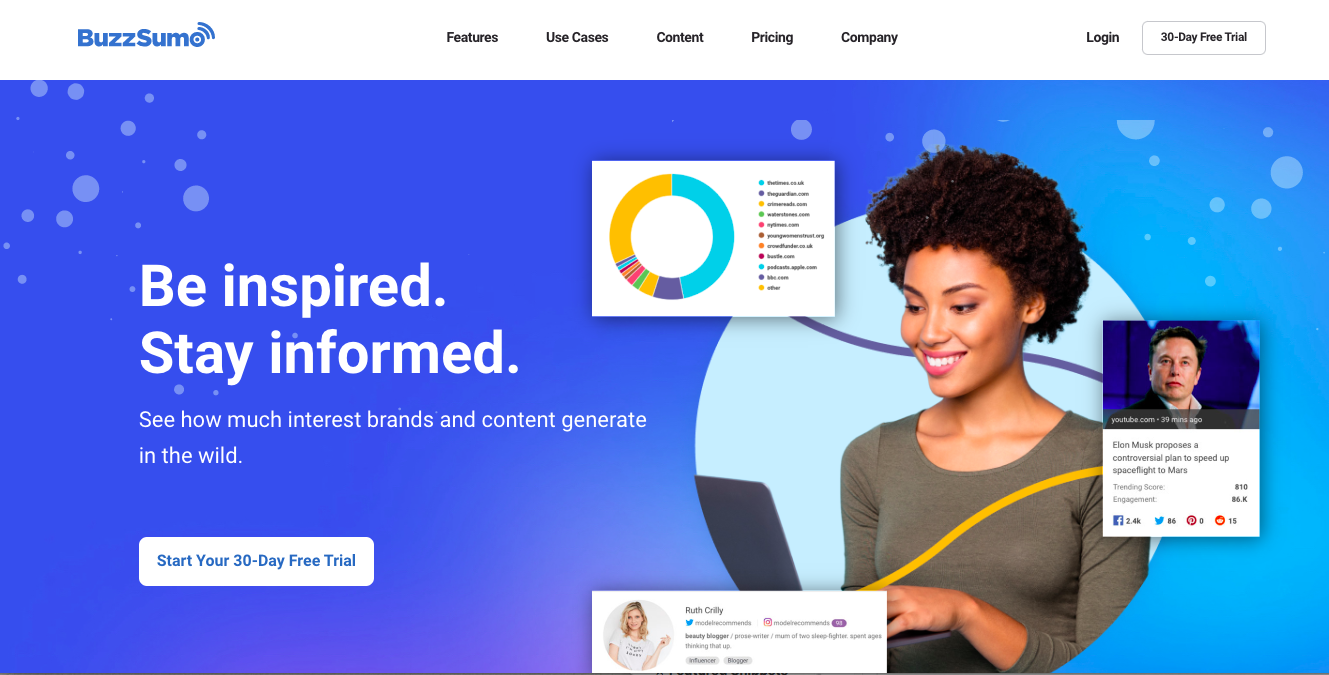 These insights are drawn from an expansive database over the past five years and can be used in many ways to shape, sharpen, and create your content strategy.
For example, after using an SEO tool like Semrush to conduct keyword research, you could pick a keyword to focus on, enter it into BuzzSumo, and immediately get a list of the articles that perform best and generate the most engagement for that keyword.
Those top-performing articles can then be used as a jumping-off point, providing inspiration and ideas for your content outlines.
As you'll see below, that's just one of the many possible ways to use the service.
Dive Deeper: How to Use Google Keyword Planner for Content Creation
BuzzSumo Key Features
BuzzSumo divides its features into three main categories: Idea Generation, Content Research and Influencer Discovery.
Let's go through them one by one.
1) Idea Generation
If you're ready to get started with your content marketing efforts but don't know what to focus on, the Discover Topics tool is a great place to begin. Enter any broad keyword, and BuzzSumo will deliver a word cloud with the most popular topics about it: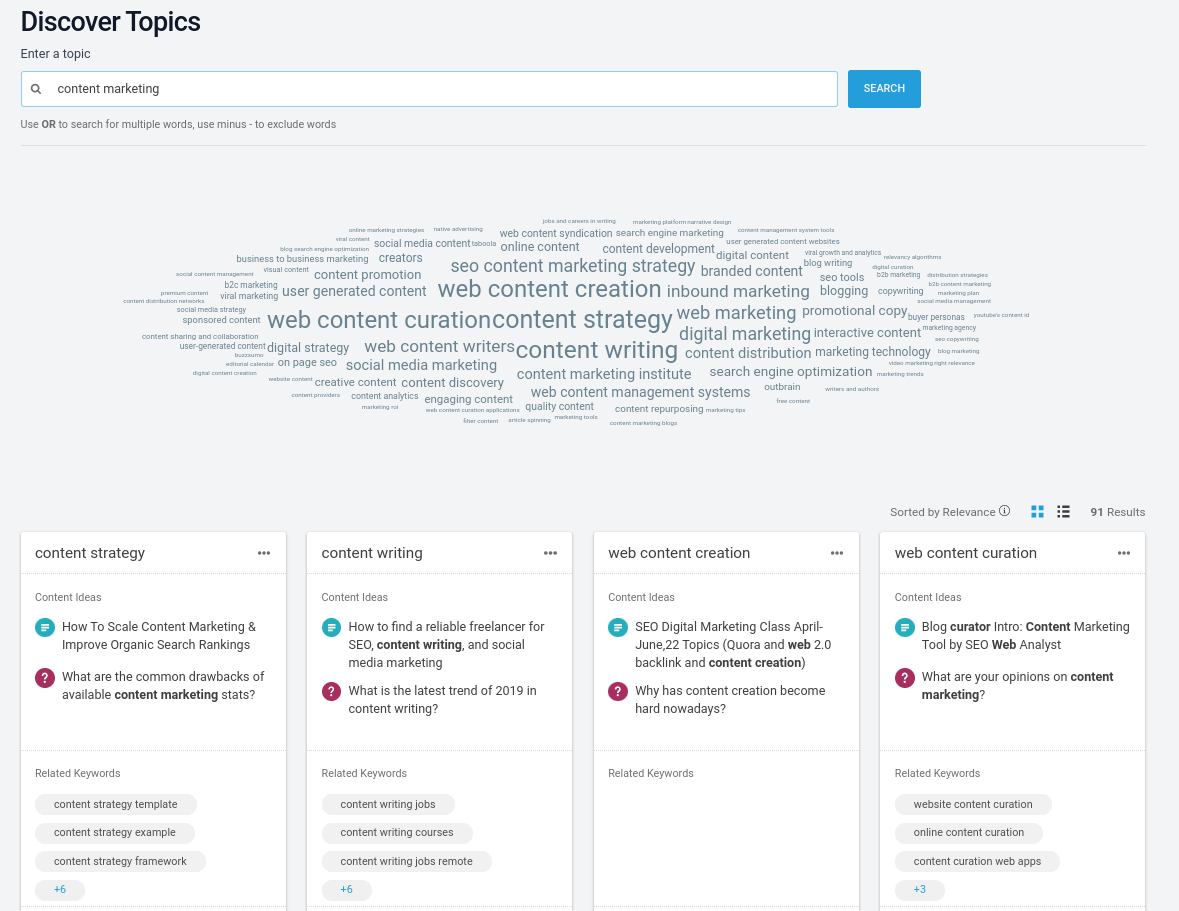 Below it, you'll also get a breakdown of suggested article titles and content ideas for each specific topic: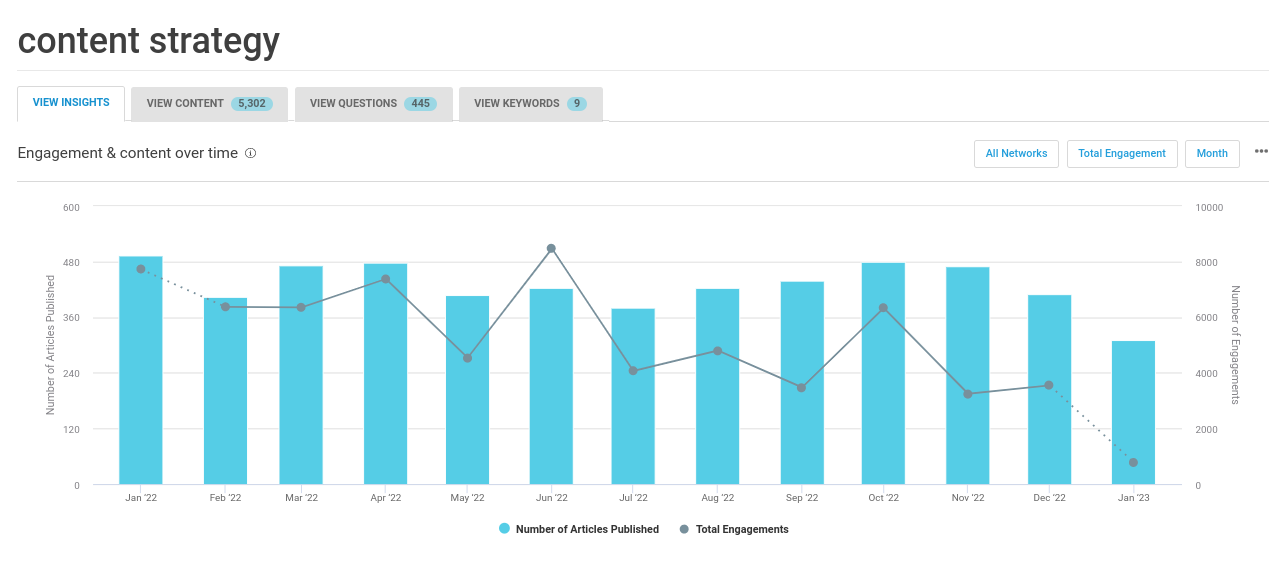 Selecting any of those content idea groups provides you with further data about the topic, including:
Analytics detailing the number of articles published for that topic and overall engagement levels
A lengthy list of articles published
Questions users ask about your topic
Related keywords
This content discovery tool gives Semrush's keyword research tool a good run for its money: It can be invaluable for determining which subjects are worth your attention as well as refilling your idea well once it runs dry.
Elsewhere, the Trends feature is fantastic for content creators who focus on timely, trending subjects rather than evergreen content.
Here, you can view the latest headlines under several automatically curated categories, such as technology, politics, fashion and sports, or create your own curated feeds based on your niche keywords: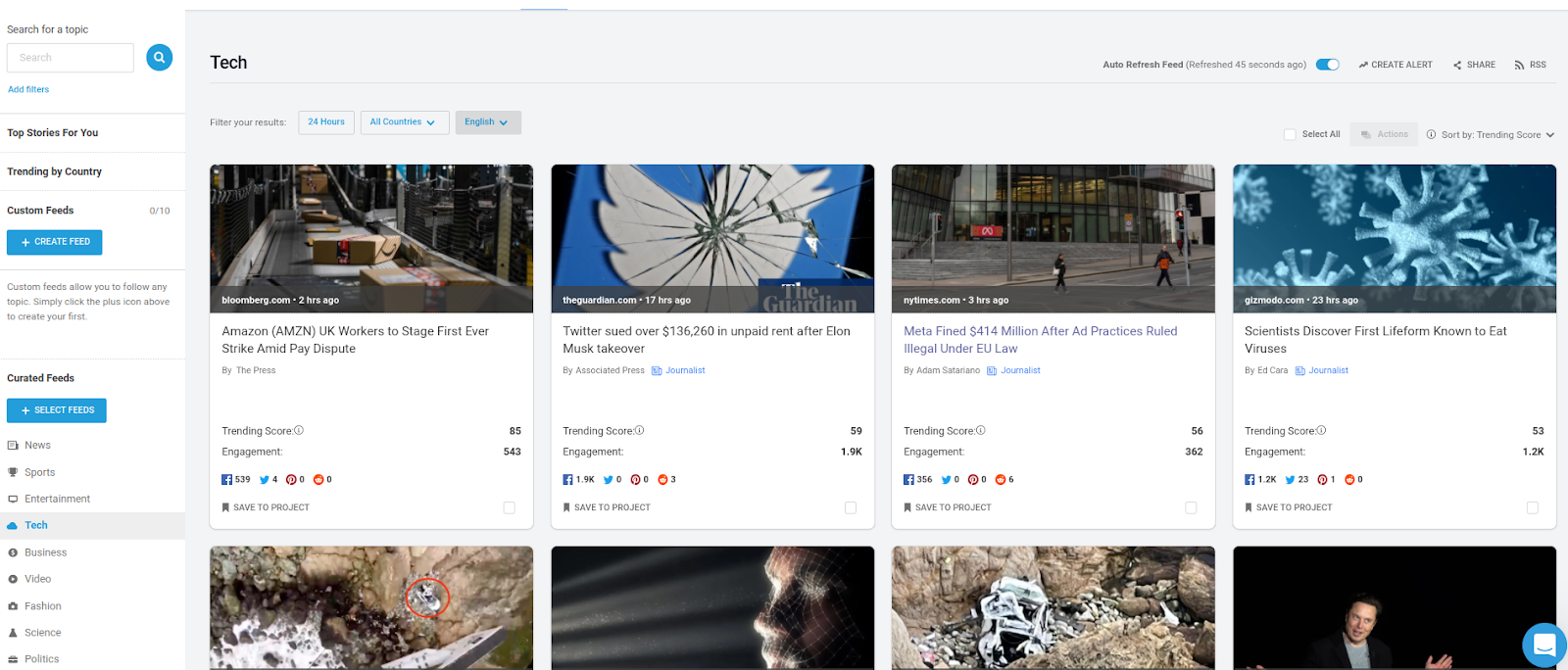 Finally, the Content Ideas Generator is one of the best tools we've come across for end-to-end content research and creation.
With this tool, you can view a whole host of insights into trending content around a particular topic, learn which types of content and lengths perform best for that topic, and even discover the best time and social media platform to share your content with your target audience.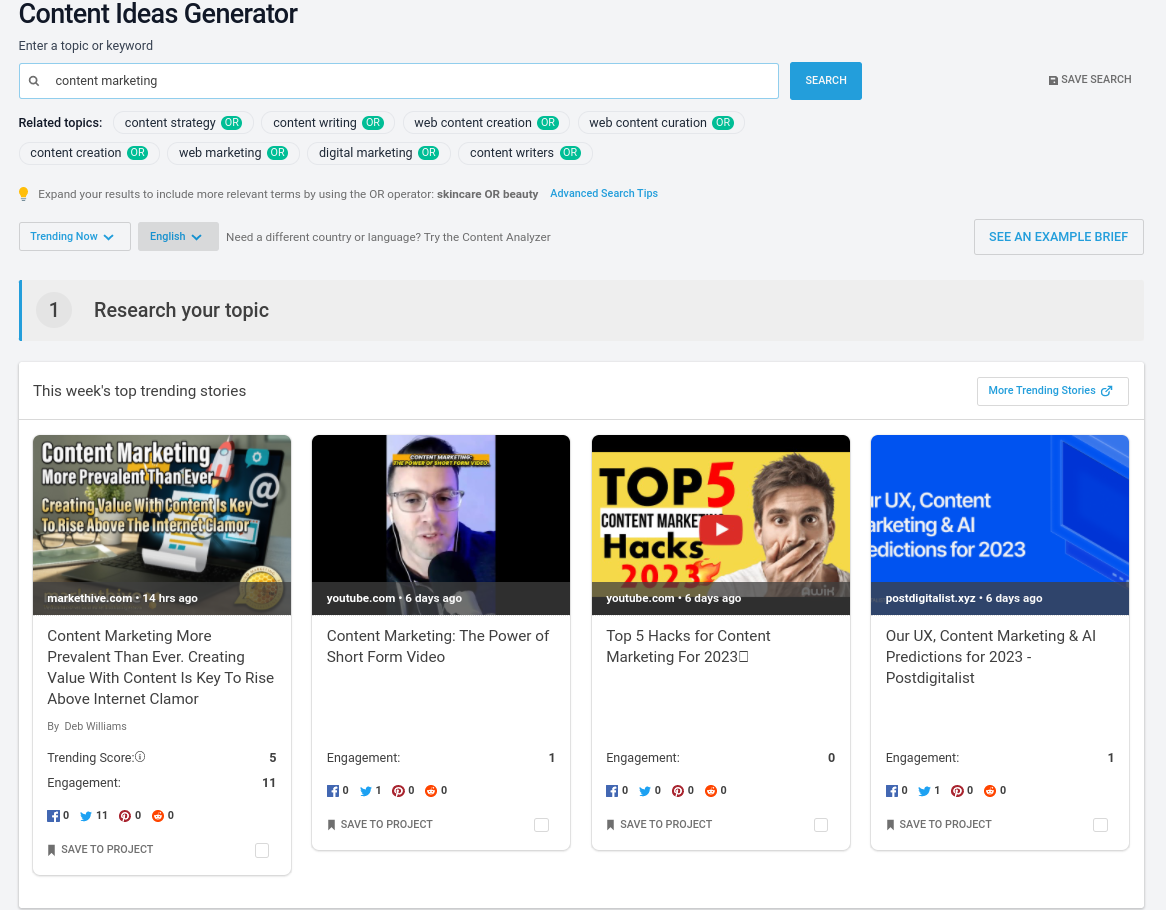 Discovering this gem of a feature within BuzzSumo's Idea Generation suite was a real highlight of my experience. I wouldn't be surprised if this feature helps seal the deal for scores of users who may have been on the fence about paying for a premium subscription.
Dive Deeper:
* 30 Ways to Come Up with Great Ideas for Your Blog Posts
* Never Run Out of Ideas: 7 Content Creation Strategies for Your Blog
* How to Use ChatGPT for Powerful Content Creation (+ Examples!)
2) Content Research
Suppose you already know what you want to write about and need a helping hand to ensure that your blog posts can compete with other top-performing pieces of content. Now you need to perform some content analysis to determine the most shared content to see what you're up against.
In that case, you will like the Content Analyzer tool. Enter your keyword and the tool will return a list of popular articles that rank for it: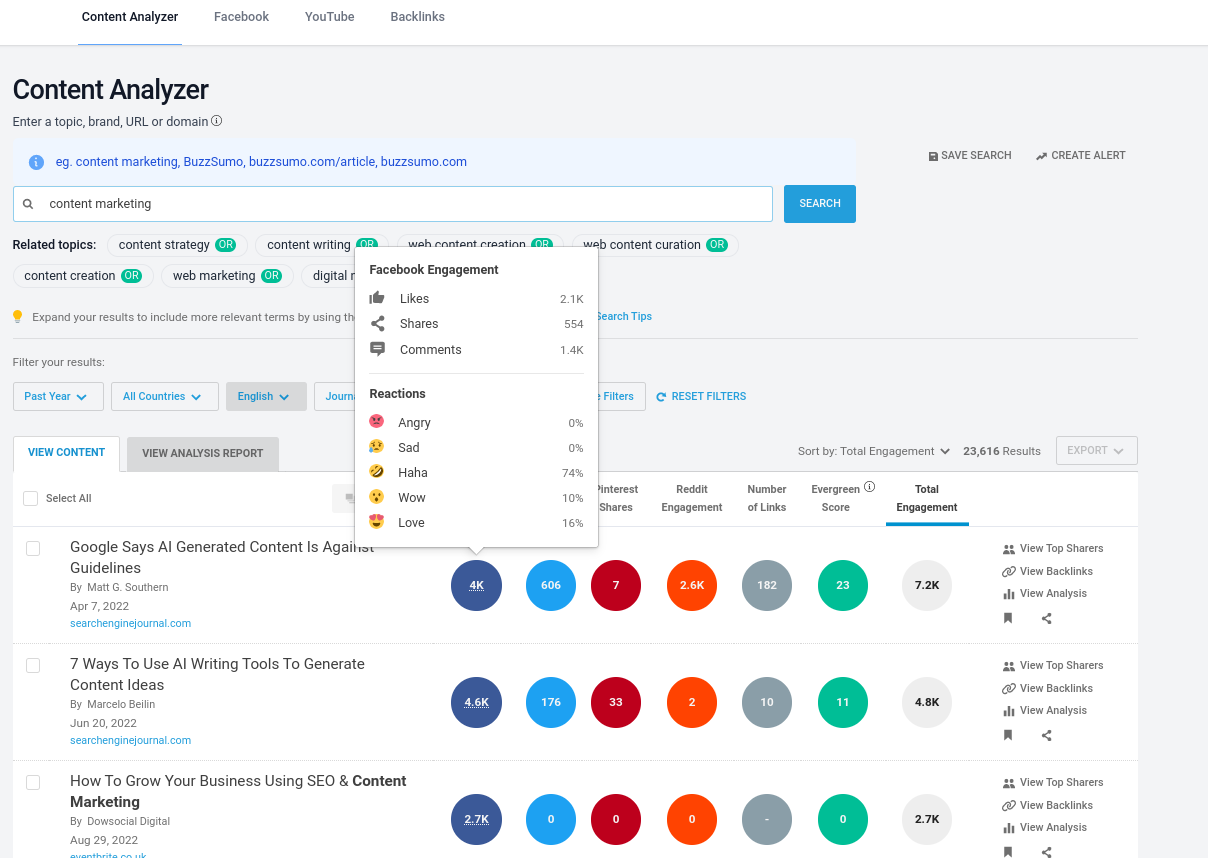 It also shows you an accurate breakdown of engagement levels (likes, shares, comments—and even reactions 😁) for each piece across major social media platforms, including:
Facebook
Twitter
Pinterest
Reddit
Beyond that, the Content Analyzer also offers a backlink profile for each article and a list of the most notable influencers and publications who shared that content: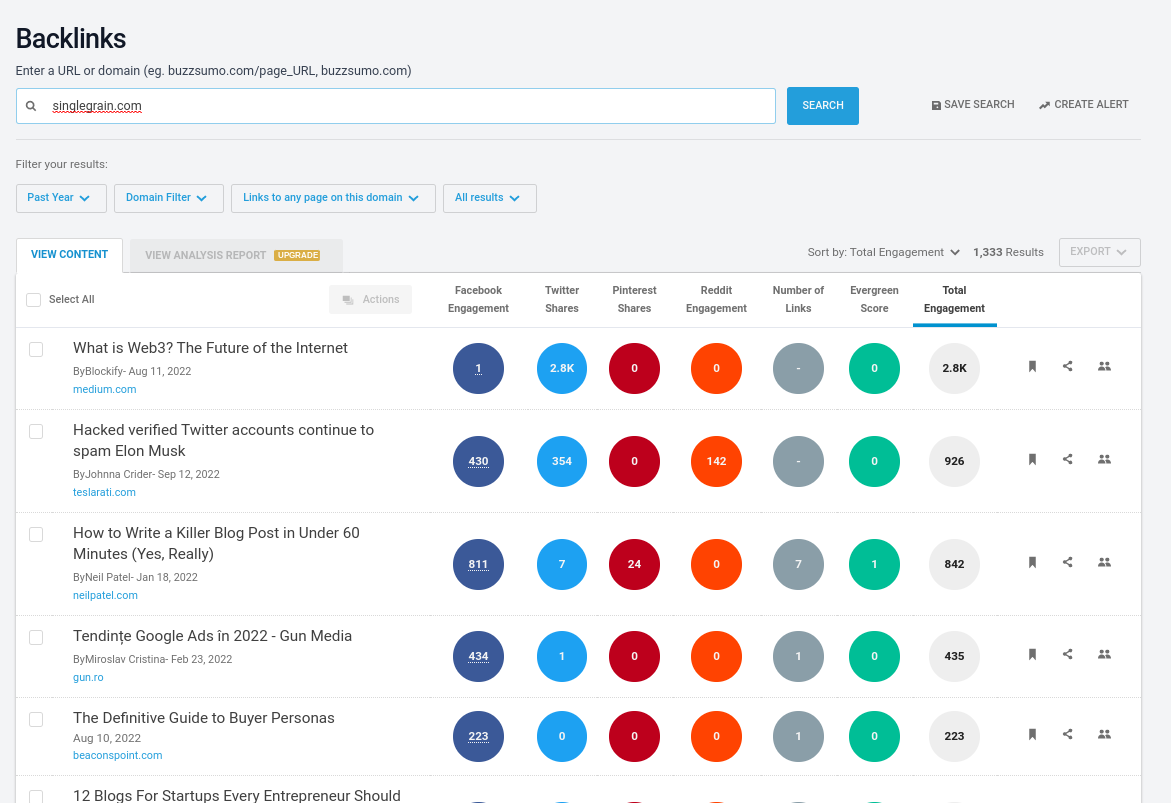 Another thing I like about the Content Analyzer is that it offers a vast array of filters so that you can narrow down your results to find specific content based on the following criteria:
Publication date
Country
Language
Whether a reputable journalist published the content
B2B-only content or a mix of B2B and B2C
Content type
Word count
Publisher size
Dominant reaction on social media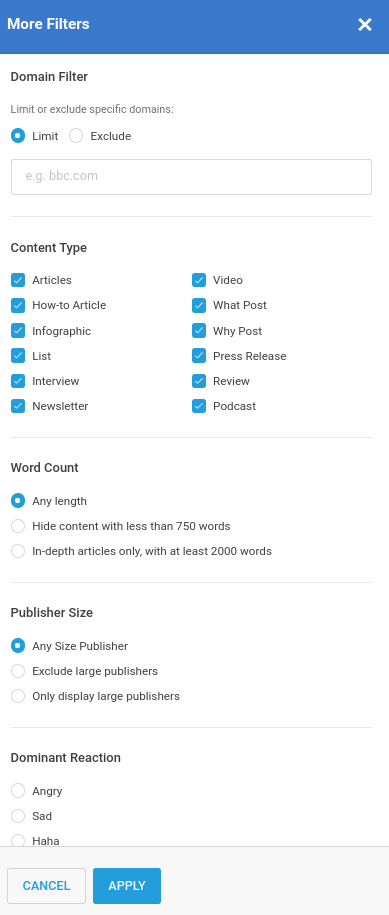 Having used this feature extensively myself, I can say with certainty that the filters make BuzzSumo a handy tool for conducting competitor research. It lets you go pretty deep into investigating what's working for them, what isn't, and what gaps exist that you could fill with your (better!) content.
Dive Deeper: The Content Marketer's Guide to Keyword Research
3) Influencer Discovery
Though the Content Ideas Generator may have been a personal highlight for me, there's no denying that BuzzSumo's Influencer Marketing tools are the real stars of the show here. It helps you find influencers in your niche with whom you can partner.
It's not uncommon for brands to see a return on investment in influencer marketing of as much as 520%. This tool is designed to help you get a piece of that action by giving you valuable and accurate data about the most influential figures in your niche.
For example, under the Twitter Influencer search tab, you can search for notable Twitter users according to any of the following criteria:
Influencers associated with a particular keyword
Influencers with a keyword in their bio
Users who tweet articles about a keyword
Users who tweet articles from a specific website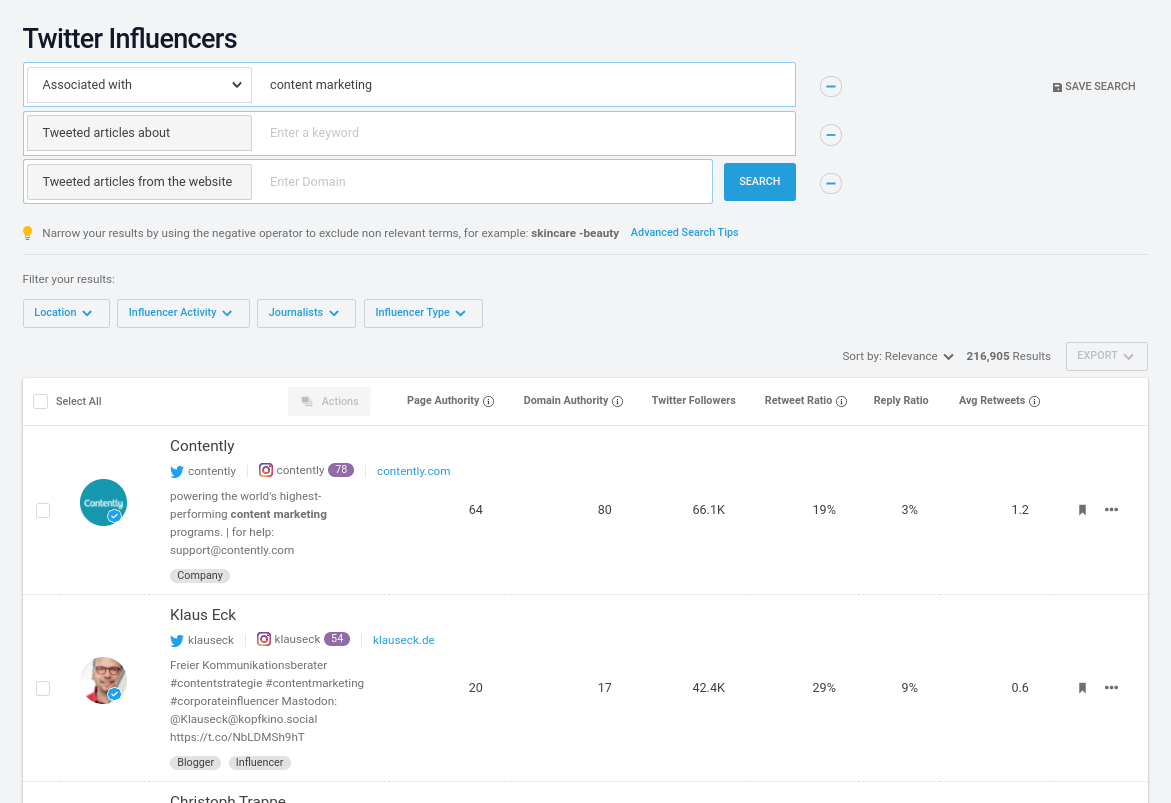 Search for notable Twitter users who share your competitors' content. That's a great way to discover which people you should be engaging with to get them to share your (awesome!) content, too.
For Facebook, BuzzSumo can track engagement on your pages as well as your competitors' while also directing you to the most popular pages in your industry. This makes it easy to explore potential partnership opportunities with them.
If your influencer marketing strategy revolves around YouTube, you can also use this tool to pinpoint top YouTubers in your industry and find links to their channels and other social media profiles: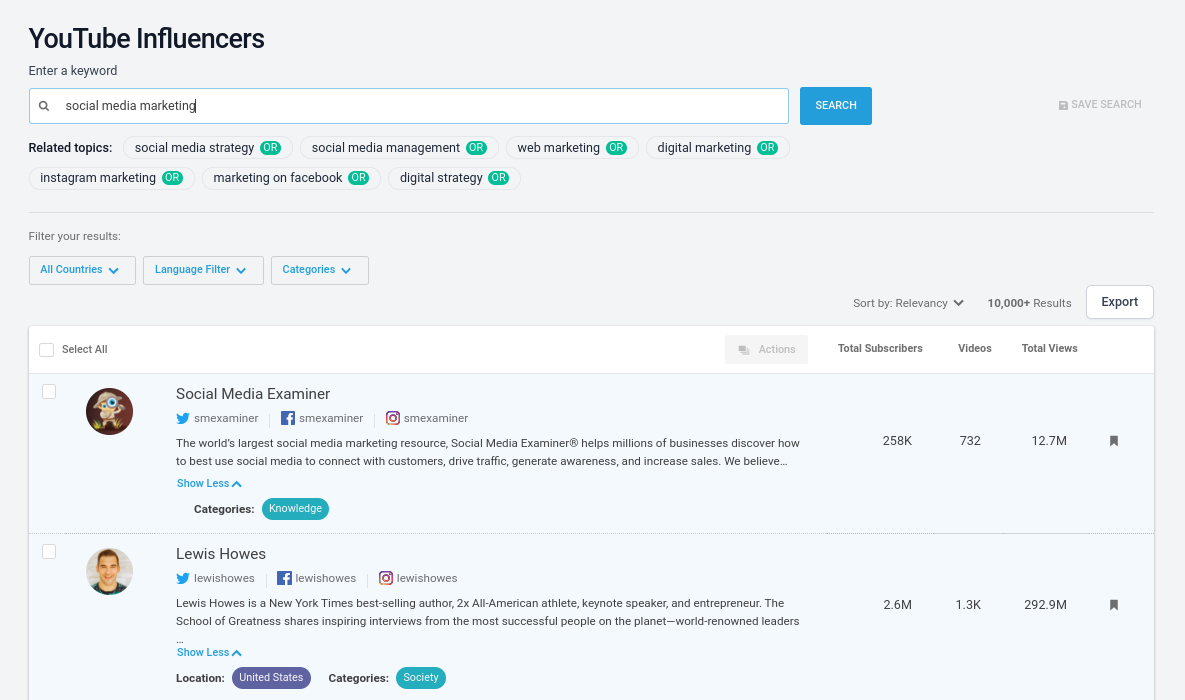 At the time of this writing, BuzzSumo's TikTok influencer discovery tool is still in the Beta stage. Still, I'm already finding it a helpful tool that identifies top TikTokers and provides a breakdown of their following, engagement count, and recently used hashtags.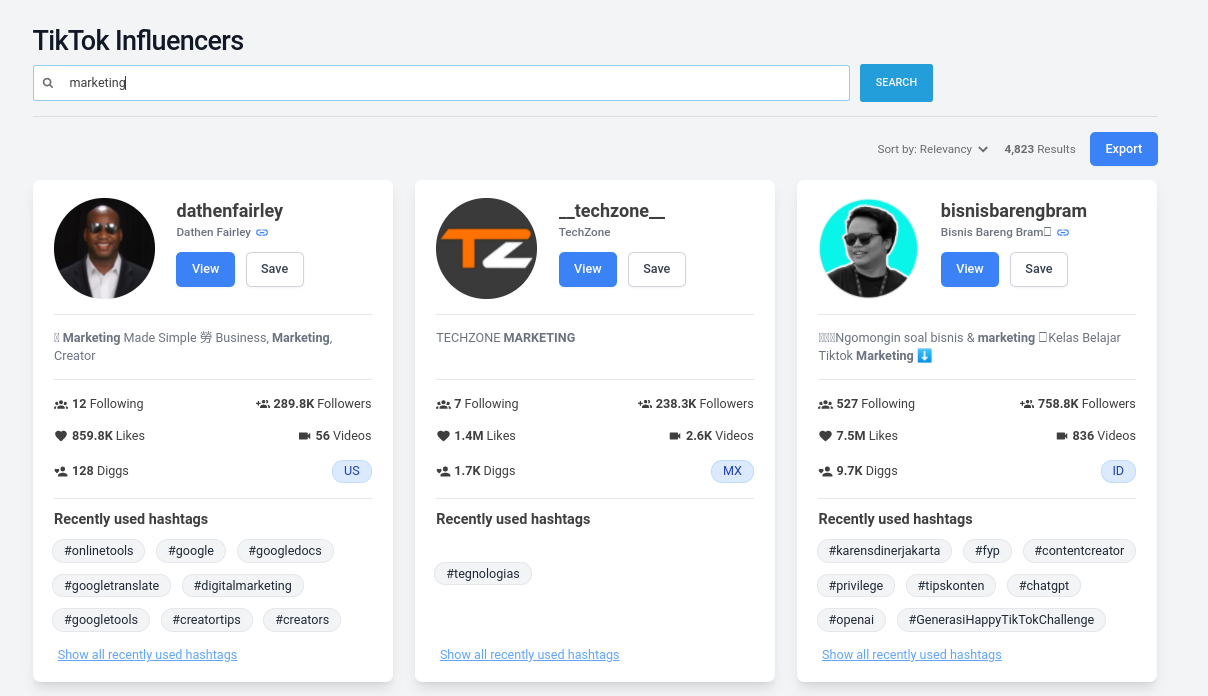 Get My Free Content Marketing Plan
Other Useful BuzzSumo Features
BuzzSumo has some other great features, too, such as: Content Brief Generator and Projects.
Let's continue this BuzzSumo review by taking a quick look at them.
Content Brief Generator
Available to users on the Plus and Large plans, the Content Brief creator is built into the Ideas Generator and may be helpful to agencies looking to streamline the way they work with their writing team.
The feature automatically generates an article brief that content managers can distribute to their writers with suggested keywords, questions to be answered, and the top competing articles: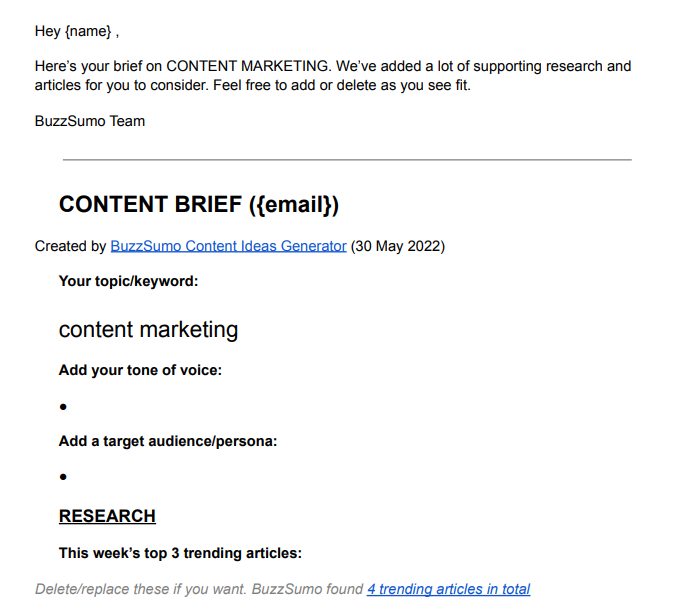 This feature is basic and still requires a fair amount of human input to be truly useful. In that sense, it's no match for other tools that create content outlines with recommended headings.
That said, it still provides value in providing a detailed blueprint for your brief.
Projects
Finally, one of the most undervalued features offered by BuzzSumo is the ability to save results from all the different tools in one place using Projects.
After creating a new project, you can use it to collate all the following data:
Top-performing content
Journalists, Twitter influencers and popular TikTokers who could help drive traffic to your content
Top-performing Facebook posts
Popular Facebook Pages suitable for promoting your content
Top-performing YouTube channels and videos
Questions that users are plugging into the search engines for your keyword
Given that you can do so many things with BuzzSumo and such a massive wealth of data to be explored, the ability to pull it all together is a real game-changer in making your content and influencer research as easy to manage as possible.
Dive Deeper:
* How to Get on TikTok's For You Page and Increase Your Reach
* 16 Best Influencer Marketing Tools to Grow Your Brand and Boost Sales
* Influencer Marketing Strategy: The Ultimate Guide to Growing Your Business with Brand Partnerships
How to Get Started With BuzzSumo
Now that you know what BuzzSumo can do for your content marketing strategy, I'll walk you through actually setting up and using this tool so you can see it in action.
1) Start With a Keyword
First, pick a keyword you would like to base your content on. For this example, I'm going to use "best content marketing tools."
Then, visit BuzzSumo.com and enter that keyword into the search bar and click Find Content: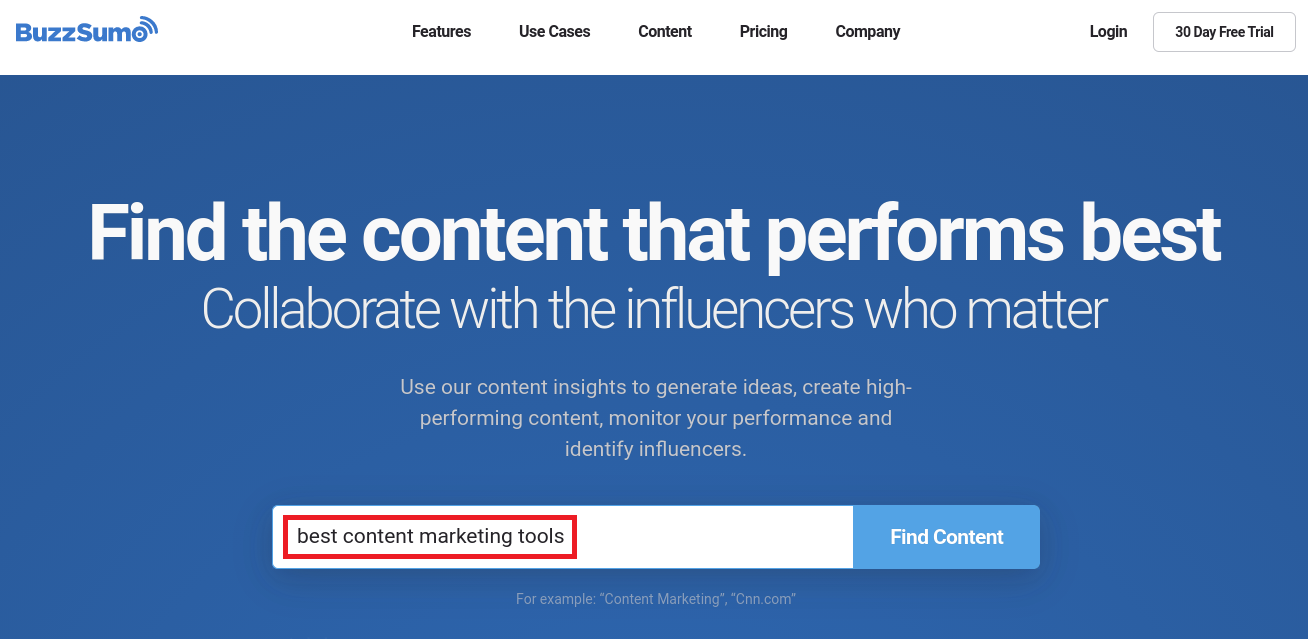 This will take you to the Content Analyzer dashboard, which will display a select number of articles that generate the most engagement for your chosen keyword: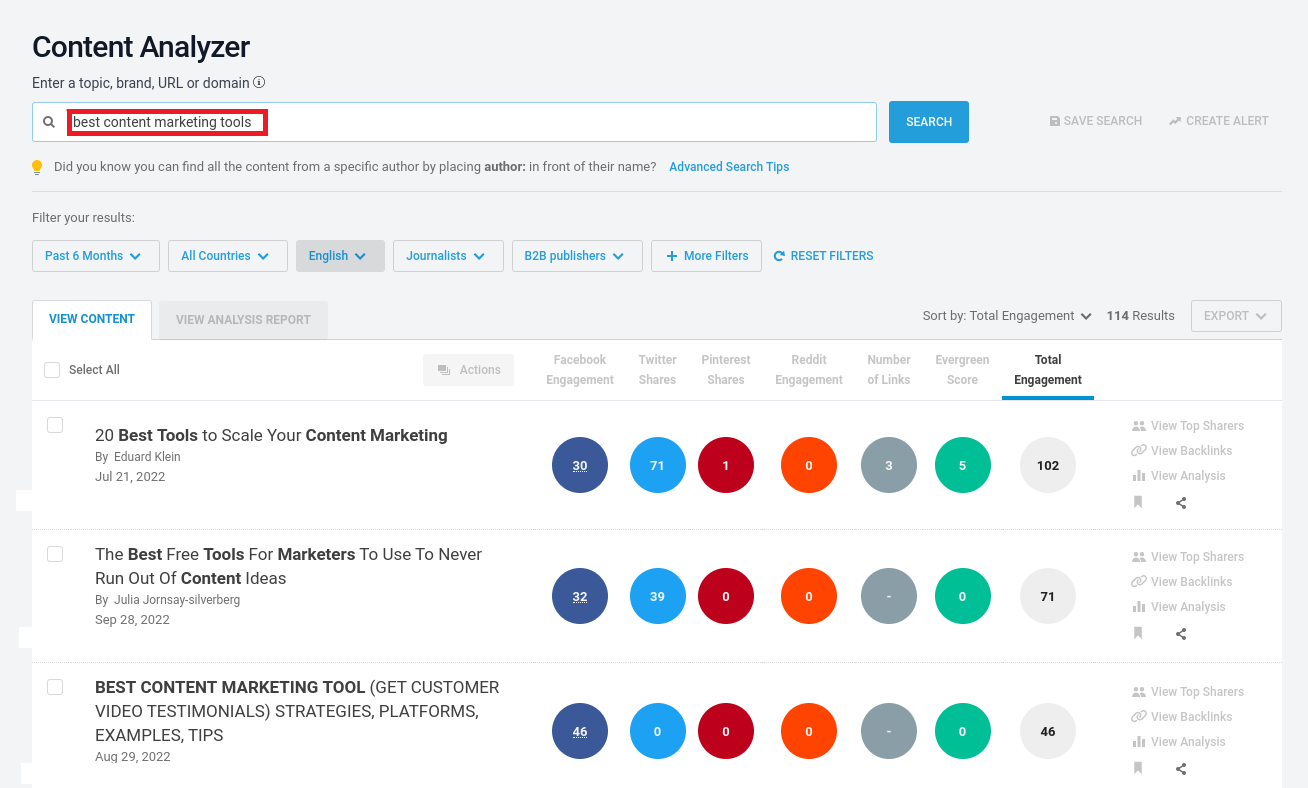 Dive Deeper: Why You Should Use Long-Tail Keywords in Your SEO Campaign
2) Create an Account
Beyond taking a look at how those articles performed on various social media platforms, there isn't much you can do with the data at this stage.
To get any real value out of BuzzSumo, you'll need to create an account by clicking the Start Trial button in the middle of your content analyzer results: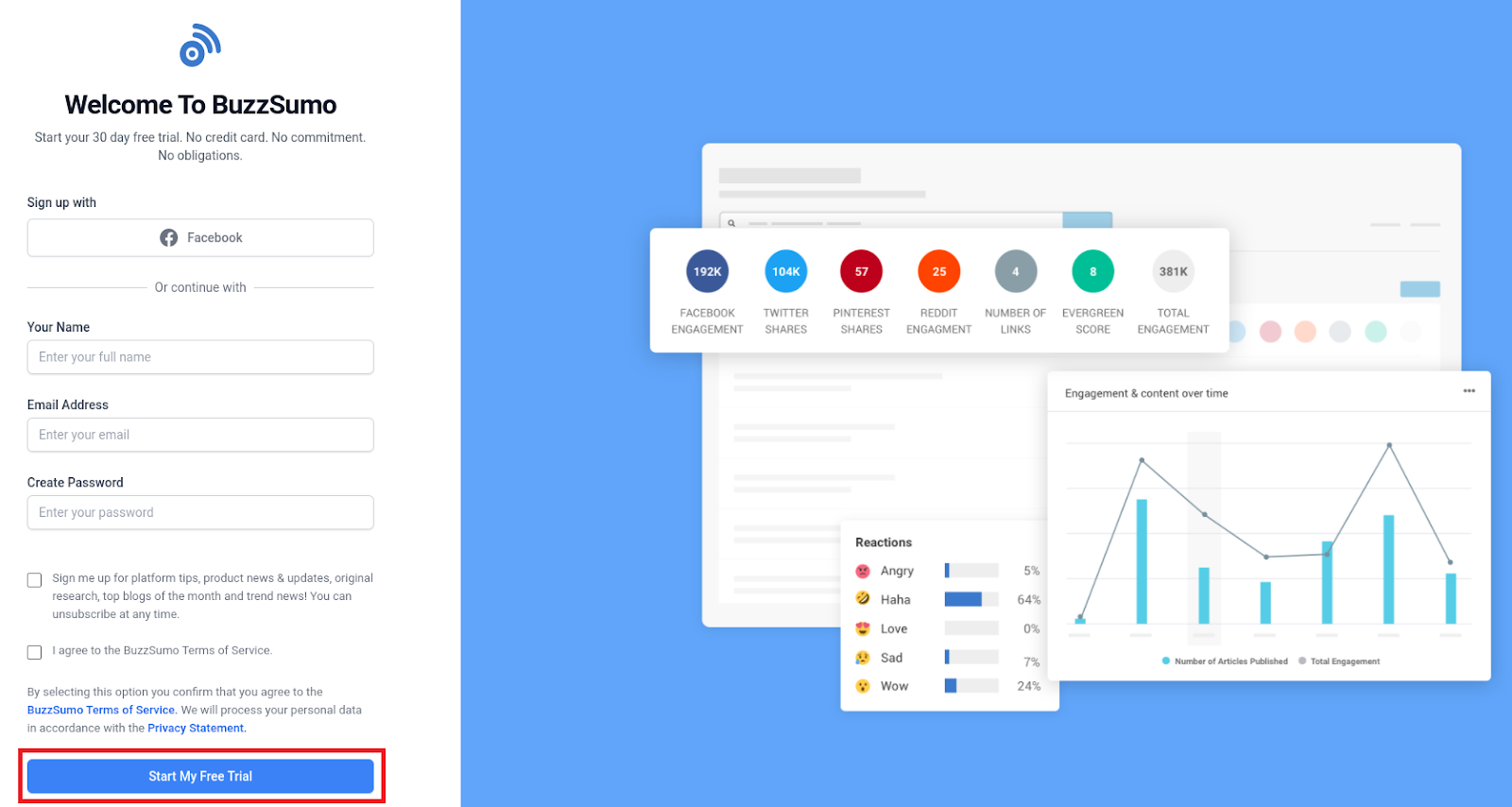 The thing I love about BuzzSumo's 30-day free trial is that you don't need a credit card to access it. (We've all had those horrible moments when we forgot to cancel a trial for something and ended up with unexpected charges on our credit cards.)
Once your 30 days are up, you can decide whether BuzzSumo is worth paying for or whether you will stay on the limited free plan.
To get started, simply enter your account details or sign up with Facebook, then agree to the Terms of Service, and tap Start My Free Trial. After completing a quick onboarding process, you'll be set up and ready to go: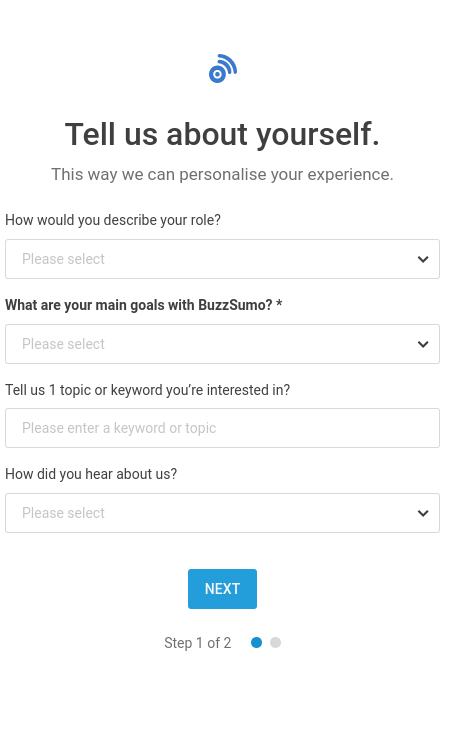 3) Start Content Research
Post-signup, you'll land on the content research dashboard, where you can access the following tools: Content Analyzer and Question Analyzer.
A. Content Analyzer
Click on the Most Popular Content tab to access the Content Analyzer tool: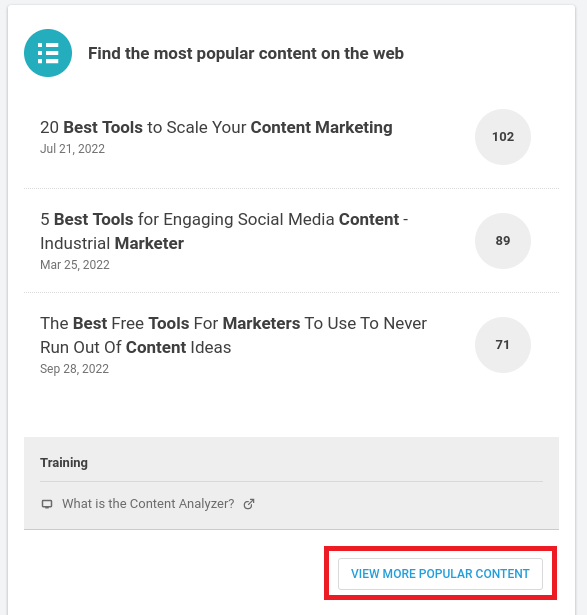 Now that you have an account, you'll have access to many more results and the ability to view backlinks and top sharers. You can also view analytics for individual content pieces and the keyword itself: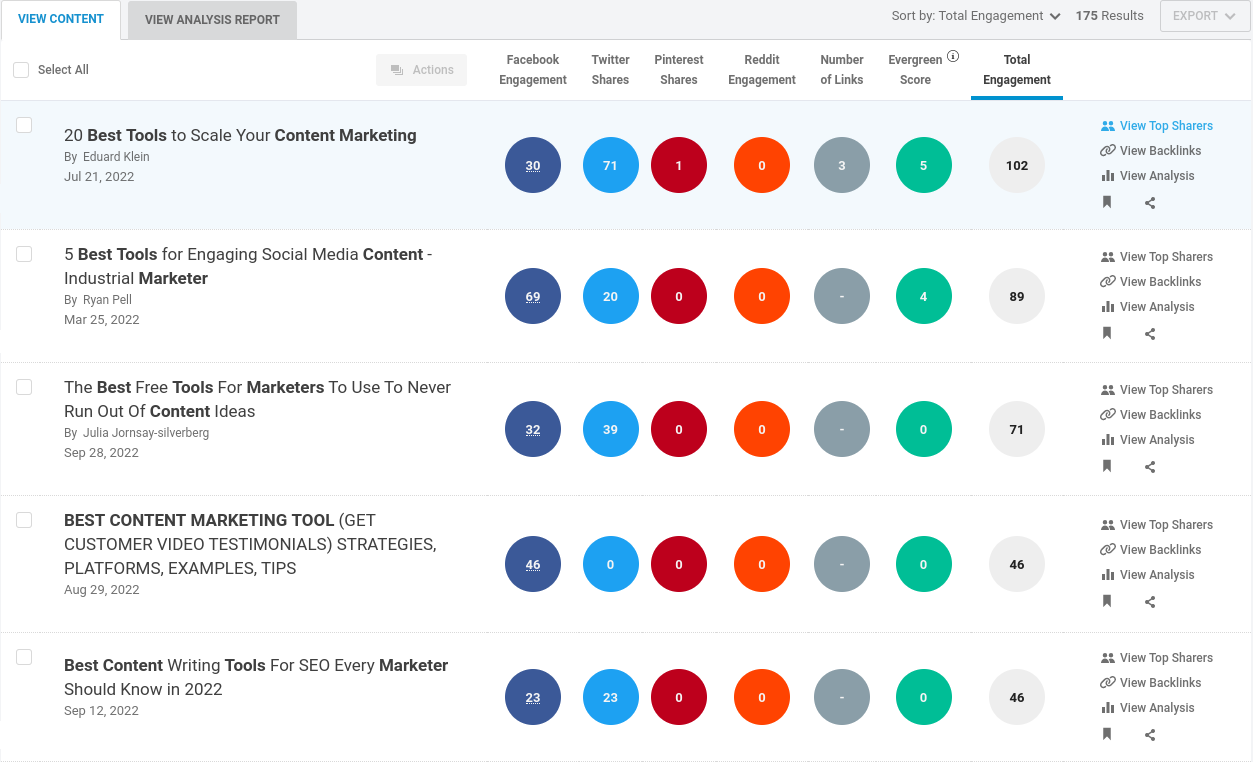 Dive Deeper: How to Perform Marketing Competitor Analysis (+ 6 Best Tools Comparison)
B. Question Analyzer
Clicking on the questions tab presents you with the question analyzer, where you'll find a breakdown of genuine, user-generated questions: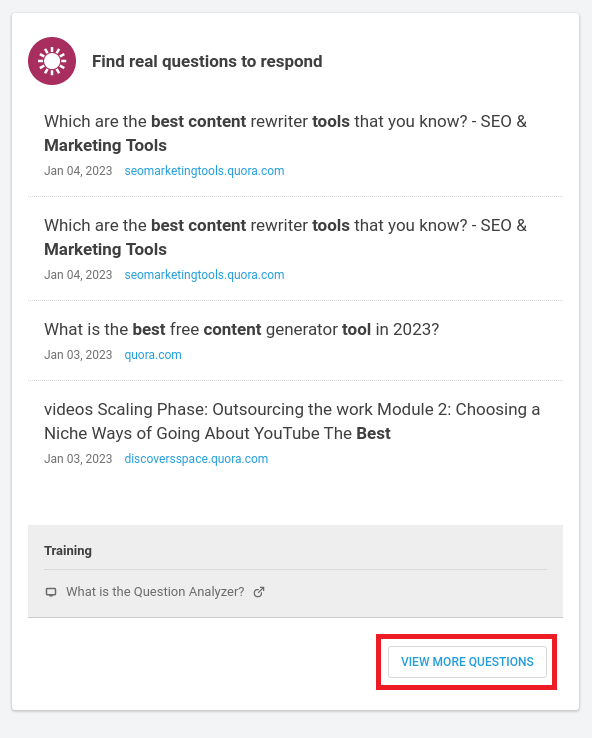 You can use these questions to inform your SEO content, because you'll be addressing the real problems your readers face.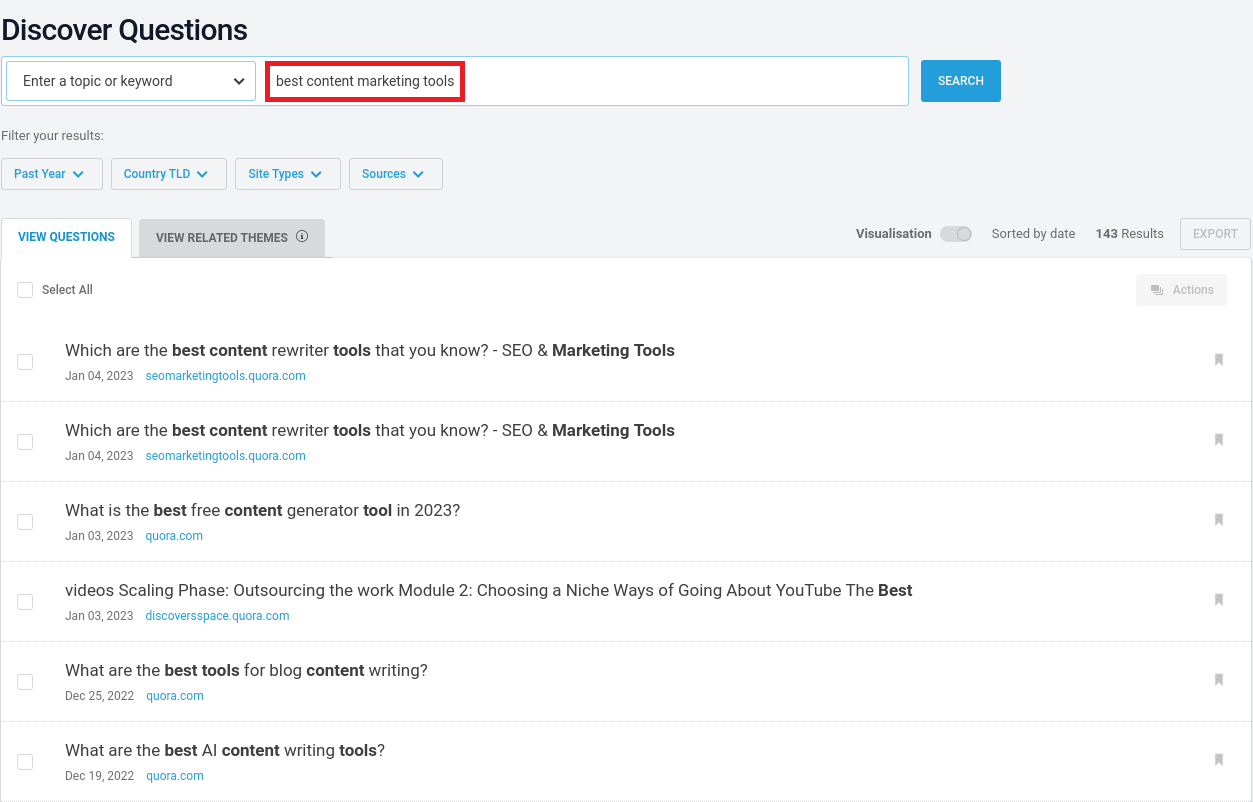 4) Access Other BuzzSumo Tools
Elsewhere, you can navigate to the main BuzzSumo dashboard by selecting Home from the menu bar: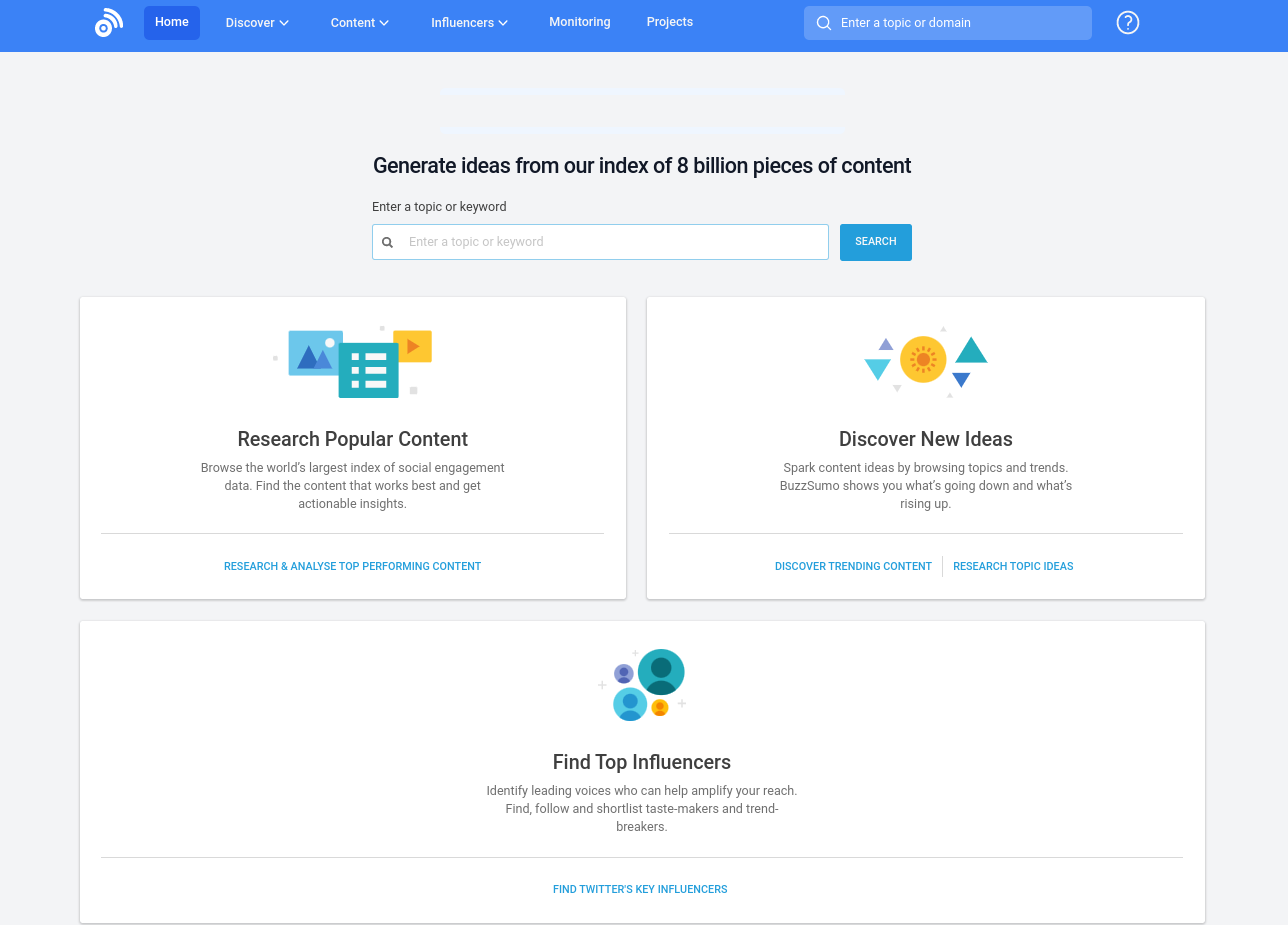 Here, you can quickly dive into other key features such as topic research, ideas generation and influencer marketing tools.
Dive Deeper: How to Create a High-Performance Content Marketing Strategy in 2023
5) Create Alerts
After you've used all the tools mentioned above to access the content marketing data most relevant to your needs, you can keep track of any updates or brand mentions by creating an alert.
Selecting the Monitoring option from the menu bar brings up several different alert options. Click on any of them to choose the frequency with which you receive your alerts, and you're good to go: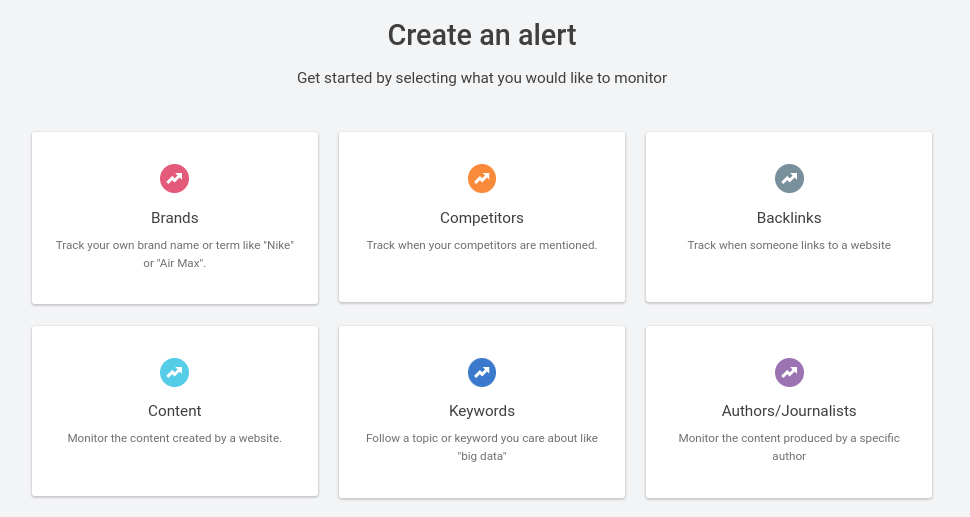 From now on, you'll receive a notification any time there's a new event relating to the metrics that matter most to you, whether that's mentions, backlinks or new content being published.
From here on in, you can enjoy exploring BuzzSumo's features and discovering new ways to use its wealth of data to enhance your content marketing strategy.
Get My Free Content Marketing Plan
BuzzSumo Pricing
Until recently, BuzzSumo offered a free plan. Now, as you can see by the pricing chart below, they're all paid.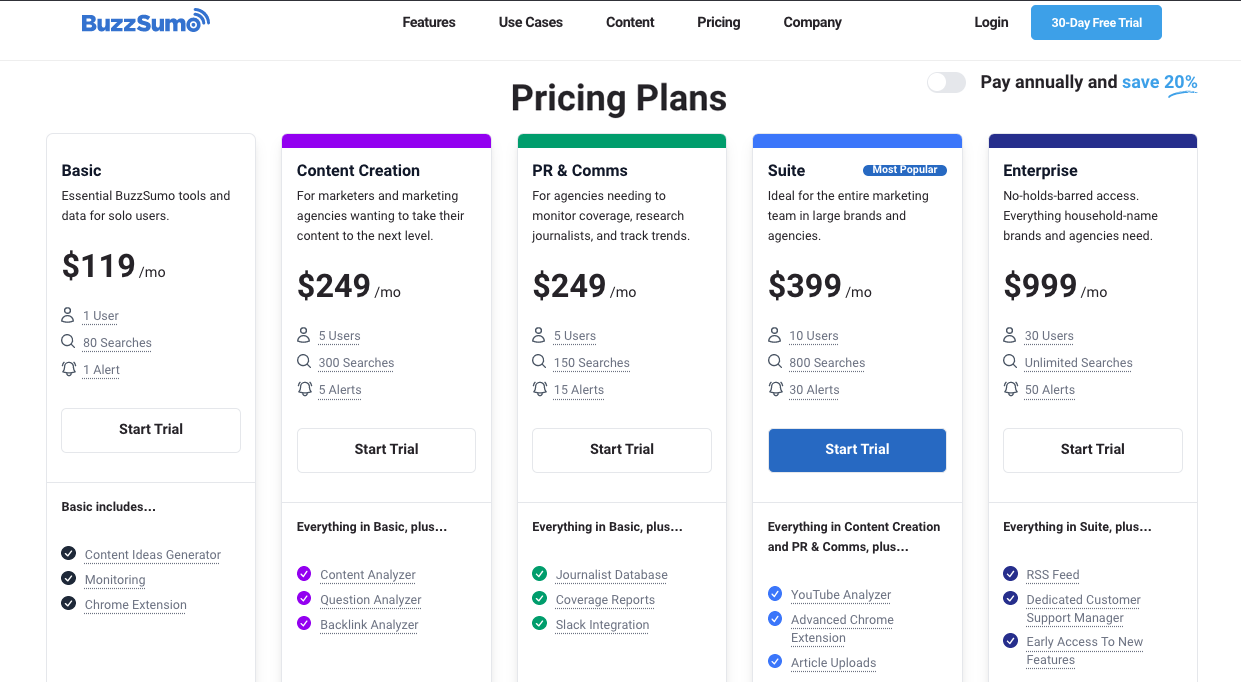 With five plans to choose from, you can probably find one that gives you everything you need, whether that's one user, one alert and 80 searches on the Basic plan, or 30 users, 50 alerts and unlimited searches on the Enterprise plan.
Though BuzzSumo is competitively priced compared to other SEO and content marketing tools, the price tag is a common complaint among users.
And although they don't offer a free plan, you can give it a test run using a 30-day free trial.
Dive Deeper:
* 12 Types of Interactive Content to Drive Better Engagement
* 100 SEO Statistics That'll Help You Dominate Search Rankings in 2023
* Google E-E-A-T: How to Signal That You're an Experienced Content Creator
Does BuzzSumo Have Good Customer Support?
No BuzzSumo review would be complete without mentioning the customer support: This tool may be great at many things, but unfortunately, getting help when you need it isn't one of them.
For one thing, there's telephone support. While that may be frustrating, I'm willing to let that slide since phone support is typically rare among SaaS (Software as a Service) tools like this one.
But what's more disappointing is that, rather than a real-time live chat option, the company handles support requests via a messaging system with an average estimated wait time of 48 hours: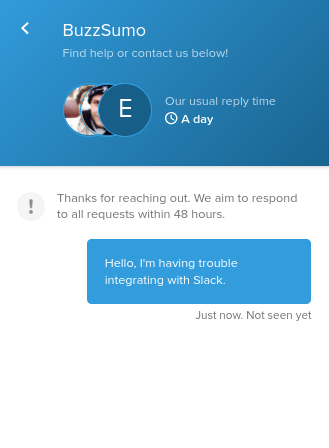 To give the service credit, when I used the messaging system, I was given an estimated time of one day but received a response in just a few hours. However, in a world where most people are used to waiting a couple of minutes at most, this certainly seems like an area where BuzzSumo could do better.
On the plus side, if you don't want to wait and would prefer to troubleshoot problems yourself, there is a fairly extensive knowledge base with articles covering all the essentials: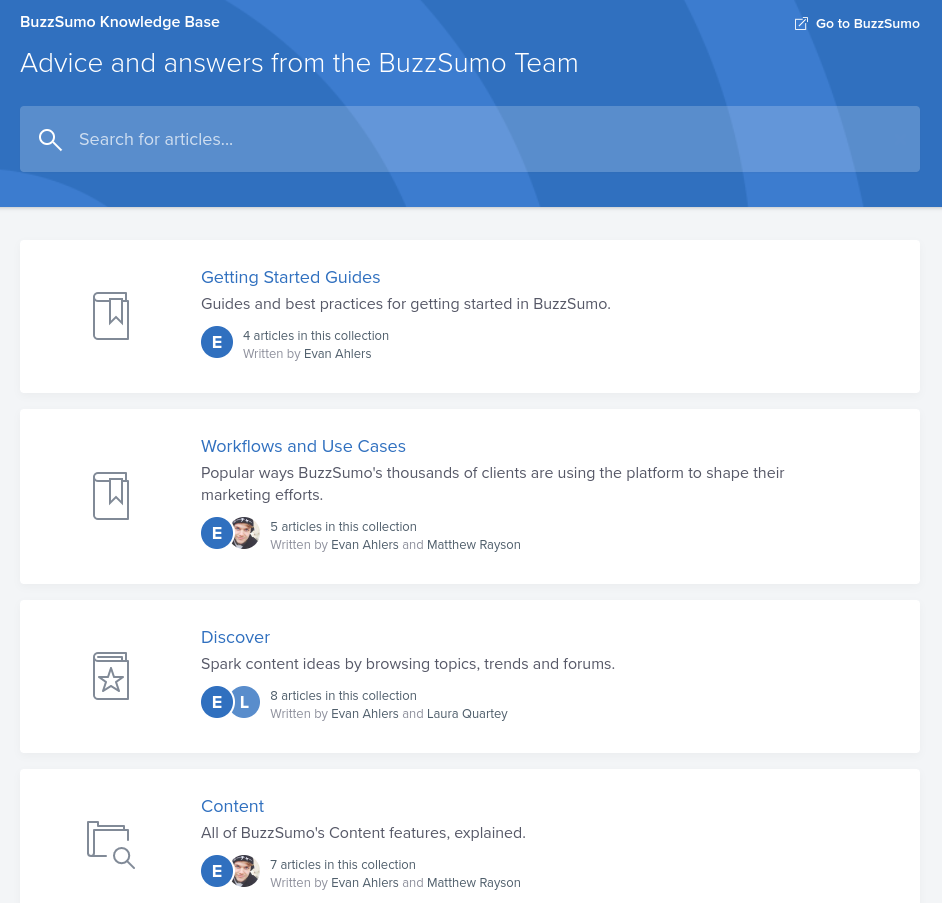 Dive Deeper: 6 Customer Service Trends You Can't Ignore in 2023
Is BuzzSumo Worth the Hype? Our Verdict
So, is the buzz justified?
If you've read this BuzzSumo review, you probably already know my answer to this question. If you don't, allow me to make it super clear:
Yes, I absolutely believe that BuzzSumo is worth the hype.
Of course, the platform certainly isn't perfect. Here are the pros and cons.
Pros:
BuzzSumo's user-friendliness is a big selling point. The platform is undoubtedly one of the most accessible content marketing tools I've used.
The Ideas Generation tool is an excellent end-to-end solution for researching and planning content.
The social media influencer tools provide a wealth of accurate and useful data to make your influencer outreach work easier.
Cons:
Customer support is lacking.
The cost may be expensive for small businesses and freelancers.
If you'd prefer to have someone else do all the hard work for you, our digital marketing agency can help! Just click the orange button below for a free consultation with someone from our content marketing team.
Get My Free Content Marketing Plan
---
BuzzSumo FAQs
Who uses BuzzSumo?
BuzzSumo is popular among small to medium content marketing agencies and in-house marketing teams at major brands. This tool makes it easy to find the "best engagement, content and outreach opportunities" on search and social networks.
What are the best BuzzSumo alternatives to use in 2023?
Ahrefs and Semrush are among the best alternatives to BuzzSumo for content research, while NinjaOutreach and Buzzstream are the platform's closest rivals in terms of influencer discovery and outreach.
Does BuzzSumo offer a money-back guarantee?
Sadly, BuzzSumo does not offer a money-back guarantee. You can cancel your subscription to their premium plans anytime but won't get a refund.