[Free Consultation] Are you spending money on advertising but not getting the results you want? Are you looking for more sales and leads but have no idea where or how to start? Get help from our world-class marketing experts in a free consultation call.
Click Here To Schedule Your Free Consultation Now
Are you looking to create a successful ad strategy and grow your brand in 2023?
Because the digital ad landscape is so vast and changes so often, it's not always possible for business owners to take full advantage of a PPC campaign.
So it's worth it to find a reputable advertising agency that has the experience and talent to help you create and launch a successful advertising strategy.
We've curated a list of the top advertising firms that are great for both startups and established brands. We'll also explain what an advertising agency is, the kind of services they offer and how to choose the right one for your business goals.
---
---
Top 10 Advertising Agencies
The top advertising agencies worldwide (from New York to San Diego to Toronto to London) are: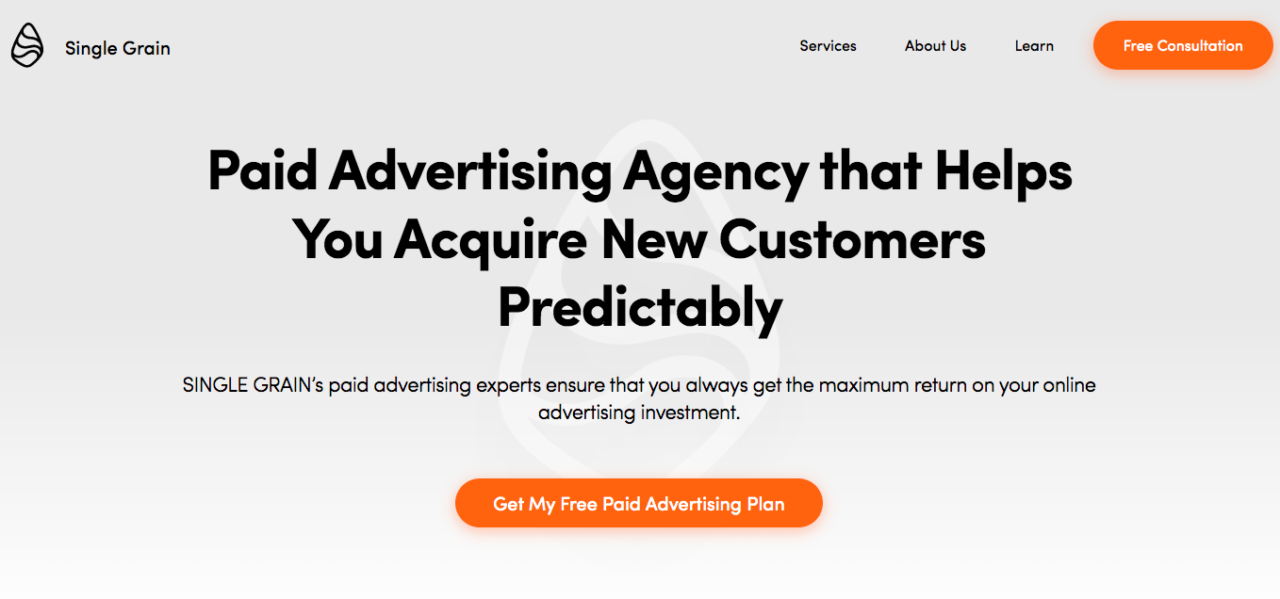 Single Grain is a leading advertising agency and full-service digital marketing agency that applies tried-and-true strategies to drive business growth. In the decade-plus they've been around, they have worked with some of the world's biggest brands, including Amazon, Uber and Salesforce.
This agency has a team of advertising experts to help you get the maximum return on your online marketing investment. They have a proven track record of success, and they can help you reach your target audience through various paid advertising channels such as Google, Facebook, Twitter, Spotify, Instagram, LinkedIn, Twitter, YouTube, and more.
Key Services:
Search Engine Optimization (SEO)
Search Engine Marketing (SEM)
Social Media Marketing
Pay Per Click (PPC) Advertising
Conversion Rate Optimization
Content Marketing
SaaS Marketing
Ecommerce Marketing
Lead Generation
PR (Public Relations) Strategy and Marketing
Single Grain specializes in:
Helping their clients drive more traffic and increase ROAS through effective paid advertisement campaigns.
Their PPC management services leverage the latest tools and cutting-edge strategies to help clients achieve their goals by increasing their leads and sales.
They perform in-depth keyword discovery, ad optimization, and regular campaign monitoring to deliver high-ROI PPC campaigns.
Single Grain has an expert team of content writers to help you create landing page content (and website design to the extent that it affects UX) and ad copy to improve your ad quality scores.
They offer quality social media advertising services to help businesses increase visibility and trust over leading social media platforms. They provide organic and paid social media marketing services to ensure you reach your target audience with the right marketing message.
They specialize in helping clients acquire new leads for their business through different lead generation strategies.
Their paid advertising professionals audit your current ad accounts to identify the issues and provide solutions to fix them so that you improve performance as soon as possible.
Top Clients:
Amazon
Uber
Lyft
Salesforce
Airbnb
Semrush
Pricing: Single Grain offers custom pricing plans based on your business goals and requirements.
Check out Single Grain CEO Eric Siu's video How to Create Ads that Convert More Sales:
WebFX is a popular advertising agency dedicated to providing clients with the highest quality service and customer satisfaction. They have a team of advertising experts that use data and insights to create effective campaigns that drive results.
WebFX has won several honors, including the Marketing Agency of the Year by Silver Stevie Award, Small SEO Company of the Year by SAMMY Award, and the AVA Digital Award.
Key Services:
Organic Search (SEO)
PPC Management
Programmatic Advertising
Social Media Advertising
Ecommerce Marketing
Advertising Management for Amazon
UX Website Design
Conversion Rate Optimization
Content Marketing Services
Web Video Production
WebFX specializes in:
Creating and managing effective pay-per-click campaigns that deliver results.
They provide programmatic advertising services without the hassle of manually monitoring and optimizing your paid ads.
They have experience developing, writing, editing, and promoting custom content for various businesses. Hence, they can ensure that your landing page content pieces are engaging and unique.
They have an expert team of social media ad professionals to run ROI-friendly advertisement campaigns across your target social channels.
They also perform daily social media monitoring of your social profiles to help you keep track of your brand and make sure that your online presence stays positive.
WebFX offers Amazon advertising services for sellers with custom and data-driven strategies that help businesses lower their Advertising Cost of Sale (ACoS).
Their video production team works with brands to develop a concept and produce videos that accurately represent the brand messaging for higher engagement via video marketing.
WebFX offers its in-built marketing automation tool, MarketingCloudFX, which is trusted by hundreds of businesses to capture more leads, traffic, and sales via billions of data insights.
Top Clients:
Subway
Sysco
Wrangler
Fujifilm
Verizon
Hilton
Pricing: WebFX offers custom pricing plans based on your business goals and requirements.
Dive Deeper: Web3 Marketing Case Study: How FTX Scaled from a $7M to $32B Company in Just 36 Months
Lilo Creative is one of the oldest advertising agencies based in London, UK. It doesn't matter if you are a large corporation or a small family-owned business; they help you create personalized digital solutions to meet your specific business goals.
From social media marketing and SEO to pay-per-click management, they have the skills and experience necessary to help brands succeed online.
Key Services:
SEO Services
Ecommerce Marketing
Pay Per Click
Social Media Marketing
Email Marketing
Content Marketing
Corporate Branding
Lilo Creative specializes in:
Providing clients with a dedicated account representative to effectively manage all aspects of PPC advertising.
They have a proven track record of success in managing PPC campaigns for businesses of all sizes across various industries like health, real estate, and technology.
Their social media advertising experts specialize in developing a personalized social media ad strategy to meet audience expectations and client goals.
They perform intensive keyword research and find the most relevant phrases to connect prospects to your business.
Lilo Creative's team of PPC marketing specialists helps you schedule your PPC ads to run during the best sales periods for maximum revenue.
Top Clients:
Philips
British Council
Cole & Mason
NHS
Osborne & Little
Sainbury's
Pricing: Lilo Creative offers custom pricing plans per your business goals and requirements.
Titan Growth is a result-driven advertising agency that profoundly cares about client success and satisfaction. They work tirelessly to create campaigns that deliver results and exceed expectations. Their team is passionate about what they do, and they believe that this passion is reflected in the work they provide.
They take a data-driven marketing approach, using the latest technology and trends. They are constantly learning and evolving to provide the best possible service to their clients.
Key Services:
Search Engine Optimization
Pay Per Click Management
Amazon Marketing
Social Media Marketing
Video Production
Link Acquisition
Titan Growth specializes in:
Titan Growth is a Google premier agency partner representing an elite group of PPC management agencies.
Their professional search engine marketing team knows how to get your website to the top of the search engines, so you can start generating more leads and sales.
They have direct access to the Google PPC team, whom they can consult for fixing technical issues in your PPC campaigns. You can expect faster positive growth and higher marketing ROI with first-hand Google insight.
Whether you need help with website copy, blog posts, or email campaigns, Titan Growth is well-versed in creating and optimizing content for different advertising channels.
Their advertising specialists work with clients to understand their specific needs and goals and develop an advertising plan to achieve those objectives.
Top Clients:
Aman Resorts
Arcadia Data
Blackbaud
Classy Closets
Collette
Eagle Eye
Pricing: Titan Growth offers custom pricing plans per your business goals and requirements.
Dive Deeper: Beginner's Guide to Amazon PPC Ad Campaigns
Funnel Boost Media is a leading full-service advertising agency that specializes in helping businesses reach their target audiences through different marketing channels. They create customized marketing campaigns to achieve specific business goals, such as increasing brand awareness, generating leads or boosting sales.
This award-winning agency specializes in all aspects of advertising, from media buying and planning to creative development and execution. They believe in working closely with their clients to understand their needs and objectives to develop custom strategies to convert visitors into new customers.
Key Services:
Search Engine Marketing
Pay Per Click Marketing
Social Media Marketing
Web Analytics and Reporting
Funnel Boost Media specializes in:
Promoting your content online with their industry influencers in channels where your target audience is present.
They have a dedicated team of SEO professionals to help businesses increase their brand visibility over Google and other search engines.
Funnel Boost Media has hands-on experience promoting your brand over leading social media platforms like Facebook, Twitter, LinkedIn, and Instagram. They create exceptional paid social media strategies to take your online brand presence to the next level.
Their PPC professionals are certified Google Ads and Bing Ads partners.
They use various PPC management tools and relevant ad extensions to create high-converting ads for your business.
Top Clients:
Audi
Lehmbecker Law
Little Fin Therapies
Prestige Emergency Room
Beldon Roofing
Javier Villarreal Law Firm
Pricing: Funnel Boost Media offers custom pricing plans per your business goals and requirements.
Dive Deeper: LinkedIn Ads for Enterprise B2B SaaS: The Only Guide You'll Need
Thrive is a full-service digital marketing agency serving clients in 25 cities worldwide. They were established in 2005, offering various services to its clients, including media buying, PPC marketing, SEO, and social media advertising.
This agency is also recognized for its quality services by Clutch, UpCity, The Manifest, GoodFirms, and DesignRush.
Key Services:
Search Engine Optimization (SEO)
Pay Per Click (PPC) Marketing
Conversion Rate Optimization
Search Engine Marketing (SEM)
Video Production
Email Marketing Services
SMS Marketing Services
Social Media Advertising
Content Marketing
Thrive Internet Marketing Agency specializes in:
Thrive has been providing SEO services for over 15 years to businesses looking to expand their online presence and increase traffic and leads.
Their experienced team of intelligent PPC professionals helps you create effective PPC campaigns to improve the quality of your leads.
The agency leverages various PPC keyword research tools to identify the best keywords and categorize them based on industry relevance, search volume, and competition.
Thrive Agency knows the art of ad copy creation, and their team of creative ad experts craft engaging CTAs to compel online users to buy your product or services.
Their social media team leverages different data points to know your targeted audience and creates a social media advertising strategy to deliver exceptional results.
They regularly create A/B split testing campaigns to analyze the effectiveness of paid ads and take actions to uplift the overall ad performance.
Thrive Agency also leverages Nextdoor advertising to connect your brand with local customers to increase your sales funnel conversions.
Top Clients:
Demilec
Max Mechanical
Texas Inspector
Hadden Landscaping
Ross Exploration
Pate Capital Group
Pricing: Thrive Internet Marketing Agency offers custom pricing plans per your business goals and requirements.
The Motion Agency is a full-service advertising agency that was founded in 2015. They specialize in creating high-impact campaigns that deliver exceptional brand experiences. Their team of experienced marketing professionals has a proven track record of success for clients worldwide.
Whether developing a new brand identity, increasing website traffic, or driving sales, The Motion Agency has the experience and expertise to help brands move forward.
Key Services:
Social and Digital Ads
Search Engine Optimization
Lead Generation
Community Management
Social Content Development
Programmatic Advertising
Paid Search Advertising
The Motion Agency specializes in:
Using advanced PPC strategies and techniques to scale your revenue.
Their team of experts stays up-to-date on the latest advertising trends and tactics to ensure the most effective results.
They have a dedicated team of paid search advertising experts to optimize ad copies and maximize the campaign ROI by targeting the right audience.
They also have an experienced team of content writers to help you prepare blog posts, articles, infographics or even video content.
The Motion Agency combines all marketing channels such as email marketing, social media marketing, search engine optimization, and Pay-per-Click advertising to generate high-quality leads.
Top Clients:
Exelon
Gladiator
Haribo
Rush
The Home Depot
Pricing: Motion Agency offers custom pricing plans per your business goals and requirements.
Dive Deeper: The Ultimate Guide to Programmatic Advertising for Brands in 2023
Space150 is a leading advertising firm specializing in creating custom marketing campaigns designed to meet the specific needs of its clients.
They were established in 2000 in Los Angeles and offer accessible advertising services to brands looking to boost their online presence.
Key Services:
Social Media Marketing
Paid Search Marketing
Search Engine Optimization
Content Marketing
Space150 specializes in:
They specialize in pay-per-click advertising, from keyword research and ad creation to bidding management and campaign optimization.
Their social media advertising experts know the latest trends and changes in the social media industry to help you stay ahead of your competitors.
They have a wealth of experience and knowledge in creating and promoting content that accurately reflects your brand messaging.
Top Clients:
Nike
Amazon
Toro Revolution Series
V45: TravisBott
Subscribed
Call of Duty
Pricing: Space150 offers custom pricing plans per your business goals and requirements.
Major Tom is a full-service marketing agency that helps you map out a brand strategy to achieve your advertising goals in the most innovative manner possible. They offer various services, including social media marketing, search engine optimization, and pay-per-click advertising.
This agency has a proven track record of success in helping brands grow their online presence and sales. They have the tools and expertise to get the job done right, from social media campaigns to targeted ads.
Key Services:
SEO
Paid Search Marketing
Social Media Marketing
Content Marketing
Amazon Marketing
Major Tom specializes in:
Helping you sync your paid ads with your CRM to identify the advertising bottlenecks and maximize the overall returns on investment.
They apply the right tactics to drive down your CPA and maximize conversions.
Their team of PPC professionals helps you stay on top of the latest advertising trends.
Major Tom's advertising team has a combined experience of more than 20 years in both B2B and B2C markets, and they know how to drive more profits from your ad campaigns.
They offer you ongoing analytics reports and tie your ads with your CRM, so you know what's working for your campaign to deliver conversions.
They thoroughly test new landing pages and ad creatives before making them live to match your campaign goals and get more targeted leads.
Top Clients:
Canon
Loreal
Hootsuite
DoorDash
KPMG
Queens Smith
Pricing: Major Tom offers custom pricing plans per your business goals and requirements.
Sure Oak is an award-winning advertising company recognized by multiple awards from top SEO agency directories like Expertise, Clutch, and GoodFirms. It was founded in 2013 by founder Tom Casano to remove the struggles of generating high-quality traffic, leads and sales.
The agency has a team of experienced professionals dedicated to creating effective campaigns that resonate with consumer demands. They have a proven track record of helping brands connect with their target audiences.
Key Services:
SEO
Conversion Rate Optimization
Link Building
Digital PR
Content Development
Inbound Marketing
Paid Search Marketing
Social Media Advertising
Sure Oak specializes in:
Developing a customized organic marketing strategy to improve your website's ranking on search engine results pages (SERPs).
Sure Oak's professional content developers have years of experience creating search-engine-friendly content for improved page quality scores.
Their PPC management services are targeted at the right people, at the right time, and at suitable locations to increase advertising spend (ROAS) return.
They help clients generate a greater return on their marketing investment by creating unique and engaging PPC advertising campaigns.
Sure Oak optimizes ad rank using relevant extensions and high-quality landing page content.
They specialize in developing conversion-oriented social media advertising campaigns that consistently deliver results.
They leverage different Google Ads automation tools for ad scheduling, reporting, and tracking.
Top Clients:
Mercedes
GAP
American Red Cross
Ann Taylor
Advance Auto Parts
Pricing: Sure Oak offers custom pricing plans per your business goals and requirements.
Looking for a full-service marketing agency? Check out this resource:
The Absolute 20 Best Marketing Agencies in 2023
What Is an Advertising Agency?
An advertising agency is a specialized marketing company that creates, plans and executes paid ads campaigns in order to attract more business for their clients.
These agencies help brands with different aspects of advertising. They have an in-house team of creative and skilled digital ad experts who work together to create effective advertisements that are engaging, compelling and reach the right audience at the right time.
Ad agencies are responsible for a wide range of activities to promote their clients' products and services. They can provide creative ad copy, graphic design and videos that help draw potential customers in. They also handle the placement of ads on a variety of advertising spaces, including social media platforms, e-commerce sites and search engines (i.e. search engine marketing). Some will also offer offline outlets like billboards and magazines.
They usually have creative directors to come up with ad ideas and graphic design of the actual ads, and media managers to strategize placing them on relevant media platforms.Paid media agencies can also carry out market research to identify the target audience in order to develop digital media plans effectively.
Advertising firms work with various clients, from small businesses to large corporations. No matter the size of the client, the goal of the ad company is to create an effective campaign that meets the client's business objectives.
Here are some crucial advertising statistics that are worth noting:
Small businesses spend around $9,000 to $10,000 monthly on online advertising strategies like Google Ads.
Google holds 83% of the search engine market share worldwide: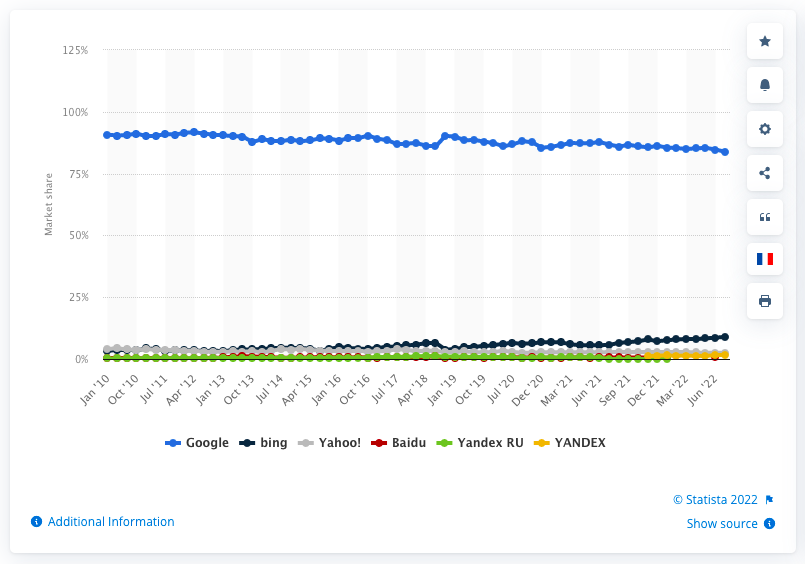 The Benefits of Using an Advertising Agency
The most significant benefit you get from partnering with reputed advertising companies is access to a vast pool of skilled marketing experts and advertising tools that make your job much easier.
Hiring an ad agency means that you can focus on growing your business while the advertising team handles all the lead generation activities to increase your revenue.
Here are the top reasons why you should hire a full-service advertising agency:
Budget-Friendly: Hiring a creative agency is cheaper than hiring an in-house team because the agency has access to all the tools needed to produce a high-quality ad campaign and run a cost-effective advertising campaign. Hiring an in-house PPC marketing team would cost more since you will need a skilled team of PPC experts, content writers, and analytics professionals to effectively manage your campaigns.
Relevant Experience: Advertising companies have relevant experience running ad campaigns for businesses in your niche. Working with seasoned professionals who know your industry will accelerate the output of your PPC campaigns, leading to more revenue.
Scalability: A creative agency makes it easy for businesses to scale their marketing efforts on demand. You can quickly scale up when the demand increases or reduce your expenses when the demand decreases. There is no need to hire an additional workforce when the demand rises.
Pool of Experts: For a successful marketing campaign, you need experts in several disciplines like PPC, SEO, CRO, social media advertising, content creation, and media buying. An in-house marketing specialist might not have all the skills required to run all aspects of an ad campaign successfully. With digital advertising services, you can improve your return on advertising spend (ROAS).
Save Time: Hiring a full-service ad agency can save you a lot of time as you won't have to research which media to use or plan your campaign. Instead, you can leave all of that to the agency.
Relevant Contacts: Agencies typically have strong relationships with many different media outlets that have been developed over time. Businesses won't waste time cultivating relevant contacts because they don't need to partner individually with every outlet. An agency can spread the advertiser's brand message to a wide range of websites leading to increased traffic, branding and sales.
Marketing Insight: Ad firms can offer you an inside perspective on the advertising landscape and help you see potential solutions that you would never have thought of on your own. This can be helpful when you're feeling stuck and running out of ideas.
Dive Deeper:
* Best Lead Generation Tactics for Content, Email & Social Media Marketing
* How to Scale Your E-commerce Traffic Acquisition with Native Advertising
* 7 Killer Digital Advertising Trends Every Marketer Should Know in 2023
What Services Do Advertising Agencies Offer?
Advertising agencies offer a vast range of services depending on your business goals. The prominent ones are:
1) Search Engine Optimization (SEO)
Search engine optimization is a crucial part of your digital marketing strategy. It is not a direct form of advertising because you don't pay search engines to get your site ranked, but it is still considered advertising because you pay for content, guest posting, and public relations services.
Hence, you need to set aside a chunk of your marketing investment for SEO because this marketing tactic makes your business website visible to online users.
To beat your competitors and rank higher than them, you need an agency with solid SEO experience. This means they have certified and skilled experts with hands-on experience optimizing website content (and web design for better UX) with innovative SEO techniques.
An advertising agency offers SEO marketing services such as:
Dive Deeper:
* How to Create a High-Performance Content Marketing Strategy in 2023
* 9 Quick SEO Tactics That Only Take 10 Minutes to Implement
* SEO Keyword Research Made Easy in 2023
2) Pay-Per-Click (PPC)
A pay-per-click service is an online advertising model in which advertisers pay a fee each time one of their ads is clicked on.
PPC is a popular and effective way to drive leads to your business, but setting up PPC ad campaigns is often tricky because it requires the expertise of search marketing professionals.
PPC advertising agencies offer different services related to pay-per-click management, such as:
PPC keyword research
Ad copy creation and optimization
Landing page creation and web design
Quality Score optimization
ROI reporting and analysis
Dive Deeper: 6 Holiday PPC Strategies You Need to Use to Convert More Customers
3) Social Media Marketing
Social media marketing is the process of leveraging social media platforms like Facebook, Twitter, LinkedIn, Instagram, TikTok and others to build relationships and interact with potential and current customers. This interaction can take many forms, such as providing valuable content, answering customer questions or monitoring feedback.
Most businesses use social media marketing services to improve brand awareness and drive traffic to their website or blog.
Agencies specializing in social media advertising services help businesses create ad campaigns on leading social channels, depending on their campaign goals. These agencies help advertisers select the most relevant social ad platform, prepare different ad formats, and target them towards the right audience at the right time.
They use several social media marketing tools to monitor the progress. Continuous optimization and monitoring help advertisers gain an impressive return on their social media marketing spend.
Dive Deeper: Social Media Marketing for Business Owners: How to Get Started in 2023
4) Lead Generation
High-quality leads are the lifeblood of every business. You need a constant flow of new and returning customers in order to generate more sales, and a lead generation campaign is designed to do just that.
The leads are usually generated through a combination of marketing activities such as PPC advertising, SEO and/or email marketing, and the steps involved are typically:
Set up the right metrics for your lead-generation efforts
Choose the most effective customer acquisition channels for your brand (SEO, PPC, social media marketing, etc.)
Track your results and adjust your digital strategy if you're not seeing the results you want.
Design appropriate marketing funnels for all customer segments.
With a well-designed lead-gen strategy, businesses can acquire high-quality leads who are more likely to convert into customers.
Dive Deeper: SaaS Lead Generation: How We Improved Axure's Lead Quality Overnight
5) Retargeting
97% of people who visit your site for the first time leave without buying anything unless you bring them back via a retargeting campaign.
Retargeting is a marketing strategy focused on paid ads that are used to reach out to potential customers who have shown interest in a product or service but did not make a purchase. It helps marketers and business owners re-engage these potential customers.
A good retargeting campaign works because:
3 out of 4 customers notice retargeted ads
Retargeted ads on Facebook are 76% more likely to get clicks than regular display ads
If you leverage retargeting along with other channels, you can sell 50% more
6) Email Marketing
Email marketing is one of the most cost-effective methods to reach target audiences. It helps generate leads, drive traffic, and boost sales.
Most advertising firms offer email marketing services to create and send personalized emails to your customers. They also help you create a database of prospects and customers to send personalized content, offers, promotions, and deals.
How Much Do Advertising Agencies Charge?
The majority of agencies price their services based on custom quotes, so the best way to get an accurate estimate is to contact them directly and discuss your project. Once they have all the information they need, they should be able to give you a better idea of what you can expect to pay for their services.
You will be charged based on the number of hours they spend on your project and the time required to achieve your campaign goals. Some agencies might also charge a percentage of commission on your overall advertising budget. Keep in mind, though, that a dedicated advertising team costs more compared to semi-dedicated PPC services.
How to Choose the Best Advertising Agency
There are a broad range of advertising services available in the market. If you take your time to select a reputable advertising agency, they can help you drastically improve your sales.
Here are the top factors to keep in mind as you go about choosing an advertising agency:
Compatibility: It is crucial to consider compatibility when choosing an advertising service. Do your research to ensure that the marketing agency's mission and objectives align with your brand values. An agency that has previously worked with businesses similar to yours would be easier to work with compared to a firm that is not relevant to your business niche.
Expertise: When choosing a marketing agency, it is important to consider their awards and recognition. A good marketing agency will have earned several awards. Additionally, if reputable media publications have covered the agency, this shows that their team is credible and that the services they offer are worthy of notable media mentions:
Transparency: When you're looking for a top marketing agency, transparency is vital. You want to ensure that the agency you're working with is upfront and honest about its strategies and practices. One way to gauge an agency's transparency is to look at its website. Are they clear about their address, testimonials, and client list? If not, that's a red flag.
Testimonials and Case Studies: Genuine customer reviews are one of the things that reputable advertising agencies will feature prominently on their websites. This is because potential new customers seeing these reviews will sense that the agency is trustworthy and competent. Therefore, before considering a collaborative relationship with them, you should always look for reviews from happy customers on the creative agency's website:
Reporting: A good advertising company will be able to show you, through numbers and data, how effective their strategies are and how your business is benefiting from them. Reporting is excellent evidence that your investment is paying off. This data-driven approach can help you get the most out of your advertising budget and ensure your efforts are constantly working to improve your business.
Ready to Hire an Advertising Marketing Agency?
Choosing the right advertising agency is one of the most important decisions you will make when it comes to the growth of your business.
The marketing company you select should be based on three crucial factors: your advertising budget, your campaign goals, and the time required to achieve those goals.
Here are some of the questions you should ask your advertisement agency before hiring them:
What is your experience with my industry?
Can you share some case studies of your past work?
How long have you been in business?
What type of clients do you work with?
Do you have some references I can contact?
How will you help me achieve my advertising goals?
Do you have any certifications or specializations?
How will you measure the success of my campaign?
What kind of advertising software do you use?
What is your experience in delivering customized solutions for clients in your industry?
Will I get an account manager or a dedicated marketing specialist?
What are the modes of communication?
What kinds of reports do you provide to your clients?
Answering questions will help you shortlist a great advertising service based on your expectations.
Apply the tactics discussed in this article to select the best advertising service provider based on your business needs.
Need instant help? Request your free marketing plan from Single Grain. 👇